There has been a significant increase in the number of students appealing the results of this year's Leaving Certificate exams.
According to the State Examinations Commission (SEC), more than 9,000 candidates have made applications to appeal more than 17,000 grades.
This is a 74% increase on the number of students appealing compared to last year, and an 87% increase on the actual number of grades appealed.
The rise follows significant publicity surrounding the appeals process over the past year, following a successful High Court challenge to appeal procedures this time last year.
Rebecca Carter took a case to the High Court alleging an unreasonable delay in the processing of appeals after she narrowly missed out on a college place due to the slowness of the process.
Following a High Court ruling in her favour, the SEC introduced changes this year to speed up the appeals process.
Students now receive the outcome of any appeal more than three weeks earlier than previously, in mid-September.
This should give Third Level institutions time to offer places to any student who may have missed out on a course due to points predicated on an incorrect grade.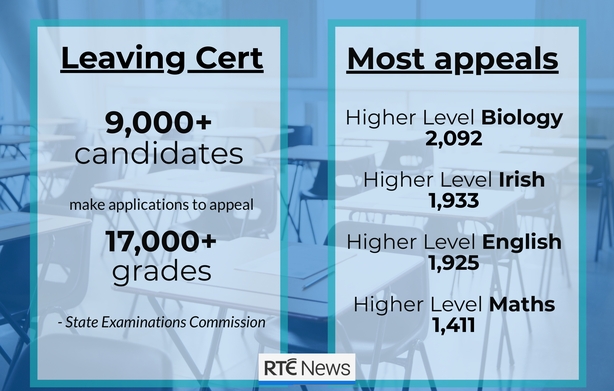 The SEC said the increase in appeals is greater than it anticipated.
However, it said it wants to reassure candidates that the planned issue date of the week beginning 16 September will be achieved.
During the appeal process the original marking of an exam is reviewed by an appeal examiner who was not involved in the original marking.
This year, Higher Level Biology is the subject against which most appeals have been lodged.
2,092 candidates have appealed the result they received in this paper, a 150% increase on the number that appealed in the subject in 2018.
The next three most likely results to be appealed this year are Higher Level Irish, English, and Maths. 1,933 students have appealed their Higher Level Irish results, a rise of 167%.
1,925 have appealed their Higher Level English outcomes, up 35% on last year. While, 1,411 have looked for rechecks in their Higher Level Maths results, up 69% on 2018.
Overall this year, more than 4% of grades awarded are currently under appeal.
Last year, 16% of appeals were successful for candidates, resulting in upgrades. However, five papers were downgraded during the process.