Minister for Education Joe McHugh has told primary school teachers that full consideration will be given to what he called their "outstanding issues of concern" regarding pay equality in any future pay review or talks.
Delegates at the INTO annual congress in Galway applauded as he reiterated his belief that their campaign for pay equality for more recent entrants to the profession was "unfinished business".
The minister passed delegates wearing yellow t-shirts and holding posters calling for equal pay as he entered the meeting room.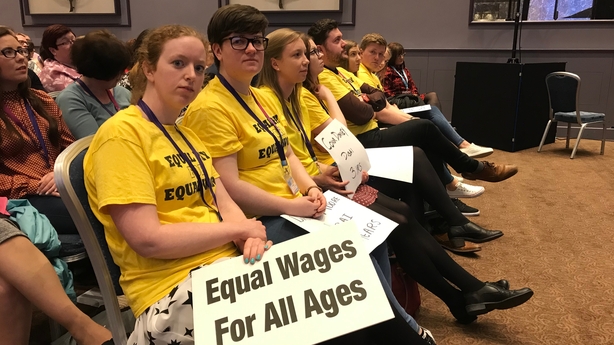 In a reference to young teachers who have emigrated to work abroad, some held placards with slogans like "Dubai, 3 years".
However, the minister received a cordial welcome overall.
He was applauded 21 times in a speech that lasted around 30 minutes and there there were several bursts of quite strong applause when he addressed the issue of pay.
Mr McHugh thanked the teachers he said he had met in Shanghai, Bejing, and Hong Kong, who had told him that low pay was the main barrier to their coming home.
He thanked the teachers who had protested on the hotel corridors, saying "you are fighting the fight on behalf of them".
There was more applause when the minister acknowledged that overall funding for schools needed increasing too.
In a wide ranging speech, with much of it delivered in Irish, the minister acknowledged and supported many concerns held by teachers. But there was little concrete offered to address those concerns.
---
Read more
Government plays down imminent talks on teacher pay
Substitute panels announced to address teacher shortage
Pay equality for new teachers dominates INTO conference
---
We need your consent to load this rte-player contentWe use rte-player to manage extra content that can set cookies on your device and collect data about your activity. Please review their details and accept them to load the content.Manage Preferences
Mr McHugh announced a symposium, to be held in June, on the issue of small schools.
Speaking of recent events in Northern Ireland and, what he called the terrorist killing of Lyra McKee, the minister acknowledged the fact that the INTO has members across the island, north and south.
He said the peace process could never be taken for granted and that there was "a duty and responsibility on all of us to drive that message home to the next generation".
Mr McHugh said there were young people out there today, on the island, at risk of being targeted by what he called "sinister groups" because they felt left out, disenfranchised and forgotten.
As teachers, he said, they could play an irreplaceable role in showing them they have a better future. A future, he said, that Ms McKee campaigned for.
He also spoke of the important role that history played in giving a young generation an understanding of legacy.
Responding to the minister, incoming INTO General Secretary John Boyle said Mr McHugh had shown empathy.
"Listening is important", he said, "but action is imperative".
He said teachers who had been recruited in the years between 2011 and 2014 must be paid equally to everyone else.
He said it was very, very heartening to hear the minister reiterating previous statements, that pay equality for teachers was "unfinished business". 
Mr Boyle also told the minister that primary school teachers had not received a pay rise since 2007 and were not currently due one before the end of 2020.
He said inflation was 7% during that time, while teachers had endured substantial pay cuts and the loss of allowances. 
Mr Boyle said that if money could be found for certain public servants by the Government halfway through the current agreement, he believed that money could be found for all public servants before 2021.
He said the INTO would be demanding that all teachers receive a well-earned pay rise to help them keep pace with rising living costs.
Later speaking on RTÉ's Today with Miriam O'Callaghan, Mr McHugh said the issue of pay inequality is acting as a barrier for teachers returning to Ireland and the issue needs to be kept at the heart of the next round of talks with unions.
When asked about how pay would be restored within the current arrangement, he said he did not want to create unnecessary expectations because it was a serious matter with a lot of money involved.
On plans for substitute teacher panels being established to address the teacher shortage, Mr McHugh said they are looking at doing it on a pilot basis, before taking it nationally in the next year or so.
He said he is confident the new pilot will show a new way forward.
Teacher pay equality high on union conference agendas
The country's two second level teacher unions begin their annual conferences today with pay equality for newer entrants to the profession high on the agenda of both the ASTI and the TUI.
Both unions have given a cautious welcome to a statement issued yesterday by the Department of Public Expenditure and Reform (DPER) in relation to the issue.
The INTO has welcomed what it says is a commitment from Government to addressing the issue of pay inequality, specifically for teachers employed between 2011 and 2014.
However, the Teachers' Union of Ireland has said that there are "a number of issues" that need to be addressed, citing in particular the loss of allowances for post graduate qualifications.
Both the TUI and the ASTI want those allowances reinstated.
The TUI also said an elongated timetable for the achievement of pay equality would not be acceptable.
In its statement, the wording of which was agreed with the public sector unions, the department said it would give "full consideration" in any future pay review or in the next round of pay talks to what it called "outstanding issues of concern" among "certain unions".
The INTO leadership has said this represents a pathway to pay equality and that "the finishing line is now in sight".
Responding to an additional statement issued today by DPER, INTO General Secretary Sheila Nunan said the union was "operating off the text that was agreed between parties to the PSSA".
She said "the text is the text and that's the basis on which INTO will be engaging".
The ASTI has said that it will engage fully with the parties and will explore any avenue.
Speaking on RTÉ's Morning Ireland, ASTI General Secretary Kieran Christie said the union acknowledges, but is cautious of, new wording from the Department of Public Expenditure.
Mr Christie said the union would fully engage with the department to bring an end to the situation, which he called an "abhorration".
In a statement, the ASTI said it had been to the forefront in the campaign for equal pay, pointing out that its members had taken industrial action over the issue.
At a recent media briefing, the union described financial penalties imposed on its members because of that industrial action, and from which its members continue to suffer, as unfair and punitive.
All ASTI members had increments frozen and other financial penalties imposed on them. Many younger teachers are still behind on increments as a result. The loss, according to the union, amounts to between €1,000 and €2,000 per annum.
The union has criticised the fact that its members were penalised for taking industrial action, while nurses were not.
The ASTI and TUI conferences are being held in Wexford and Killarney.