The president of the Irish National Teachers' Organisation has told delegates at the union's annual congress that the INTO did not aid and was not complicit in the cutting of the salaries of so-called 'new entrant' teachers.
Opening the union's conference with an address to delegates, Joe Killeen said the measure had been introduced unilaterally and without consultation by Government. He said negotiations may be slow but the union's argument for equal pay for equal work would win out in the end.
Mr Killeen said the union would stand with its members until what he called this "blot of inequality" was obliterated.
The issue of equal pay for newer teachers was expected to be a key issue at all three teacher union conferences which are taking place this week in Galway, Wexford and Killarney.
Around 800 delegates gathered in Galway today for the annual INTO congress this afternoon.
Second level teacher unions the ASTI and the Teachers' Union of Ireland begin their annual gatherings in Wexford and Killarney tomorrow.
Primary teachers union the INTO, as well as the ASTI, will be opening a debate with motions calling for pay equality for teachers who began teaching post 2010.
TUI delegates will debate the same issue on Wednesday morning, just prior to an address from the Minister for Education.
While all three unions say progress has been made since delegates last debated this issue, fully equal pay has yet to be achieved.
All three unions balloted members late last year on government proposals for partial pay restoration for the 60,000 or so public sector workers recruited from 2011 onwards.
---
Read more:
Substitute panels announced to address teacher shortage
---
INTO and ASTI members rejected the proposals by a relatively narrow margin, with 53% voting against.
The TUI accepted the proposals, but by a similar narrow margin.
The three unions have been involved in talks with the Department of Public Expenditure since then.
On Tuesday the ASTI will debate proposals calling for the next collective pay negotiations to include a commitment from Government to the principal of equal pay for equal work, and a timetable for its realisation.
An INTO motion to be debated on Tuesday morning calls pay equalisation the union's "first priority".
Other issues on teacher's agendas this Easter include pensions, workload and pay for school principals, class size, and funding for schools.
Proposed Leaving Certificate reform also features for Second level teacher delegates, with both TUI and ASTI members to debate proposals insisting that student performance continues to be externally assessed.
Representing what is a female dominated profession, primary school teachers will debate the reproductive health of its members and how work and current leave entitlements affect that.
Reflecting an issue that has rankled with many teachers in recent years, primary school teachers will also debate a motion deploring "the incessant bombardment of new initiatives, frameworks and strategies" being foisted on schools, which they say has had a "detrimental effect on teaching and learning and on the mental health and wellbeing of those involved in teaching".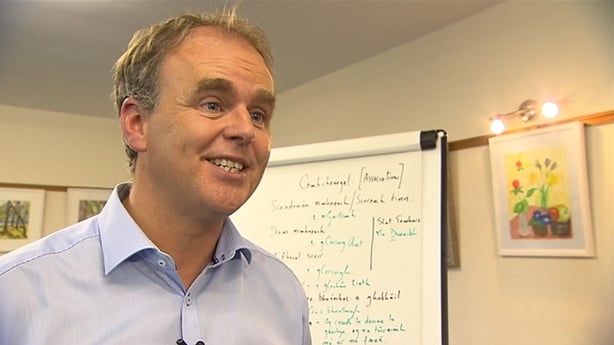 When current Minister Joe McHugh took over from Richard Bruton last October, he promised to slow down the pace reform set by his predecessor, and he acknowledged what has become known in teaching circles as 'initiative overload'.
Mr McHugh, himself a former teacher, acknowledged that schools needed "freedom and time" to implement changes, and that he would "take stock" of what his predecessor had been working on.
This will be Minister McHugh's first Easter attending the teacher conferences as minister.
He is due to address INTO members in Galway first thing on Tuesday morning.
He will address ASTI delegates that same evening in Wexford, before travelling to the TUI conference in Killarney for Wednesday afternoon.
All three unions have by now laid out their agendas for coming days. But the unexpected can still happen.
Members have a right to file emergency motions on issues or approaches that they wish to see debated and decided upon by delegates this Easter.