The National Public Health Emergency Team is believed to be considering a range of curbs on the hospitality sector tonight, with the aim of reducing transmission of Covid-19.
The measures being assessed are thought to include eliminating the capacity of people to book multiple tables, and also reducing numbers to six people per table.
It is also believed that NPHET is assessing the value of restricting opening times of licensed premises.
Other measures which are thought to be under consideration include new limits on visits to households - maybe to three or four households.
It is also thought NPHET is assessing whether to again recommend the extension of the Covid certs to other areas beyond hospitality - something the Government rejected a few weeks ago.
Chief Medical Officer Dr Tony Holohan will write a letter to Minister for Health Stephen Donnelly, who will then bring the letter to the wider Cabinet for decision.
The Government has yet to receive the letter from NPHET on further restrictions aimed at curbing Covid-19.
Earlier, the Tánaiste said the Government will assist businesses and workers negatively affected by any new measures introduced to tackle Covid-19.
However, Leo Varadkar told the Dáil that it is "prudent" for the Cabinet to wait until NPHET gives its advice, before taking decisions on targeted financial supports.
He was replying to the Social Democrats co-leader Catherine Murphy, who questioned why the Government was proceeding with cuts to financial supports when restrictions were being announced: "Is this a Darwinian survival of the fittest?"
She said that while the restrictions were "undoubtedly necessary," people were heeding the public health advice and yet the financial supports to cushion the blow were either being withdrawn or eroded.
She said towns and villages cannot afford to lose these businesses, but they cannot afford to keep their doors open either.
Mr Varadkar said he fully accepted that people were "voting with their feet" and that "huge numbers are cancelling" their events.
Ibec also called on the Government to urgently step up financial supports for organisations within the Experience Economy, including through the immediate reversal of the decision to cut the rate of the Employment Wage Subsidy Scheme (EWSS).
"While business recognises its role in supporting the suppression of the Covid virus, such compliance has meant that the Experience Economy has borne the brunt of the devastating economic impact of Covid," said Ibec CEO Danny McCoy.
He said the Government must urgently tap into the strong Exchequer tax receipts and provide a much-needed safety net for those struggling businesses.
"It is clear that the latest concerns around Covid have seen consumers grow more cautious and many businesses have seen a collapse in their bookings for the crucial revenue-generating festive period," Mr McCoy added.
"Ibec has previously written to Government warning that failure to provide the necessary supports risks inducing mass closures and job losses across the country."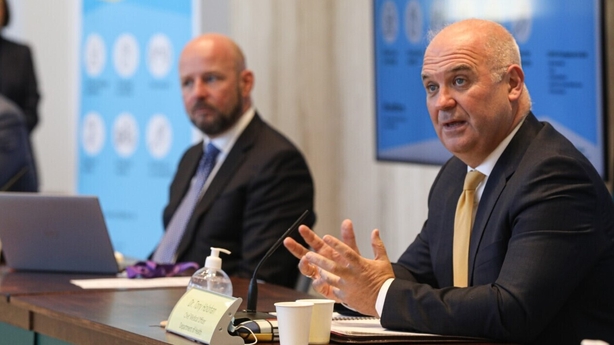 With around three weeks to go to Christmas, NPHET is looking at the levels of the Delta variant, what the potential impact of the new Omicron variant might be, the effect of the flu season and more socialising during the festive season.
We need your consent to load this rte-player contentWe use rte-player to manage extra content that can set cookies on your device and collect data about your activity. Please review their details and accept them to load the content.Manage Preferences
Dr Holohan said that the infection rate has reduced, the public has responded to calls to reduce socialisation and the R number has reduced from 1.2 to 1.
Case numbers are also tracking better than the NPHET optimistic model.
Fresh modelling on the potential trajectory of the virus is being worked on and is expected to be ready early next week.
NPHET said it suspects that the Omicron variant is more transmissible than the Delta variant, but it is not clear yet whether it is more severe, or how well vaccines will work against it.
The recommendations by NPHET to the Government today will be considered by Cabinet next week.
The Taoiseach has said that there has been a stabilisation in hospital and ICU numbers and that there is evidence that the booster campaign is having a positive effect on severe illness among older age cohorts.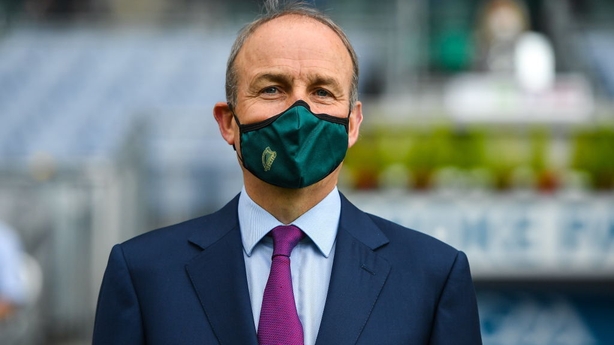 However, Micheál Martin warned that high levels of the Delta variant, coupled with uncertainty over the new variant of concern, omicron, present challenges.
He said that it will likely take another two weeks to gain a comprehensive understanding of the Omicron variant.
Mr Martin told reporters this morning that the Government would consider recommendations from NPHET after it met today.
The Taoiseach added that around 40,000 booster shots were administered yesterday and last week saw between ten and eleven thousand people come forward for their first vaccination dose.
A further 10,000 people came forward last week to get their second dose, he said.
Meanwhile, there were 160 Covid-19 deaths in November, a reduction on the previous month, new figures show. It compares with 205 deaths in October.
In the last week up to Tuesday, there were 23 Covid-19 deaths notified.
All cases had a date of death during the week and none are late notifications from a previous period.
The average age of those who died in the past week was 72.
The figures are published by the Health Protection Surveillance Centre.
The latest data shows the number of patients with Covid-19 in hospital has reduced by 31 to 547. Of those, 117 patients were in ICU.
Minister for Public Expenditure Michael McGrath said the Government was aware that the hospitality sector was paying the price for the positive response to public health advice.
Fianna Fáil's Cathal Crowe has said that a motion to reverse the cut to wage supports for employers was passed at the party's parliamentary party meeting last night due to concerns for the hospitality and tourism sectors.
Deputy Crowe, who is the party spokesperson on tourism and aviation, said that a reduction in the wage supports is happening at a time when an aggressive fourth wave of Covid-19 leaves many in business facing into a bleak winter period.
The motion is seeking a reversal in the cuts up until March.
He said Taoiseach Micheál Martin will meet impacted sectors tomorrow.
Mr Crowe said that targeted Covid supports are needed for those facing into instability and lay-offs.
He said we need to "support them and reintroduce some payments to the full extent [that was there] when we first brought them in".
He said the financial capacity to allow for this was built into the Budget.
---
Read more:
Dáil debates reintroduction of hotel quarantine laws
Omicron becoming dominant Covid strain in South Africa
Latest coronavirus stories
---
Meanwhile, the Covid-19 lead at the Irish College of General Practitioners has said that how people behave over the next two weeks will be critical to what Christmas will look like this year.
Speaking on RTÉ's Today with Claire Byrne, Dr Nuala O'Connor said that while case numbers are stabilising, there are still over 4,000 cases a day and the Delta variant continues to spread in communities.
"We need to be careful about how we socialise in the next two weeks and try to get [case] numbers down, so we can all have a more meaningful Christmas," she said.
"The virus loves when we get together and meet indoors.
"We all have to live our lives, but just have to choose a little more carefully about who we socialise with."
Additional reporting: Mícheál Lehane and Tommy Meskill