"I have a gig!"
Singer James Vincent McMorrow found it hard to contain his excitement when he spoke to RTÉ News following the announcement of his forthcoming concert at the Iveagh Gardens in Dublin.
The musician will headline the gig on 10 June, the first of a number of pilot live entertainment events which were announced yesterday as the events industry looks towards reopening.
McMorrow said he's delighted, not just for himself but for the 40 people in his band and crew, all of whom, as he put it have been given "a sense of purpose" again.
Among the pilot events announced by the Government were a festival-style event at Phoenix Park to be held on 26 June with 3,500 people in attendance and, on the same day, an indoor event at the INEC in Killarney with 200 spectators.
Other planned pilots include comedy at Vicar Street, Dublin on 3 July, traditional music at the Roisin Dubh, Galway, also on 3 July, and a nightclub dance event at Jam Park in Swords, Dublin in late July.
Minister Catherine Martin told RTÉ News the guidance for attending the events is still being worked on but that vaccination will not be a prerequisite, and she said the pilots are aimed at working out the logistics of how people can attend, enter and exit the venue in a safe way.
Also looking forward to June are those involved in cinema and theatre - both can reopen on 7 June. Cinemas say that unlike last year, they now have a slate of new movies to show and they feel audiences are looking forward to getting away from Zoom and back to the big screen.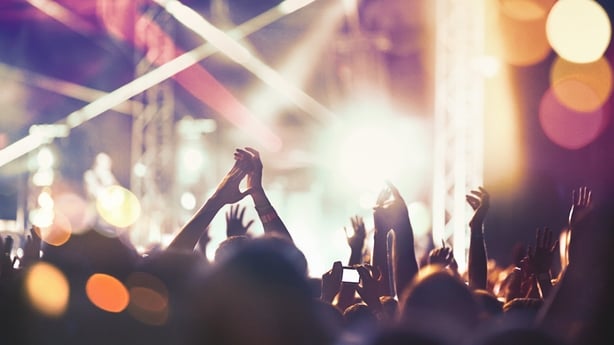 Alongside the optimism, however, there was also a note of caution. The businesses in the entertainment industry were the first to be closed when Covid restrictions hit and say they will need continued Government support to get up and running again.
Some of the problems are obvious - venues will be operating at reduced capacity and will need financial support to help make them viable. But there is also a wider problem across the industry with events companies saying they have lost well trained and expert staff over the past year, some of whom may not return.
Meanwhile, musicians who play smaller venues like pubs and weddings have not yet been given a road map for reopening, indeed the guidelines for the hospitality industry specifically rule out live music in restaurants and bars. However Minister Martin has said these guidelines are to be reviewed.
As Ireland looks towards the summer, the logistics around live entertainment can appear more like a maths class than a good night out - for example Government guidelines for July talk about a maximum of 200 attendees for the majority of venues, and a maximum of 500 for outdoor venues with a minimum accredited capacity of 5,000.
Important dates for your diary! 🤗

Here are the pilot music and sport events to take place over the next few weeks

Ticketing to be arranged by individual venues/promoters and acts still to be announced pic.twitter.com/b2GwbbPuwW

— Catherine Martin TD (@cathmartingreen) May 31, 2021
But behind those numbers lie an industry craving a safe return and willing to work hard to achieve it. All going well, further increases in the numbers at events are then planned for August and beyond.
If there is one thing we have learned over the past year it is that there are no guarantees when it comes to Covid, but around the country guitars are being tuned, lines are being learned and light bulbs are being replaced to illuminate stages that have been dark for far too long.