EU member states have agreed to allow fully-vaccinated passengers from outside the EU to enter the bloc this summer for holiday purposes.
It follows a meeting of European Union ambassadors in Brussels this morning.
The EU will also expand the list of non-EU countries which have a good epidemiological situation to allow more travellers to enter the EU for non-essential reasons.
"At the same time, to limit the risk of coronavirus variants entering the EU, the Council [of member states] agreed on a new emergency brake mechanism allowing member states to act quickly and in a coordinated manner," a European Commission spokesman said.
"This will help progressively resume international inbound travel where it is possible to do so safely, while at the same ensuring quick action to counter the spread of new virus variants."
Member states have agreed to allow fully-vaccinated passengers from outside the EU following a recommendation by the European Commission.
The decision to expand the safe list of countries will be taken by EU ambassadors on Friday.
Currently there are only eight countries on the list, including Australia, New Zealand, South Korea and Israel.
Member states will decide whether they will accept proof of vaccination to waive travel restrictions.
---
Read more: Latest coronavirus stories
---
Meanwhile, the EU has put forward a plan it believes will help boost production and availability of Covid-19 vaccines more effectively than a proposed waiver of patent rights now backed by the United States.
Under pressure from developing countries to agree to waiving intellectual property (IP) rights for vaccines and treatments, the EU plan will focus on export restrictions, pledges from vaccine developers and use of existing World Trade Organization rules.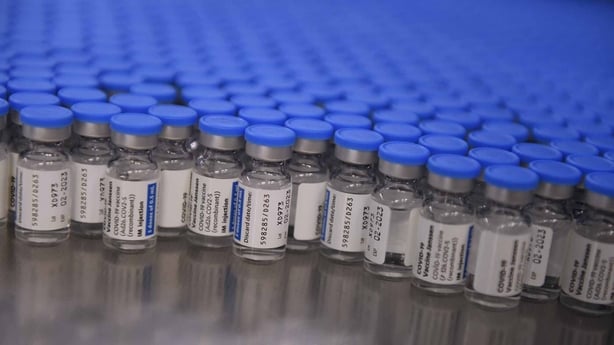 "Universal and fair access to vaccines and treatments must be the global community's number one priority," EU Trade Commissioner Valdis Dombrovskis told the European Parliament.
In a debate on global vaccine access, Mr Dombrovskis told MEPs the EU was ready to engage in examining the extent to which temporarily waiving the WTO's TRIPS agreement contributed to expanding vaccine availability.
India and South Africa have urged fellow WTO members since October to lift IP rights to vaccines as a way of ensuring the world is supplied. Debate around the issue erupted anew last week when US President Joe Biden supported the idea.
However, the European Commission vice-president said the single most effective way to achieve universal access was to ramp up production, share vaccines more widely and faster and make them affordable.
Mr Dombrovskis said the EU plan had three elements. Export restrictions should be kept to a minimum, highlighting that the EU had exported half of vaccines produced in EU countries. French President Emmanuel Macron urged Washington on Saturday to drop restrictions on exports of vaccines and vaccine components.
Vaccine producers and developers should make concrete pledges to increase supply to vulnerable developing countries at production cost, Mr Dombrovskis said.
Finally, Mr Dombrovskis highlighted existing WTO rules allowing countries to grant "compulsory licences" to manufacturers ready to produce at cost price without the consent of the patent-holder, which could receive a payment, but not make a profit.
Additional reporting Reuters