These are anxious times for Ireland's Indian community.
India recorded another global high for daily coronavirus cases today, at around 35,000 cases and many patients are being turned away from hospitals.
Ireland has agreed to send 700 oxygen concentrators to India as part of an emergency donation.
There are many Indian citizens in Ireland, working across sectors including healthcare, IT and retail.
Mittu Shibu is a nurse from Kerala, a state in southern India.
The situation there is much better than in other regions, but she is still worried, as the rapid deterioration in cities like Mumbai and New Delhi show how quickly things can change.
She said a photograph of bodies on funeral pyres prompted nightmares that woke her in the middle of the night and called family at home in Kerala, who reassured her everyone was safe.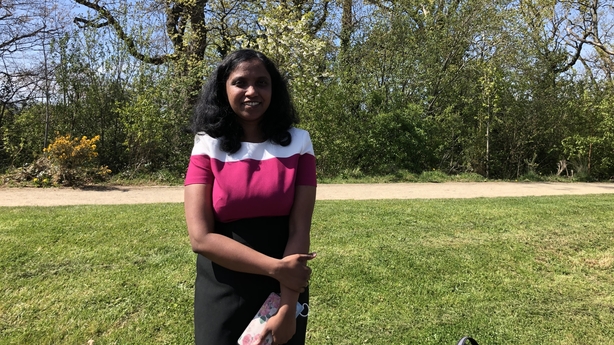 Vinu Kapilly is another nurse from Kerala.
He is currently quarantining in his home in Dublin after visiting India to see family.
While things were not too bad initially, he said the situation was gradually getting worse when he was home.
India is a warning to other countries, he said, because while it did very well during the first wave, public awareness has since declined, and people were not taking as much care about social distancing.
He said the government did not do enough to prepare the population for a second wave, and he is shocked that a country like India - where there is a good hospital system and public healthcare infrastructure - could succumb so fast to the virus.
Sandeep Vaidya, who works for a FinTech company in Nenagh, Co Tipperary, believes the second wave was avoidable.
He said India had seemed to avoid the worst of the first wave and could have used the time to prepare better.
Doctors did warn the government, he said, but during the recent elections, the prime minister and other leaders held large rallies where people did not socially distance and did not wear face masks.
Sandeep said he is heartbroken by the news from family and friends in Mumbai, and fears things will get worse for some weeks before they get better.
We need your consent to load this rte-player contentWe use rte-player to manage extra content that can set cookies on your device and collect data about your activity. Please review their details and accept them to load the content.Manage Preferences
Ajay Shaji is also a nurse from Kerala living in Dublin.
His wife and daughter went home recently because of a medical emergency in the family and he does not know when he will see them again.
India will soon be on the red list, meaning that those returning from there will have to go into hotel quarantine.
Ajay said they will probably have to wait for the current surge of cases to end because there are no direct flights from Kerala to Ireland and it is not safe to travel through airports in other regions in India.
All of those who spoke to RTÉ News say they are grateful for the aid offered by the Irish Government and are doing what they can to help.
Vaccination would help to bring the number of new cases down, but the prices being asked by private companies are too high for the federal government to buy enough doses for the entire population, and it is only buying doses for those over the age of 45.
Some state governments are paying for doses for younger people, but the Indian community here is also raising money to help out.