Ireland is sending 700 oxygen concentrators to India as part of an emergency donation to help save lives there, as hospitals run out of oxygen supplies and ventilation equipment.
The devices draw oxygen from the air and deliver it to the patient at over 90% concentration.
India today recorded yet another global high for daily coronavirus cases for a fifth day running at around 353,000 cases, and many patients are being turned away from hospitals.
Crematoriums are working around the clock as over 2,800 deaths were reported there in the last 24 hours, bringing the country's cumulative death toll to over 195,000.
Ireland's donation is being made from stocks originally purchased by the HSE in Ireland for use in a field hospital setting, as part of pandemic preparations here.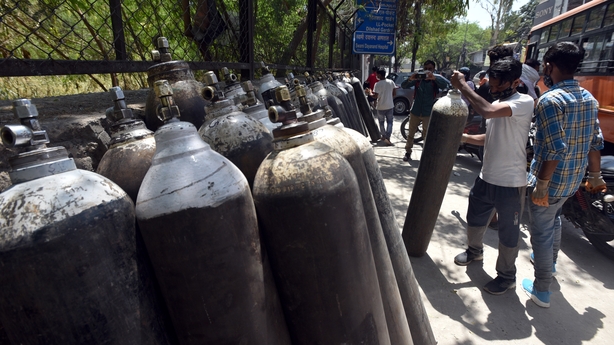 Whilst oxygen cylinders can run out and need to be refilled, an oxygen concentrator can provide a continuous flow of oxygen that does not run out.
It is also lighter than a cylinder, so can be moved about more easily. A spokeswoman for the Health Service Executive said they are ideal for patients who do not require mechanical ventilation, but would benefit from oxygen via a face mask.
The donated items are all brand new and were purchased specifically for Covid-19 patients, but once they reach India, they can be re-used for multiple patients.
Minister for Health Stephen Donnelly, Minister for Housing Darragh O'Brien, and Minister for Foreign Affairs Simon Coveney, along with the HSE and a number of other State agencies worked jointly on the plan over the weekend.
Minister Donnelly said: "We have all seen the rapidly deteriorating situation in relation to Covid-19 in India. I am pleased that Ireland is in a position to make this emergency donation of 700 oxygen concentrators to India.
"These machines will support frontline healthcare workers in India to deliver care to patients who need it."
The donation is being made through the EU's European Civil Protection Mechanism, which was put into place at the request of the Indian government in Delhi. European Commission President Ursula von der Leyen tweeted that Europe stood in full solidarity with the Indian people.
Alarmed by the epidemiological situation in India. We are ready to support.

The EU is pooling resources to respond rapidly to India's request for assistance via the EU Civil Protection Mechanism.

We stand in full solidarity with the Indian people! https://t.co/Pv8ezFPdS3

— Ursula von der Leyen (@vonderleyen) April 25, 2021
Germany's Foreign Minister Heiko Maas confirmed earlier today that his country is also sending oxygen and medical aid to India, while France said on Sunday that it would send respiratory equipment in the coming days.
Supplies from the United Kingdom are already on their way, with the first of nine airline container-loads of aid - including ventilators and oxygen concentrators - set to arrive in India early tomorrow morning.
British Prime Minister Boris Johnson has pledged that the UK will do "all it can" to help.
The White House has also said it was making vaccine-production material, therapeutics, tests, ventilators and protective equipment immediately available to India.
However, it did not mention whether it would send any of the 30 million AstraZeneca vaccine doses it currently holds in surplus, sparking accusations of hoarding.
This is not the first time that the European Commission has activated its EU Civil Protection Mechanism, which aims to deliver a coordinated response of governmental aid in the immediate aftermath of a disaster, whenever the scale of an emergency overwhelms the response capabilities of a country.
Requests for assistance can come from both within and outside Europe, with recent examples including the 2014 Ebola outbreak in West Africa, the 2015 conflict in Eastern Ukraine and the ongoing refugee crisis.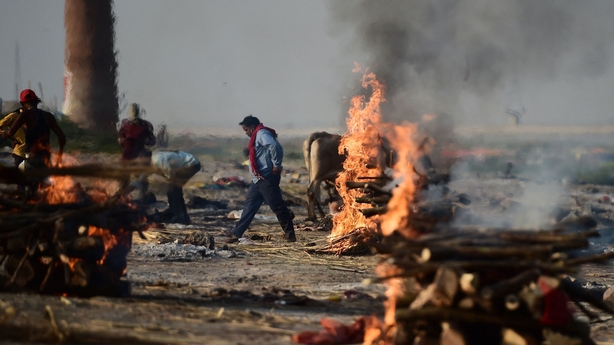 Minister for Housing Darragh O'Brien said that the emergency donation was "an example of the Irish people's extraordinary generosity of spirit and clear desire to want to help our international friends".
Many Indian people work in Ireland's health system and he said many people living in Ireland had friends and family in India who were "distressed at the very sad scenes" they were witnessing there.
Foreign Affairs Minister Simon Coveney said: "Ireland is among the first States to confirm concrete support to India.
"At a time of great difficulty for India, we want to show solidarity with a country and people with whom we have strong historical and modern-day relations."
India's Hindu-nationalist government has been under pressure, facing growing criticism for allowing mass gatherings across the country in recent weeks, with millions attending religious festivals and thronging political rallies.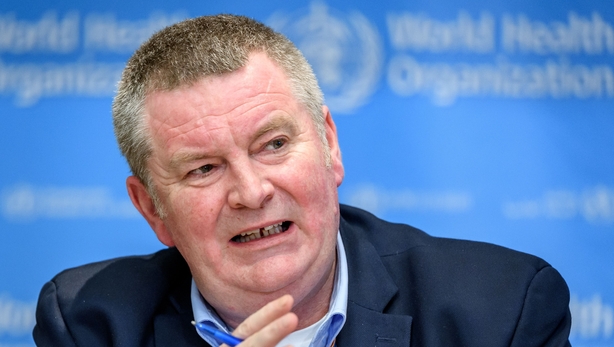 On Friday, Irishman Mike Ryan, who heads the World Health Organization's Emergencies Programme, warned that the situation there was not easy for anyone.
"We have a disease that has rapidly spread, multiple factors have driven that acceleration in cases, it is a very difficult task both to reduce the force of infection by having people adapt their behaviour and not always easy in the situations that people find themselves in India", he said.
"But we've got to reduce mobility, we've got to reduce mixing in whatever way we can to reduce the force of infection."
"The Indian government is willing to do that."
Additional reporting by AFP, Reuters