India's coronavirus cases hit a record peak for a fifth day as the European Union, Britain and the United States pledged to send urgent medical aid to help tackle the crisis overwhelming its hospitals.
Infections in the past 24 hours rose to 352,991, with2,812 deaths.
Overcrowded hospitals in Delhi and nationwide were turning away patients after running out of supplies of medical oxygen and beds.
Yesterday, Prime Minister Narendra Modi urged all citizens to be vaccinated and exercise caution, saying the storm of infections had shaken the nation.
Hospitals and doctors have put out urgent notices saying they were unable to cope with the rush of patients.
Ireland is to send 700 oxygen concentrators to India as part of an emergency donation.
The United States will send raw materials for vaccines, medical equipment and protective gear, as President Biden pledged his country's "steadfast support" during a phone call with Indian Prime Minister Narendra Modi today.
The US has also committed to releasing up to 60 million doses of AstraZeneca to other countries as they become available, although it is not immediately clear how many doses are ready to be shipped or where they will go.
Germany will send oxygen and medical aid to India in the coming days, while the European Commission has also said it aims to send oxygen and medicines.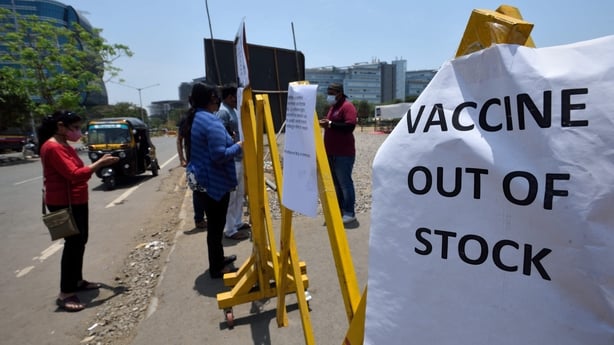 India, with a population of 1.3 billion, has a tally of 17.31 million infections and 195,123 deaths.
Health experts say the death count is probably far higher.
We need your consent to load this rte-player contentWe use rte-player to manage extra content that can set cookies on your device and collect data about your activity. Please review their details and accept them to load the content.Manage Preferences
---
---
A surge in recent days has seen patients' families taking to social media to beg for oxygen supplies and locations of available hospital beds, and has forced the capital New Delhi to extend a week-long lockdown.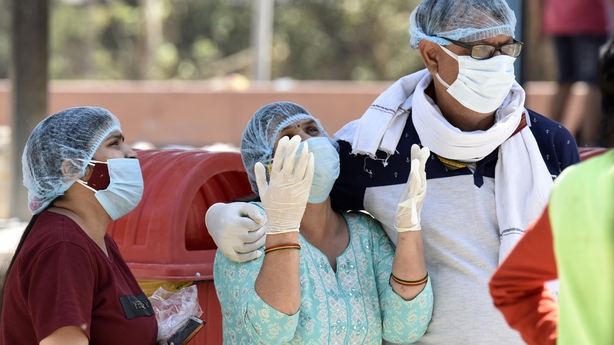 The first of nine airline container-loads of supplies from the UK, including ventilators and oxygen concentrators, was set to arrive in India early tomorrow.
Wider vaccination plan and increased vaccine production
The Indian Ambassador to Ireland has described the situation as "very alarming" and said the second wave of the surge has been "unrelenting in its scale and speed".
Ambassador Sandeep Kumar told RTÉ's Drivetime that his government is urgently attempting to procure essential medicines and equipment; extra ICU units and hospital beds are being set up in cities where there are the highest rates of infection.
He said the Indian government is to create 550 new oxygen generating plants in public medical facilities to cover all districts and that special oxygen express trains have been commissioned.
He said that in February and March, the authorities thought they had taken strong measures to combat Covid-19, but obviously that was wrong.
He said the country's infrastructure was strained and continues to be strained.
Ambassador Kumar said he was grateful to the Irish Government, for its commitment to supply emergency material.
He added that these gestures of solidarity and partnership from countries including the UK, the US and across the globe, will go a long way to address the crisis.
He said that from 1 May, everyone over 18 in India will be eligible for a vaccine and that the country's vaccine production facilities are to be expanded.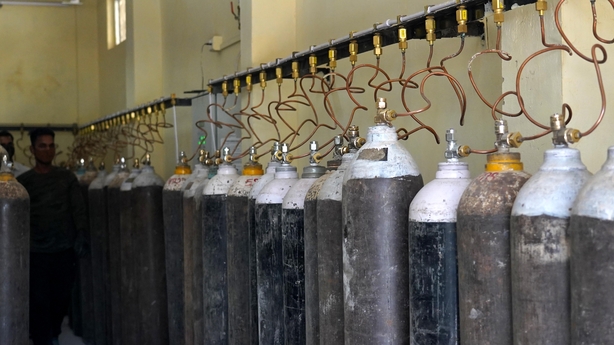 Situation in India is 'beyond heartbreaking' - WHO
The World Health Organization chief voiced alarm on Monday at India's record-breaking wave of Covid-19 cases and deaths.
"The situation in India is beyond heartbreaking," Tedros Adhanom Ghebreyesus told reporters.
"WHO is doing everything we can, providing critical equipment and supplies," Tedros said.
He said the UN health agency was among other things sending "thousands of oxygen concentrators, prefabricated mobile field hospitals and laboratory supplies".
The WHO also said it had transferred more than 2,600 of its experts from various programmes, including polio and tuberculosis, to work with Indian health authorities to help respond to the pandemic.
Tedros Adhanom Ghebreyesus lamented that global new case numbers have been rising for the past nine weeks straight.
"To put it in perspective," he said, "there were almost as many cases globally last week as in the first five months of the pandemic".
Bengaluru, facing India's second-highest Covid-19 surge, to enter lockdown

The city of Bengaluru, home to the technology operations of hundreds of global companies, is to enter a two-week lockdown as India battles a sharp surge in Covid-19 infections, officials said.
Karnataka state, of which Bengaluru is capital, will also lock down from tomorrow evening for 14 days, the state chief minister told reporters after a cabinet meeting.
Groceries and other essential services will operate for four hours in the mornings, he said.
The region is the latest to impose restrictions after similar lockdowns or curfews in many parts of India.
Bengaluru, a city of 12 million, reported more than 20,000 new infections yesterday, its highest single-day tally so far. Among major Indian cities, Bengaluru's daily surge is currently second only to that in New Delhi, but its test-positivity rate of 5.4% is much less than Delhi and financial hub Mumbai.
The World Health Organization considers positivity rates above 5% to be concerning.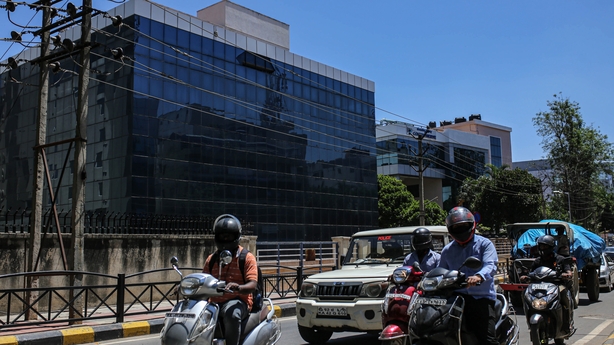 Microsoft, Amazon and Goldman Sachs are among the hundreds of multi-national firms with technology or IT operations in Bengaluru which employ thousands of English-speaking professionals.
Indian IT services giants including Infosys, Wipro and Tata Consultancy Services also have major operations in the city.
Thomson Reuters, parent of Reuters News, has operations in Bengaluru, including its news division.
Much of city's white-collar workforce has worked remotely for the past year, but other industries in Karnataka, including apparel manufacturing, have faced disruptions which have led to layoffs in some cases.