Health officials are looking at the possibility of extending the interval between the first and second Pfizer vaccine to increase the number of people vaccinated against Covid-19, RTÉ News has confirmed.
It is one of number of options being considered, as a result of logistical issues that have arisen from the change for the AstraZeneca vaccine to be given only to people over 60 and a possible delay with the Johnson & Johnson vaccine.
Currently, the interval is 28 days between the first and second Pfizer dose, but some countries have extended it to 12 weeks.
An extension could allow more people to have a first vaccination. Full vaccination is only achieved after the second dose.
Before any change could take place, advice would be needed from the National Immunisation Advisory Committee.
From a legal perspective health officials said there are also the manufacturer's directions to consider and the implications of departing from those.
Vaccinated people should not have to enter quarantine, says Harris
The Minister for Further and Higher Education said it is his "firm view" that anyone who has been vaccinated against Covid-19 and has a negative PCR test result should not go into quarantine.
Speaking on RTÉ's Today with Claire Byrne, Simon Harris said that to force them to do so "seems illogical".
He said that mandatory hotel quarantine is a short, sharp, crude, blunt intervention and not something the Government wants to be in place forever.
Mr Harris is to outline a plan shortly under which the State would "foot the bill" for any Irish Erasmus student obliged to enter hotel quarantine when returning to Ireland.
Around 1,000 Irish students are estimated to be on Erasmus programmes across the European Union, with roughly half of them located in the five member states which are currently on Ireland's mandatory quarantine list.
Once the Government began to add countries to the list, Mr Harris asked his officials to engage with the Higher Education Authority to ensure returning Irish Erasmus students would not be out of pocket.
It has now been confirmed that agreement has been reached on a plan for the Government to pay the hotel quarantine bill.
While details on its operation will be published in the coming days, the total bill is expected to be in excess of €1 million.
It is expected that around 550 Erasmus students in France, Belgium, Luxembourg, Italy and Austria will benefit from the plan.
While some may return before mandatory hotel quarantine becomes operational later this week, others may not return until the late summer when circumstances could be different.
Some students studying in the EU, but not on the Erasmus programme, may seek to have this new programme extended.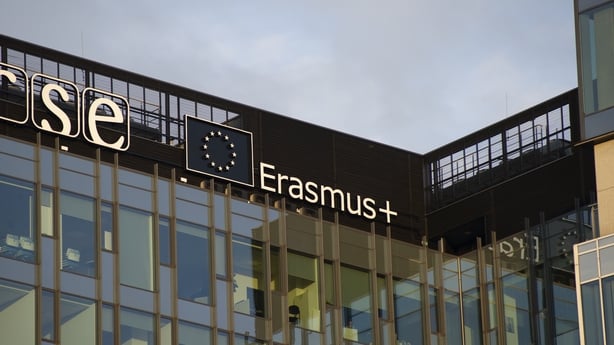 Mr Harris said he wants Irish students who are on Erasmus to enjoy and finish the experience and to come home when their time is completed.
The minister said students abroad should not panic and he said he was working on a mechanism to cover the costs of hotel quarantine because he does not want a student to have to "put a hand in their pocket".
He said it is quite possible that a student due to return in July or August will come home "to a very different scenario".
Mr Harris said there is a waiver that can be issued through the Department of Foreign Affairs that can be issued on compassionate grounds, and this is his preferred mechanism.
He said there are currently 1,000 students on Erasmus, with around 556 due to go on the mandatory hotel quarantine from tomorrow.
He added that they do not all come back at the same time, but will begin returning from this month until the end of the summer.
---
---
Meanwhile, officials from the Departments of Health and Sport have resumed negotiations on the creation of a regulatory framework that would enable professional and elite athletes to avoid mandatory hotel quarantine, under specified circumstances.
It is understood the new system would be overseen by Sport Ireland and the Health Service Executive, with relevant sporting bodies making applications to avail of the new system.
A Department of Sport spokesperson said the sporting bodies would be obliged to explain how they will "provide an equivalent level of protection and reassurance as the hotel quarantine regime".
They added that the new regulatory framework would only apply to "selected and limited international sports travel".
There is pressure to conclude an agreement on the plan, with the French women's rugby team due to play Ireland in this weekend's scheduled Six Nations match.
Additional reporting Paul Cunningham, Mícheál Lehane