The US and Canada, as well as a number of EU countries including France, Belgium and Italy, are among 16 countries that have been added to the mandatory hotel quarantine list following a Cabinet meeting.
The Government will now advise the European Commission of its decision to include the countries on the list.
The full list of countries affected is: Bangladesh, Belgium, France, Italy, Kenya, Luxembourg, Pakistan, Turkey, the US, Canada, Armenia, Bermuda, Bosnia and Herzegovina, Curaçao, Maldives, Ukraine.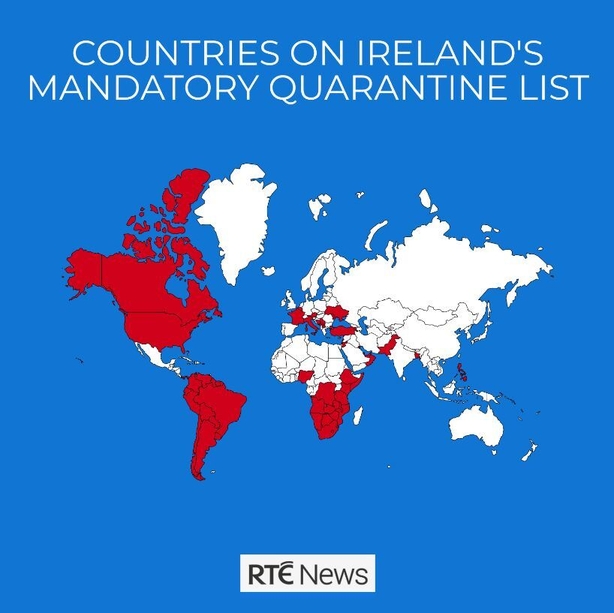 The measure will come into affect from 4am on Thursday 15 April.
Minister for Health Stephen Donnelly has said the decision was made "following public health advice relating to variants of concern with Covid-19".
"These variants pose a significant risk to our fight against this disease and our vaccination programme," he added.
The Cabinet has also agreed to remove Albania, Israel and Saint Lucia from the mandatory quarantine list.
Anyone currently in mandatory quarantine who has travelled from or through these states must complete their period of quarantine, the Department of Health has said.
The Government plans to double the hotel capacity to deal with hotel quarantining from 654 hotel rooms currently to more than 1,100 rooms in the coming weeks.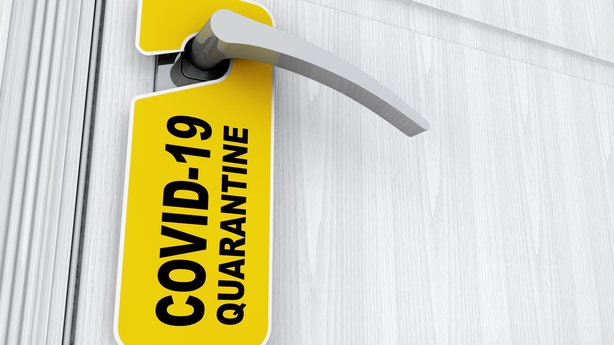 New members will also be added to the expert group that advises the Government on travel issues relating to Covid-19.
The Expert Advisory Group on Travel is to be broadened to include specialists in the logistics of hotel quarantining, laws relating to international travel and foreign relations.
Earlier, Minister of State for European Affairs Thomas Byrne said that if countries in the European Union are added to the list, it will be "a temporary measure in the interest of public health".
"All countries in the European Union at various points have taken travel bans and we haven't done that, this is a measure that's necessary for public health," he said.
Speaking on RTÉ's Drivetime, Mr Byrne said a "lot of work" has been done on this issue.
---
Read more:
Latest coronavirus stories
---
"It can be the easiest thing in the world to call for this and but to operationalise it is really difficult."
He described the implementation of mandatory hotel quarantine as "successful".
Mr Byrne said a cap on the number of people coming into Ireland is "clearly a possibility that someone would have to take into account".
"These present difficult issues for us, and I have to say these issues were not reflected in the outrage in the Dáil and the media three weeks ago, and quite frankly on air tonight I'd happily predict that in about six weeks time we'll have people wondering why they can't go on holidays."
Last week, there was a political row over a proposal from the Government's Travel Expert Advisory Group, which recommended adding the US, France, Germany and Italy to the list.
Yesterday, the HSE said there had been ten confirmed cases of Covid-19 detected through testing at mandatory hotel quarantine facilities since 26 March.
More than 413 people had been swabbed in that time.
Additional reporting Sandra Hurley