The Taoiseach has insisted that public health advice was behind the "fundamental rationale" for the addition of 16 countries to the mandatory hotel quarantine list.
Speaking this afternoon in Cork, Micheál Martin said the Government had been advised that adding the 16 countries gave a greater degree of protection against variants of coronavirus that were of concern.
Yesterday, ministers agreed to add 16 countries to the mandatory hotel quarantine list.
A number of EU countries, including France, Belgium and Italy, were added to the list following an incorporeal Cabinet meeting last night.
The US and Canada have also been added to the list, subject to enough capacity being in place.
Anyone arriving from these countries from 4am next Thursday morning will have to quarantine in a hotel for 12 days.
Taoiseach defends addition of 16 countries to quarantine list | Read more: https://t.co/9IfrFjWO3f pic.twitter.com/PxHcEVh5bE

— RTÉ News (@rtenews) April 10, 2021
Mr Martin rejected suggestions that the addition of the 16 countries could lead to chaos at airports and at quarantine hotels.
"I think, in the first instance, no one wants these type of measures and we know we have been in a lockdown situation since Christmas because of the terrible wave at that particular time and the variant, the B117, has been a key factor in terms of the situation over the last while," he said.
The Government is planning to increase the capacity of quarantine spaces from 654 rooms to 1,100 rooms at a number of specified hotels.
Mr Martin accepted that the cost of quarantining was an additional burden, particularly for parents of students returning from work placements and programmes in countries like France and Italy.
"This virus has up-ended all our societies and has created huge challenges for all of us and for people across the board in different sectors of the economy," Mr Martin said, when asked about the additional burden on parents.
He said the context of mandatory hotel quarantining was keeping the pressure on the virus and the need to protect people against variants.
"Public health advice is at the core of this and will remain at the core of the measures that we take," Mr Martin said.
"But there is every prospect that we can move beyond these measures if we go through April, get to the end of April and significantly more vaccines, and even more vaccines in May, so that is the context."
He promised that the situation would be kept under review.
---
---
Mr Martin's comments come as the Government is to consider adding a hotel in Rosslare, Co Wexford to its facilities for mandatory hotel quarantining.
It would provide capacity for those arriving on ferries to Rosslare Port, which are predominantly coming from France.
It is expected that 1,000 hotel rooms will be available by Monday week - 19 April. A further 200 will be added in the week after that.
During a meeting last night, ministers were told that around 12 people a day are arriving in the country without having fulfilled the legal requirement to book hotel quarantining, something that is adding to capacity requirements.
USI calling for supports for returning students
The Union of Students in Ireland is calling for practical and financial supports for students returning from countries which are subject to mandatory hotel quarantine.
Hundreds of students are currently on Erasmus or mandatory work placements in countries which are being added to the list for quarantining, including France, Belgium and Italy.
USI President Lorna Fitzpatrick said: "Many of the students we have spoken to understand the need for quarantine and they are not objecting to it, but they are simply saying they can't afford it."
"It wasn't a cost that they expected and it's not something that they have the financial capability to cover," she said.
Ms Fitzpatrick said the requirement will also impact international students who come to Ireland to study undergraduate and postgraduate courses.
She said the USI is "calling on Government to introduce practical and financial supports to try to address any of the barriers that are associated with the mandatory quarantining for incoming and returning students".
She said a charge of just under €2,000 is significant for many students and she wants the Government to "look at the establishment of a fund to support students with the financial cost".
Nicola Jordan, who is currently on Erasmus in France, said she is worried about the cost of mandatory hotel quarantining and has appealed for financial support from the Government.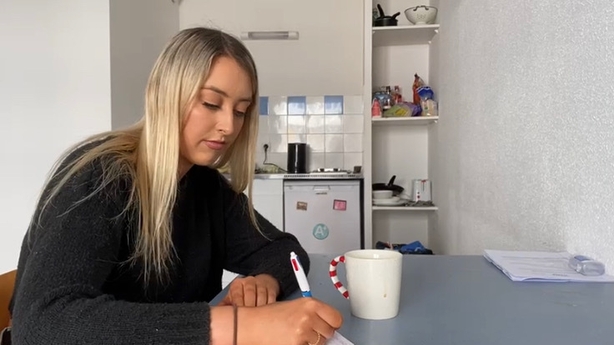 The University College Cork student from Ballincollig in Co Cork is studying in Strasbourg as part of her degree in Commerce and French.
She said herself and her friends are not opposed to having to quarantine in a hotel but she said they are "all shocked and definitely worried" about paying the bill of almost €1,900 for a 12-night stay.
"It's impossible for us to pay the mandatory hotel quarantine, especially at the end of our Erasmus year, when we haven't been working all year. Funds are definitely low."
Nicola Jordan is due to return home at the end of May and she said it is not possible to leave early before the quarantine requirement takes effect next Thursday as she is in the middle of exams.
"I have eight exams coming up in the next few weeks and some even this week, so if it was a matter of me going home before the quarantine was in place, it would impact my results, which do mean a lot to us going forward for our degrees."
She also said she has a lease agreement until the end of May and she said "we won't get our deposits back if we break the agreement".
The UCC student has called on the Government to provide "some financial aid, be it the entire cost of the hotel or just a contribution, because students don't have that kind of money to be spending to come home from their essential time abroad".
Elsewhere, Ruth Andrews, chief executive of the Incoming Tour Operators Association, described the expansion of mandatory hotel quarantine as "very disappointing".
Speaking on RTÉ's The Business, she said that it was of "huge concern in terms of the reputational damage this will do to our core tourism markets which include north America and continental Europe".
She said while the "the abundance of caution" was understandable from a public health consideration, there was "no exit strategy that we can communicate to customers as to when we can welcome them back into our country".
Ms Andrews said the underlying concern is the new Covid variants and strains that "we do not wish to import" and she was not suggesting that "we need to let in Americans in the short term".
However, she said the entire US adult population was on track to be vaccinated by the end of May and "we need to know what we should be communicating to these customers who have pent up demand for travel and are phoning us every day and are interested in making bookings".
She said these tourists will go elsewhere, such as Iceland, where vaccinated tourists are welcome.
"The demand for Iceland has shot through the roof. So it is about giving clear messaging," Ms Andrews said.
"When you introduce such restrictive travel regimes as quarantine hotels, it sends out a message at a vital time to people that Ireland is closed."
Additional reporting: Mary Regan, Fergal O'Brien