Education unions met with NIAC, the Education Minister and the Deputy Chief Medical Officer Dr Ronan Glynn tonight.
After the meeting - attended by representatives of the ASTI, Forsa, TUI and the INTO - the Teachers' Union of Ireland (TUI) called for a reversal in the change of prioritisation in the vaccine programme.
ASTI representatives said they found the meeting unsatisfactory.
"The information presented was not sufficient to convince the ASTI of the rationale supporting the revision of the vaccination roll-out programme." an ASTI spokesperson said.
"Teachers and other school staff are frontline workers and with high levels of contacts each day and often working in poorly ventilated classrooms of up to 30 students," they added.
It was announced on Tuesday that the National Vaccination Programme is to be changed to an age-based system, once those aged 70 years and older, the vulnerable and people with underlying conditions are immunised.
Speaking at the time, Taoiseach Micheál Martin said it was a better way to roll out the vaccine and would simplify the process once more vaccines arrive later in the year.
However, organisations representing teachers and gardaí have criticised the decision.
TUI General Secretary Michael Gillespie said: "In this evening's meeting, we strongly expressed the shock and disappointment of our members and also the huge frustration over the manner of the announcement, which was made without warning or consultation.
"We were seeking, and did not receive, a persuasive rationale for treating teachers, who work in busy, crowded classrooms, in the same manner as workers who are able to work from home. In huge numbers, members have already contacted us to state that they feel dismayed and demoralised by this development. Their anger is palpable," he said.
"TUI's position has always been that the most vulnerable in society, including the elderly and those with underlying health issues, should be prioritised for vaccination in the first instance. That remains our position. Vaccination has, to date, proceeded on that basis and, in the context of that approach, the TUI and other unions representing school staff were told clearly and repeatedly by government that teachers, as essential workers, would be in the first third of the adult population next to be vaccinated. We trusted that assurance and that trust has now been betrayed.
"Any rational consideration of the revised roll-out policy announced by Government will conclude that it makes no sense that a person working from home or working remotely will be vaccinated at the same time as an essential frontline worker of the same age – such, for example, as a teacher in a crowded classroom with unvaccinated students."
He added: "Teachers are also understandably worried about the risk to their families. For example, in a survey of 1,500 TUI members in October, 11% said that they live with somebody who is over 70 years of age."
Garda representative bodies have sent a letter to the Taoiseach requesting an urgent meeting to discuss their unhappiness with the changes to the vaccination sequencing.
Government announced this week that it was accepting the recommendation from the National Immunisation Advisory Committee (NIAC) that the remaining vaccine priority should be done by decreasing age rather than factoring in occupations.
The Garda Representative Association and the Association of Garda Sergeants and Inspectors are calling for the prioritisation to change and have called for a risk assessment to be provided.
It is understood they are also looking for a meeting with NIAC.
Minister for Education Norma Foley earlier said NIAC should explain the rationale behind changes to the vaccine priority list.
Last night, Minister Foley told Fianna Fáil TDs and Senators that it is a significant change and it would be "helpful" if NIAC explained the rationale behind the move.
Yesterday, Dr Karina Butler, chair of NIAC, said that people aged 60-64 have a seventy-times greater risk of dying from Covid-19, compared to someone aged 20-34.
Speaking on RTÉ's News at One, she said the "most appropriate thing is to vaccinate in those age-based cohorts", because they want to keep everyone safe from a bad outcome and protect the healthcare system.
The head of the School of Life Sciences at the University of Nottingham has said that different countries have taken different approaches to the vaccine roll-out.
Speaking on RTÉ's Morning Ireland, Professor James McInerney said the UK has gone almost strictly by age, whereas countries such as France looked at job occupations.
He said there are arguments for both sides and ultimately it is a decision for individual countries.
There is "a little bit of study" to show that the age-based roll-out is slightly faster, he added, but said there is "not much difference between the two".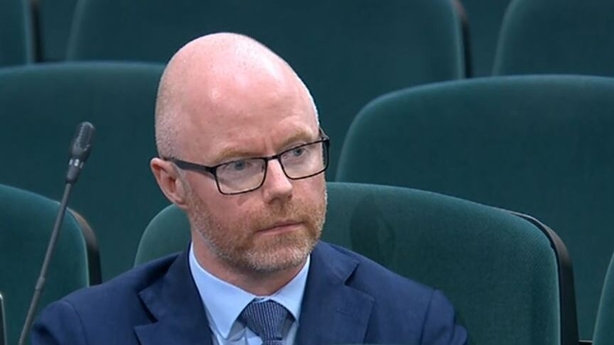 In the Dáil today, the Minister for Health was strongly criticised after revealing that "slightly less than a million doses" of Covid vaccines will arrive in the month of April.
Stephen Donnelly was responding to Sinn Féin's Health Spokesperson David Cullinane, who said Mr Donnelly was reported to have told a meeting of the Fianna Fáil parliamentary party meeting last night that the figure he received for April was 860,000.
"This is what confuses people," Mr Cullinane said. "When they are changing overnight and different figures are being given in different meetings and different settings for different reasons, that does not inspire confidence."
Minister Donnelly said that in the second quarter "an average of a million doses will arrive a month - ramping up from April through to June". He said this is what was said before, so the position has not changed.
He said Mr Cullinane's comments were exactly why giving forecasts of figures causes anxiety.
"The figures we are given by the pharmaceutical companies are changing, sometimes on weekly basis, sometimes on a daily basis," the minister told the Dáil.
"The exact debate you and I are having right now is the issue. Because once we give figures that we know are going to change, those change and then people jump up and down and say this is an outrage and it undermines the programme."
This prompted an angry response from Labour Party leader, Alan Kelly, who said it was unacceptable to suggest that the most up to date figures should not be provided to the House.
"What the hell is going on here? You are responsible to Dáil Éireann, you are responsible to the people of Ireland, and you are refusing to give out the estimated figures for vaccines for the next three months which the whole country is dependent on," Deputy Kelly said.
"This is not fair, it is not right and the people of Ireland are being let down," Mr Kelly added. "This is incompetent, it goes beyond politics. You are accountable to this House and when you are asked questions about figures you give them as you know them at this time."
The Minister for Health Stephen Donnelly and Sinn Féin's health spokesperson David Cullinane clash in the Dáil over the estimated number of Covid vaccines that are due to arrive in April pic.twitter.com/sO0JTfi53E

— RTÉ News (@rtenews) April 1, 2021
Mr Donnelly also defended changes to the priority list for vaccinations, amid criticism from backbench Government TDs.
He told the Dáil that the proposal was made by NIAC, endorsed by NPHET and brought to Cabinet "because of the very, very strong evidence that the single biggest predicter in terms of risk is age, particularly when those with underlying conditions are already prioritised."
He said frontline workers, including teachers, who he has spoken to understand that and that, in many cases, the person who will get prioritised ahead of them is their mother or father or aunt.
Sinn Féin's Education Spokesperson Donnchadh Ó Laoghaire has said the Government has "abandoned" its vaccination plan, and moved to an age-based approach because its system was "not fit for purpose".
He told RTÉ's Today with Claire Byrne that "key workers have been downgraded" and the "rug has been pulled from under them."
Niall Collins, Minister of State at the Department of Higher Education. speaking on the same programme, said the change to the vaccination schedule will ensure the roll-out is "straightforward" and "fair".
He said the Government "must rely on the independent professional advice" of the National Immunisation Advisory Committee.
"It is not up to the politicians to make these types of decisions and that is right and proper."
Meanwhile, the Dublin Midlands Hospital group has confirmed that 572 people did not attend their vaccination appointments at Citywest yesterday.
Beacon asked for 'full review' of vaccine controversy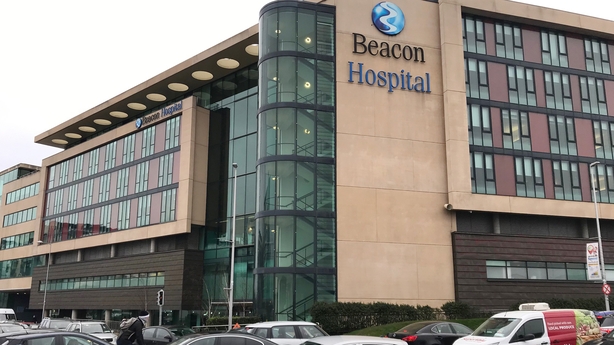 Mr Donnelly also told the Dáil today that he has written to the Beacon Hospital to request a "full review" of how the hospital provided vaccines to teachers from a private school in Bray.
RTÉ News understands that the letter was issued to the chair of the hospital earlier this week.
On Friday, it was revealed that the privately owned hospital administered 20 leftover Covid-19 vaccines to a number of teachers at St Gerard's School in Bray.
Minister Donnelly said what happened was "completely unacceptable".
Reporting: Sandra Hurley and Mary Regan