A professor of experimental immunology at Trinity College Dublin has said he strongly believes that people in occupations where they are in contact with other people frequently should be vaccinated ahead of other age-based groupings.
Prof Kingston Mills said that teachers, carers, gardaí and social workers are exposed to a higher risk of exposure and a risk of passing the virus onto themselves and others, and should be vaccinated once the most vulnerable are vaccinated.
He said he "completely agrees" with the policy of vaccinating the most vulnerable first, including the over 65s and those with underlying conditions or illness as well as healthcare workers.
However, he said "it makes sense to me to vaccinate teachers as quickly as we can" once the most vulnerable are vaccinated.
Prof Mills said the importation of variants first identified in Brazil and South Africa are a concern and it is a welcome development that all arrivals into Ireland are subject to a PCR test.
Ireland should not mimic the UK approach to prioritisations as the UK has far more supplies than Ireland and could vaccinate different groups simultaneously, the professor commented.
He said an integrated IT system linked to a patient identifier number is needed in Ireland - and this would make it easier to identify various cohorts.
The most sensible thing is to vaccinate those groups where transmission is most prevalent, he added.
He said he also felt that golf, tennis and underage sports could start immediately as do not pose great risks.
Social Democrats co-leader Róisín Shortall said she wants to see the evidence to support the Government's claims that it will be quicker to roll out the vaccination programme by age and that there is a higher risk based on age, rather than profession.
The revised plan announced yesterday will come into operation once those aged 70 years and older and the vulnerable are immunised.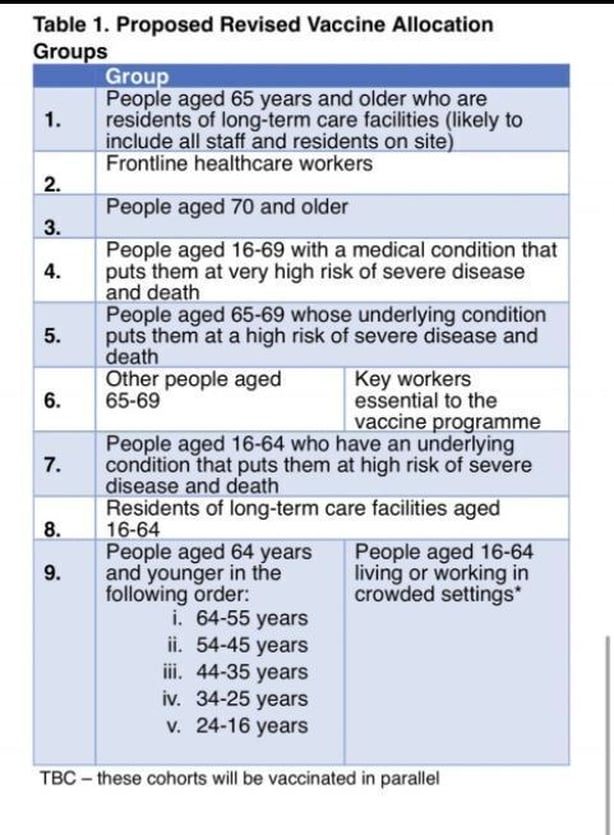 Speaking on RTÉ's Morning Ireland, Ms Shortall said it is hard to understand how there is less risk for public facing workers in a number of professions, while it is also difficult to understand how it will be quicker to deliver the vaccine more speedily on an age and not a profession basis.
She added that she would support the move, if she could see the evidence to support the claims.
Ms Shortall said she thinks the Covid-19 case figures and data should dictate what happens in relation to the opening up of the country.
She said there is too much dependence on the public continuing to adhere to restrictions while the Government has not played its part in several areas.
These include, she said, failing to fully resource public health doctors and retrospective contact tracing that goes back 14 days.
The country is still at a point where 20% of cases are mystery cases, she said.
In addition, Ms Shortall said, the Government needs to do much more in relation to international travel.
---
---
Meanwhile, the president of the Garda Representative Association (GRA) said gardaí are infuriated and dismayed at the changes to the vaccine rollout.
Frank Thornton said the decision effectively downgrades the profession and it ignores the risk and exposure that members have faced throughout the pandemic.
It displays a shocking disregard for frontline members who continue to be a key element in the Government's fight to suppress the virus, he added.
Mr Thornton said that it beggars belief that gardaí are being told they are no more at risk than someone who works at home.
He said the GRA has asked the Minister for Justice to facilitate a meeting with the National Immunisation Advisory Committee (NIAC) so members can understand how the decision was reached.
Mr Thornton said the morale of frontline members is now "absolutely on the floor" and "the temperature on the ground is very, very real".
The matter will be discussed "at length", he said, and all options will be examined.
He added that the health and safety of members is of paramount importance, although clearly it is not as important to other people and some members of Government.
He said that there are "always options available to the Executive".
The Executive Director of Sage Advocacy, which provides supports for older people, has welcomed the decision to allow two fully vaccinated people to meet up indoors but said it is only "a first step" and more guidance is needed to allow people know when they can see their families.
Sarah Lennon told Morning Ireland the "vaccine dividend" will offer people some confidence that the vaccine programme is working, but it is only a first step.
Ms Lennon said that further guidance about when people can meet in close quarters without Personal Protective Equipment is needed "as people want to be able to hug their children and grandchildren" and to meet members of their families that they have never met.
Minister for Finance Paschal Donohoe has said the Government will engage with frontline workers today to discuss the fallout from the decision to change the vaccine programme to base it on age rather than occupation.
He said that the advice the Government has received is that "if we proceeded on the basis of occupation it will slow down the efficiency of our ability to rollout a larger amount of vaccines and by doing so pose a challenge to the public health objections we have".
He said that the biggest gain is to have as much of the country vaccinated as possible.
Minister Donohoe said that the Government is "so indebted to all the work that our frontline public servants have done" and will engage with them today.
Mr Donohoe said the Government previously engaged with gardaí and teachers about vaccination on the basis of advice they had then, but the advice now is "crystal clear" and to vaccinate as many people as possible the most efficient way to do that is on basis of age.
Asked about the decision to change the vaccination programme to an age-based, Minister for Finance @Paschald said there is a 'far greater risk on the basis of age than there is on the basis of occupation' | Read more: https://t.co/TIpYXeBGBc pic.twitter.com/LiYKNWboXJ

— RTÉ News (@rtenews) March 31, 2021
He said vaccinating the country as quickly as possible on the basis of age offers the prospect of four-fifths of the population receiving a vaccine by June.
Minister Donohoe said the Government is examining if there is the capacity to bring large numbers of people into mandatory quarantine settings.
He said he understands that yesterday the Department of Foreign Affairs received advice on extending the mandatory quarantine to a number of other countries and another decision will only be made if the Government is confident it can be implemented.
The Government is considering advice about expanding mandatory hotel quarantine to include more countries, Minister for Finance @Paschald has said on @MorningIreland, including whether the capacity would be in place to expand it | Read more coverage: https://t.co/3Y3Xajmwms pic.twitter.com/xxo2ZC6EnG

— RTÉ News (@rtenews) March 31, 2021
He also said he understood the needs of parents in relation to young children and these are being prioritised in relation to schools reopening.
As we move into May, he said, decisions in relation to non-essential retailers will be examined.
Mr Donohoe rejected what he said was an implication that Fine Gael is not aware of health needs of young children. Everything his party has done since this awful disease arrived into Ireland, he said, has been to keep people safe.
Asked about concerns about the availability of goods such as children's shoes, Minister @Paschald said if vaccination targets are met non-essential retailers can open in May. He added many retailers are selling children's shoes online | Read more coverage: https://t.co/3Y3Xajmwms pic.twitter.com/8sNqHR6ueO

— RTÉ News (@rtenews) March 31, 2021
The National Bus and Rail Union has said that it will not co-operate with a return to public transport capacity over 50% on buses and trains without the vaccination of its drivers and frontline workers.
Speaking on RTÉ's Today with Claire Byrne, MNBRU General Secretary Dermot O'Leary said that "if people expect to move on public transport to the levels they used to move on before Covid-19 that's not going to happen without the vaccination of frontline workers".
He said the NBRU members had co-operated with all guidelines to date and accepted that the most vulnerable should be vaccinated first.
He said that he has "deep sympathy" for other frontline workers including gardaí.
He said that as more people are vaccinated they can move around more freely, but drivers will remain unvaccinated.
He said that there were expected to be in priority Category 10, but there has been no communication from the National Transport Authority in relation to increasing capacity on buses and trains.
He said he will write to the NTA to advise them of the union's view on the matter.