The trade union Fórsa has said it will be making a formal request to Government that Special Needs Assistants be included in a side category of the new vaccine roll-out programme that refers to people working in crowded settings.
The union met Department of Education officials this morning and informed them of its intention.
The union said the department agreed to further engagement with the unions, which would also involve public health officials. 
Teacher unions, too, have said they want clarification on how Category 9 relates to their members. 
The category states that people living or working "in crowded settings" will be vaccinated "in parallel" with an age-based approach.
It has yet to be confirmed by Government what kind of workplaces this wording refers to.
The teacher unions are seeking clarification and urgent engagement with the Department of Education on the decision to change the National Vaccination Programme to an age-based system.
The revised system will come into operation once those aged 70 years and older and the vulnerable are immunised.
The change means that teachers and workers in essential jobs, including gardaí, will not be vaccinated as priority groups.
Taoiseach Micheál Martin said yesterday that it was a better way to roll out the vaccine and would simplify the process once more vaccines arrive later in the year.
Unions have expressed dismay and shock at the decision.
The matter is of particular concern to primary teachers' union the INTO, which said that more than one third of its membership is under 35. 
The change comes at a delicate time in education, as the system gears up for a full return of all students to classrooms in less than two weeks, and as the teacher trade unions gear up for their annual conferences in just under one week.
Those conferences, due to take place online, were already set to be dominated by teacher concerns around Covid-19 and whether mitigation measures, to protect them and students, are adequate.
---
Read more:
Is there a glimmer of hope for teachers in new vaccine plan?
Latest coronavirus story 
---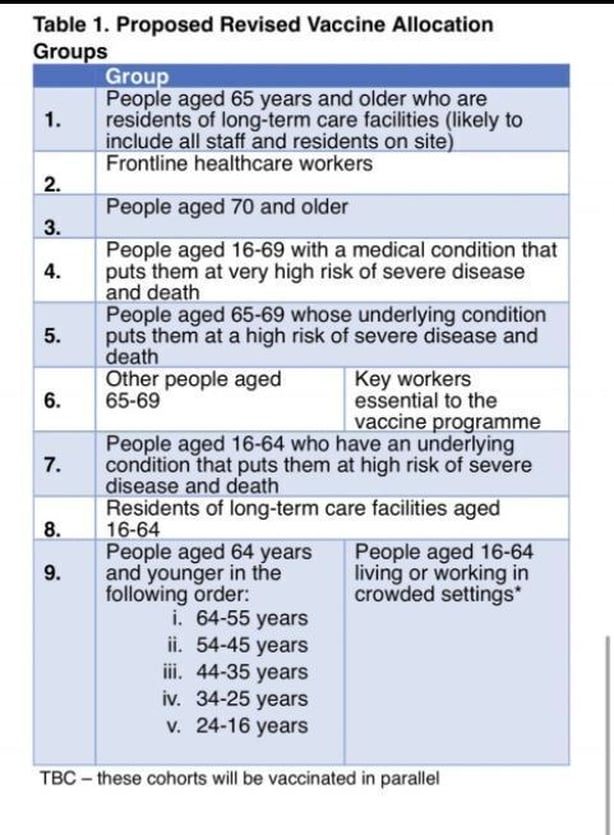 The ASTI said that "dismay and anger" has been flooding in from members this morning over the Government decision to revise the vaccine schedule. 
The union said it was seeking a meeting with the Department of Education and it will be asking the Minister for Education if she supports the change.
The union reiterated that the matter needed to be looked at. 
Asked at a media briefing this morning was there now any threat hanging over the reopening of schools after the Easter break as a result, the ASTI General Secretary said the union was not considering any such threat, that there was no indication that this would have any impact on the reopening of schools on 12 April.
49 outbreaks reported in schools
The number of outbreaks rose by 54 to 454 in the week to last Saturday, according to data from the Health Protection Surveillance Centre.
The biggest rise in outbreaks was in schools, up 27 on the previous week to 49.
The total number includes 104 'late' notifications from October to February, which are mostly private house outbreaks.
The HPSC defines an outbreak as: "A cluster/outbreak, with two or more cases of laboratory confirmed Covid-19 infection regardless of symptom status. This includes cases with symptoms and cases who are asymptomatic.
"A cluster/outbreak, with one laboratory confirmed case of Covid-19, and at least one additional case of illness with symptoms consistent with COVID-19 infection (as per the COVID-19 case definition)."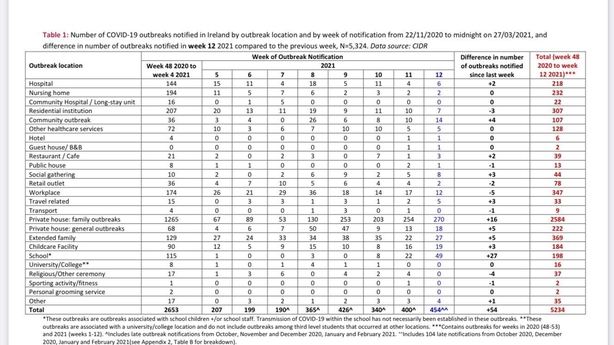 There were 124 cases of Covid-19 detected in school-based testing last week, according to the latest data from the Health Service Executive. This represents a positivity rate of 1.9%.
Overall, 6,538 students and staff at 257 facilities underwent testing last week.
Of those who tested positive, 83 were primary school children, 20 were teenagers at second level, and nine were children attending special schools.
A total of 12 staff members tested positive, nine of whom work in primary schools.
Age group data shows that last week 1,256 people under the age of 18 tested positive - 313 of these were teenagers, 565 were aged between five and 12, and 378 were under the age of five.
Of the 257 facilities involved in testing, the majority - 193 - were primary schools.
Testing also took place in relation to 51 second level schools, and 13 special schools.
The latest figures compare well to those of the previous week, which saw a total of 110 cases detected in school-based testing. 
The data shows an increase however in the number of under 12s who contracted the virus last week compared to the week before.
Week 11 recorded 487 five to 12-year-olds testing positive. However, that rose to 565 last week.
There was also a small rise in under fives testing positive, from 343 to 378 last week.