The National Immunisation Advisory Council appear to have ruled out the inclusion of groups of workers such as Special Needs Assistants, teachers, and gardaí in a subcategory of the revised vaccination rollout plan which refers to people "living or working in crowded settings".
The body told a press briefing earlier that such workers were not included in that category.
As the vaccination scheme was updated on the government's Gov.ie website a curious change was made. The old text referred to people living or working "in crowded accommodation", but the word accommodation was removed and replaced with the word "setting". Under the revised plan people in that category are to be vaccinated in tandem with the age-based approach.
This gave a glimmer of hope for teachers and SNAs who under the old plan had been prioritised; promised that after older and high-risk people they would be in the top 30% of the adult population to receive the jab. This was a central confidence building measure for school workers, their union representatives say, to reassure amid the reopening of schools, but then it was taken away.
In relation to the revised wording, teachers, SNAs and their representatives could certainly argue that classrooms with 30 or more students or schools with 400 or 800 or more students are "crowded settings".
However, speaking on RTÉ's News at One programme this lunchtime Professor Karina Butler, chair of NIAC, said this subcategory referred to people in Traveller and Roma Communities or in homeless shelters.
Dr Butler strongly defended the age-based approach, outlining the dramatically higher risk of death that the disease represents for older people.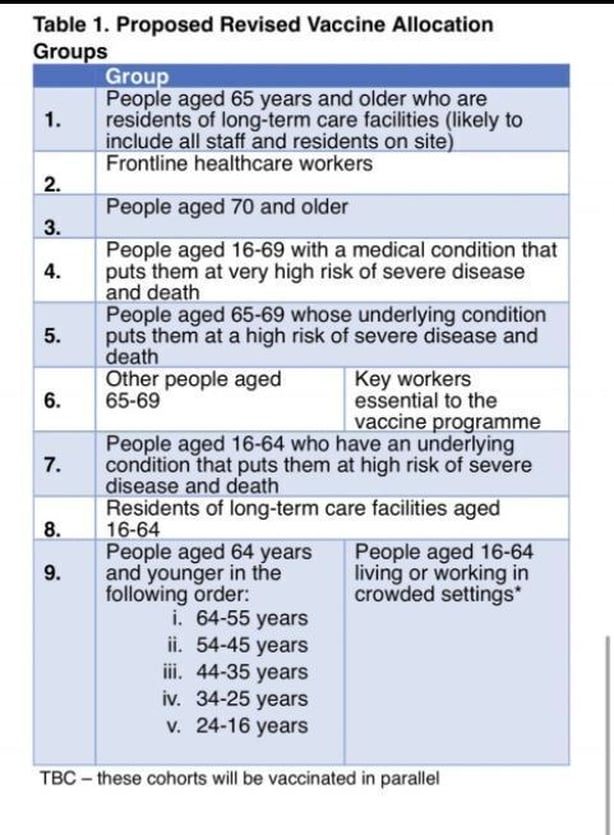 She said research showed the only occupation at higher risk of severe outcomes from Covid illness was healthcare workers. They are seven times at greater risk compared to the general population.
She said the risk in other occupations such as teachers or childcare workers or those in public transport was only about 1.1 or 1.2 times higher.
But if you compare 20-34 year olds with 60-64 year olds, the latter has 70 times the risk of dying from Covid, she said, and 50-54 year olds 14 times.
However, the pressure on Government from SNAs and teachers looks set to continue. The timing is particularly sensitive, with less than a week to go to the annual teacher trade union conferences. Those conferences were already set to be dominated by the issue of Covid-19 and safety in schools. Fórsa education workers are also due to gather in conference in just over a week's time.
The teacher trade unions said earlier today they would inquire and seek clarification on this new sub-category from government, and Fórsa, which represents SNAs, says it will do likewise.
---
Read more
Fórsa in formal request over vaccine roll-out, teacher unions seek clarity