The National Vaccination Programme is to be changed to an age-based system, once those aged 70 years and older, the vulnerable and people with underlying conditions are immunised.
The advice to Government is that it would be simpler from an administration viewpoint and also fairer.
Taoiseach Micheál Martin said this evening that it was a better way to roll out the vaccine and would simplify the process once more vaccines arrive later in the year.
A number of professional and other groups have lobbied to be moved up the current vaccination schedule.
The age-based system is expected to come into force after Group 8 are vaccinated, which is residents of long-term care facilities aged 18-64.
The new system would see people vaccinated in ten-year age groups, starting with those aged under 64.
New advice from the National Immunisation Advisory Committee is that no occupational group is at higher risk of disease or death from Covid-19.
It has also advised that speed of vaccination deployment is a key factor.
Those aged 18 to 64 who are living, or working, in crowded accommodation where social distancing is difficult to maintain will be the last group on the current list to be vaccinated.
After that, people will receive the vaccine based on age starting with those aged 64 to 55 years and working downwards.
The change means that teachers and workers in essential jobs who cannot avoid exposure to Covid-19 will not be vaccinated as priority groups.
The Minister for Health has said that the age-based approach system will make the vaccine roll-out "more efficient at higher volumes of vaccinations".
Stephen Donnelly also said that it "better meets the objective of protecting those at highest risk first".
He said: "The move to an allocation strategy focused largely on clinical risk – that is age and medical conditions - makes Ireland's vaccination programme more efficient, more transparent and fairer.
"We have the benefit of learning from our own experience over the past three months, and what has been shown to be most effective internationally. It means for the first time that we can give better information to the very reasonable question 'when will I be vaccinated?'."
The Cabinet approved changes to the vaccination priority list this evening.
The new revised vaccination groups. pic.twitter.com/v1D6HBNVFE

— Fergal Bowers (@FergalBowers) March 30, 2021
---
---
It's understood some in Government are a little apprehensive about upcoming changes to the vaccination programme which will no longer prioritise workers such as teachers and Gardaí with the vaccinations delivered based on age instead

— Mícheál Lehane (@MichealLehane) March 30, 2021
Speaking at a briefing at Government Buildings, Mr Martin said there were no databses to allow for prioritising professional groups.
He said NIAC had reviewed the programme and it was clear that an age-based approach was better from a health prospective.
Speaking at the same briefing, Deputy Chief Medical Officer Dr Ronan Glynn said that once you take account of age and of underlying conditions, no particular professional group stands out as being at higher risk.
Tánaiste Leo Varadkar said that trying to stratify the vaccination process by age and occupation would complicate the process, and you could end up with 50 or more groups.
When asked on RTÉ's Prime Time if the Ministers for Education and Justice were on board with this decision, Mr Varadkar said that they accepted the advice and the science, but they understood there will be criticism from some trade unions and certain professions.
He said there will be an engagement to explain how and why this decision was made.
Sinn Féin leader Mary Lou McDonald told RTÉ's Six One News that she fails to see how it can be argued that SNAs, gardaí, teachers and retail staff do not face higher risk.
Labour Party leader Alan Kelly said: "There are a lot of frontline essential workers in education, childcare, policing and retail who will be concerned that they no longer have any priority under the vaccination programme."
Róisín Shortall, co-leader of the Social Democrats, said: "The changes proposed to the vaccine priority list require explanation in terms of how they will operate.
"The Government needs to spell out if this will entail a self-registration system. If so, is the IT system capable of this and how do they plan to approach hard-to-reach groups?"
They were speaking after the Taoiseach announced that from 12 April people will be allowed to travel within their county or within 20km of residence if crossing county borders.
Teachers seek urgent engagement over programme
Trade unions representing teachers say they are looking for clarification and urgent engagement with the Department of Education.
The trade union representing Special Needs Assistants, Fórsa, has said it will be raising the matter at a scheduled meeting with department officials tomorrow.
The matter is of particular concern to primary teachers' union the INTO, which says that more than one third of its membership is under the age of 35.
Teachers and SNAs and other school workers were in Group 11 of the existing vaccination plan.
The INTO and Fórsa had hoped - on calculations based on vaccine supply - that school workers most at risk, such as those working closely with children with disabilities, might have begun under the old schedule to receive the vaccine by May.
However, the change announced this evening has thrown this calculation into disarray.
One source said that they felt they had been "blindsided" because they were not consulted about the proposed change.
The ASTI has said it is shocked and dismayed by today's decision, describing it as a major blow to teachers' confidence.
"The Government has continuously stated that a key objective is to keep schools open. Today's decision is totally at odds with and undermines this objective," said ASTI President Ann Piggott.
"Teachers and other school staff are frontline workers. We want schools to remain open, however teachers have a right to safe working environment, just as other essential workers who cannot work remotely do."
She said social distancing was "a major problem" for many teachers because of the environment they work in.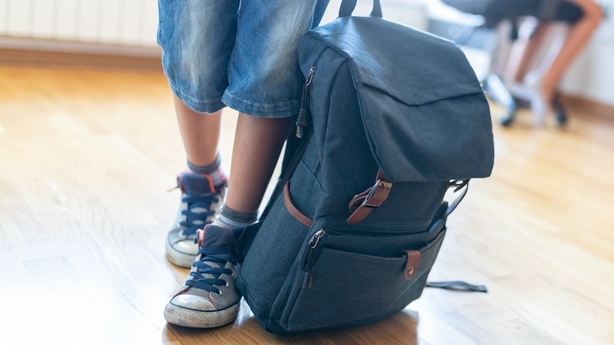 "The ASTI said it will be demanding an urgent meeting with the Department of Education."
The INTO teachers' union has described the change in the programme as "unacceptable", saying that the Government must prioritise the "safety of teachers".
It has accused the Government of treating teachers with "blatant disregard".
INTO General Secretary John Boyle said: "For months now we have heard the Government say, time after time, that education is the top priority.
"How then can teachers be treated with such blatant disregard as frontline education workers?
"This move undermines the efforts of our education staff to keep our primary and special schools open safely."
The Department of Education said that the decision has implications for many sectors, including school staff, and will result in those working in schools being vaccinated with their age cohort.
It said that school staff who are vulnerable will continue to be vaccinated in line with their original grouping.
The Association of Garda Sergeants & Inspectors has said the new programme shows a scant regard for the unique job that gardaí do and the high-risk job they must do in policing Covid-19.
Additional reporting Mícheál Lehane, Emma O Kelly