The Government has announced that from 12 April people will be allowed to travel within their county or within 20km of residence if crossing county borders.
Speaking at Government Buildings, Taoiseach Micheál Martin said two households will also be able to meet socially outdoors, but not in each other's gardens from this date.
The guidance is that any meetings outdoors should adhere to social distancing and other public health measures.
The advice remains that masks should be worn in crowded outdoor spaces.
From 12 April, the 5km limit will no longer apply, and people can travel within their county. Two households will then be able to meet outdoors, and the construction industry will begin to return to work, says Taoiseach Micheál Martin. | Live blog: https://t.co/Rm2pGw1fHo pic.twitter.com/bdPGuL0gnx

— RTÉ News (@rtenews) March 30, 2021
All residential construction can restart from 12 April, as well as early-learning and childcare projects.
The Cabinet met earlier today to identify what restrictions might possibly be eased next month.
From today, people who are fully vaccinated against Covid-19 can meet other fully vaccinated people indoors.
They must be from only one other household and it must be two weeks after the second dose has been received.
The Taoiseach said from 19 April some additional high performance training will be allowed, including senior inter-county GAA training to facilitate national league competitions starting in May.
From 19 April, some high-performance training will be allowed, says Taoiseach Micheál Martin. From 26 April, outdoor sport training for children, golf and tennis can begin. The number of mourners at funerals will be increased, he says. | Live blog: https://t.co/Rm2pGw1fHo pic.twitter.com/Ey077ReJ06

— RTÉ News (@rtenews) March 30, 2021
He said training for high performing athletes approved by Sport Ireland will also be allowed.
Mr Martin said from 26 April outdoor sports training for under 18 can begin again.
He said golf and outdoor tennis can be played and outdoor visitor attractions, such as zoos and wildlife parks, can be accessed.
The number of people permitted to attend a funeral will increase from ten to 25 from 26 April.
---
---
Increasing the travel limit is in line with advice received by the Government from the National Public Health Emergency Team (NPHET) last night.
Mr Martin said the disease circulating now is a very different beast to the one circulating 54 weeks ago.
He said the B117 variant, first reported in the UK, is essentially a new virus and that it was more transmissible and significantly more dangerous.
He said the reality is, if it is given any space at all, it spreads very quickly and the consequences are terrible.
The Taoiseach said all across Europe health services are at crisis point and countries and regions are reintroducing restrictions and said this can be avoided with sensible and safe steps forward.
A review of the possible easing of restrictions for the month of May will take place towards the end of April.
He said the situation with the virus will be assessed and that they will look at a phased reopening of non-essential retail, personal services, all non-contact sports training, religious services, museums, galleries and libraries, and additional freedoms for those who are fully vaccinated.
Mr Martin said towards the end of May, and depending on progress, the Government will look at the reopening of hotels, B&Bs and guesthouses in the month of June.
He said July and August will see more intensive vaccination and the vast majority of the population will have significant protection against the virus allowing for significant opportunities to reopen even further.
The Taoiseach has said these vaccines are transformative and that they are the way out.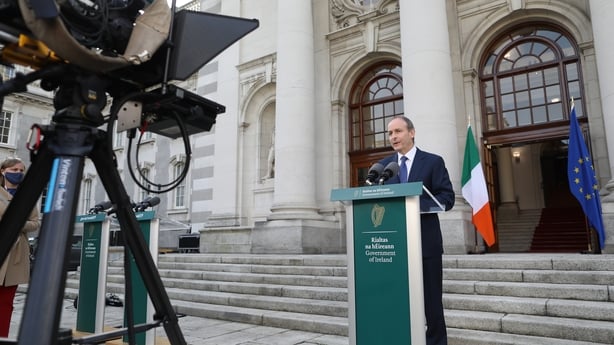 Mr Martin said every effort is being made to ensure that almost all doses are injected into people the same week that they arrive.
However, he said disruption to supply to Ireland and throughout Europe has held the country back. He said that more than 800,000 doses of the vaccine have been administered.
He said by the middle of April all over-70s will have had their first dose and by mid-to-late May all over-70s will be fully vaccinated.
Mr Martin said he expects that by the end of next week they will have administered close to one million doses and that close to three million will have been administered by the end of May, with six million doses by the end of July.
Mr Martin said the country is on the final stretch of this terrible journey.
He said that this summer, the country's businesses and public services will safely reopen. He said people will finally be meeting and enjoying the company of friends and family once again.
People will be able to travel around the country again and jobs and livelihoods will be restored, he said.
Mr Martin said, that most importantly, the worst of this "awful pandemic will be behind us".
He appealed to people to steadily, and safely, get through this final phase together.
The decisions today are very broadly in line with what was recommended by NPHET, says Dr Ronan Glynn. But NPHET did not make any recommendation on construction. | Live blog: https://t.co/Rm2pGw1fHo pic.twitter.com/T1vsrdAI6q

— RTÉ News (@rtenews) March 30, 2021
'Stay local'
The Tánaiste said he thinks the country is very much on its way out of this pandemic in contrast to much of Europe where they are experiencing a new wave.
Speaking following the Taoiseach's announcement, Leo Varadkar said the Government is taking a cautious approach and that new cases each day are still very high with more than 300 people still in hospital and about 70 in ICU.
He said while vaccinations are increasing in number, the number of people being vaccinated is still relatively low.
Mr Varadkar said they are easing restrictions but they are still asking people to stay apart, minimise social contacts and from 12 April the message will change from 'stay at home' to 'stay local'.
He said the Government will increase its actions to fight the virus in five ways: including to accelerate the vaccine roll-out, increased antigen testing, enhanced contact tracing, and increasing border bio-security with an additional PCR test on arrival into Ireland.
Green Party leader Eamon Ryan said the country is not beyond risk, which is why restrictions will be eased slowly.
He said it would be a very slow, cautious reopening, but the country is on the path to recovery
He also paid tribute to health workers, to NPHET and to young people.
Minister Eamon Ryan says he expects people will be able to holiday in Ireland this summer. | Live blog: https://t.co/Rm2pGw1fHo pic.twitter.com/4ELtDTvuZ5

— RTÉ News (@rtenews) March 30, 2021
The Deputy Chief Medical Officer said he knows adhering to these restrictions for April and May is a very hard ask after a particularly difficult three months.
But Dr Ronan Glynn said the country remains susceptible to a fourth wave.
He said if the gains made over the past three months can be protected, the most vulnerable in society can be protected so that they can benefit from vaccination, and all children can go back to school.
Dr Glynn said it is also hoped that the new advice for those fully vaccinated will provide some relief to those who in many ways have been the most impacted by the pandemic.
He said everyone wants this initial phase of reopening to be successful, but for that to be so, people must continue to work together, acting together in the public interest.
Dr Ronan Glynn says we remain susceptible to a fourth wave of infection. Virus rates may currently be increasing, he says. But modelling shows the risk can be reduced if we can continue to keep Covid under control in April and May, he says. | Live blog: https://t.co/Rm2pGw1fHo pic.twitter.com/sQvHWTdyem

— RTÉ News (@rtenews) March 30, 2021
Dr Glynn said that people can and should be optimistic of an enjoyable summer that is much better than what was experienced over the past six months. But he said the country is not there yet.
He said that the level of infection remains high and incidence rates have plateaued and may be increasing.
In the past week alone, he said, they have reported almost 4,000 new cases and the incidence is 63% higher than it was the week leading into Christmas.
He said the numbers in hospital are still close to the peak experienced in the second wave and there continues to be a steady flow of admissions to hospital.
Further Govt actions in weeks to come, says Varadkar
The Tánaiste Leo Varadkar has defended the Government's rollout of the Covid-19 vaccine and said there will be further Government actions in the weeks to come, including antigen testing in workplaces, enhanced contact tracing and stronger border controls.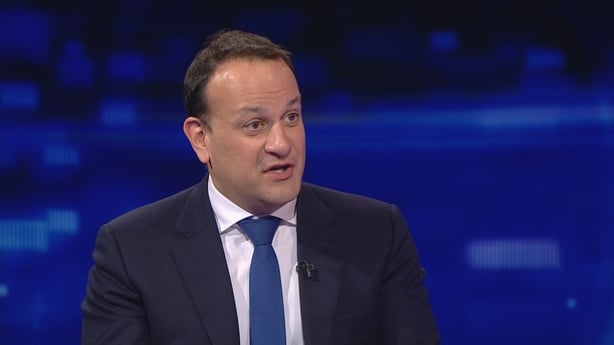 "Relative to most of the world and relative to the rest of the European Union our vaccine rollout is going very well," Mr Varadkar said, adding that supply will really increase over the next couple of months.
"More people will be vaccinated next month, that's April, than have been vaccinated since the vaccine started arriving," he said.
Speaking on RTÉ's Prime Time programme, the Tánaiste conceded that our nearest neighbour, the United Kingdom, was doing much better than us in terms of vaccine rollout, saying they have had "a very impressive vaccine rollout".
But he said the focus now over the next couple of weeks was on asking people to continue with "the actions that they've been taking" but also on further Government action.
"We will speed up the vaccination programme, we have now walk-in PCR testing in areas of high incidence...we're going to expand antigen testing quite significantly in workplaces, schools and colleges.
"We're also going to strengthen our border controls...we already have the strictest ones in the EU but we're going to add more countries to the list and require a test on arrival...and as well as that we're going to have enhanced contact tracing going back seven days."
Asked if countries like the US, France and Germany are set to be added to the list of countries requiring hotel quarantine, Mr Varadkar said the issue was under consideration.
He said the Government received revised advice on Friday suggesting that more countries be added to the list - not just countries where there are variants but also countries where there is a high incidence of the virus.
However, the Tánaiste said a few things needed to be worked out: "Do we have the hotels for example? What's the exit strategy? Some of the countries are in the EU so there's issues around free movement which we need to sort out. Also a practical issue around vaccines...people who are fully vaccinated, could they be exempted?"
He said all of these issues needed to be considered before they could make a decision on adding countries like the US and France to the list because that would have big consequences.
Mr Varadkar also said that passengers currently have to have a PCR test before they arrive into the country but now they will also have to have a test when they arrive.