The Health Service Executive has said that almost 220,000 Covid-19 vaccine doses have been administered.
For the last week, a total of 51,200 vaccinations were completed, with 44,900 administered in acute hospitals, with 1,500 people receiving a first dose and 43,400 receiving their second shot.
HSE Chief Executive Paul Reid said there were 6,300 vaccines given in long-term care facilities, with 3,800 getting their first dose and 2,500 their second as of last Sunday.
He said the total number of vaccines administered as of today is 219,200.
As of today, 219,200 vaccinations have been administered, according to HSE chief Paul Reid ¦ Read more: https://t.co/VfKyTsoEM9 pic.twitter.com/FQxiSRJoA7

— RTÉ News (@rtenews) February 4, 2021
Speaking at a HSE briefing, he said the HSE will do "everything in its power" to complete the roll-out of Covid-19 vaccines for over-70s within the original timeframe.
But, he said, it must first reassess the implications of not using the AstraZeneca vaccine for this cohort of the population.
Mr Reid said: "We have always been very clear this first quarter was going to be uncertain and unpredictable ... between supplies and the most appropriate use of each supplies."
He said that the HSE has delivered all vaccines "safely, securely and in a timely manner" and that the daily reporting of vaccination numbers will begin next week.
Mr Reid said vaccination of the over-85s will go ahead from mid-February, as the HSE is anxious to get the most vulnerable vaccinated.
He said that decision is now policy and the next 48 hours will be spent reorganising and realigning how best to deliver the Pfizer-BioNTech and Moderna vaccines to the over-70s with the agreement of GPs.
Mr Reid said that there are 480,000 over-70s who need vaccinations, and while the new policy will have significant implications, "it does not throw the plan completely up in the air ... we will not be leaving anyone out".
---
Read more:
Lack of data on AstraZeneca jab reason for over 70s decision
Vaccination of over 70s 'may well be slower' - Varadkar
Latest coronavirus stories
---
HSE chief Paul Reid says the organisation will do 'everything in its power' to complete the rollout of the vaccination programme to the over 70s within the original timeframe pic.twitter.com/Pc2ADdXF0j

— RTÉ News (@rtenews) February 4, 2021
Mr Reid said that the logistics of vaccinating older people with the mRNA Covid-19 vaccines requires additional organisation and locations outside of GP practices to be set up in the right locations.
He said the type of sites needed will need space for vaccination and observation areas, along with refrigeration capacity and administration areas.
Mr Reid said the plan is to work with GPs who have the strongest relationship with over-70s in the community.
He said that the HSE needs to look at supply of the Pfizer-BioNTech and Moderna vaccines after the initial priority group have received their second doses.
Mr Reid said the good news is that Ireland now has three vaccines to use, and can continue to vaccinate the remainder of health workers in a more timely manner using the AstraZeneca vaccine supply.
He said the HSE will re-engage with the IMO in terms of realigning the vaccination plan.
The HSE's Chief Clinical Officer Dr Colm Henry said GPs are a "critical part" of delivering the vaccination programme and are key to gaining the confidence of the population when it comes to administering vaccines.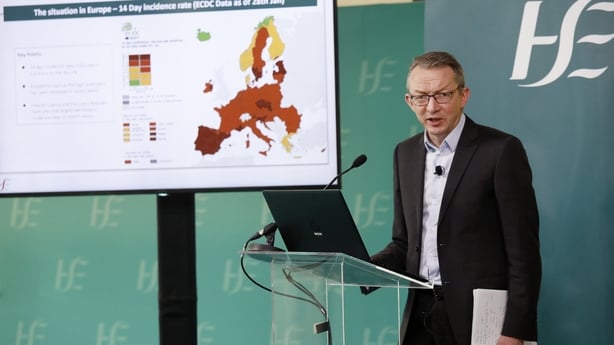 The hospital system is "still too heated up for us to have any level of comfort", Mr Reid said, and appealed to the public to continue to embrace the public health measures and not to get sick.
Mr Reid said that progress has been made overall but that numbers hospitalised at the moment is still 50% higher than at the peak of the pandemic last April.
A total of 305 people are in ICUs across the country, which remain in surge capacity.
Mr Reid said that there are 280 people receiving advanced respiratory support outside of ICUs and about a third of these will likely need to move to ICU or may not recover.
Also speaking at the briefing, Chief Operations Officer Anne O'Connor the HSE's winter plan is "key" to keeping the health system going throughout winter and further on and there are 427 out of 566 targeted acute beds now open.
"We are making good progress on acute beds," she said.
There are also 33 "acute restart initiatives" up and running, where sites have identified extended opening hours and increased opening hours, to cope with the requirement to manage both Covid and non-Covid cases.
Ms O'Connor told today's HSE briefing that there are 208 intermediate care beds now open, which is "behind target" because of the amount of outbreaks in residential care settings and staff unavailable because of Covid-19.
At the briefing, Dr Henry said Ireland is now 12th from the top in Europe for 14-day incidence rate. He said our rate of falling is among the best in Europe at this time but our number of cases is still too high.
He said the majority of Covid-related deaths in this country have taken place in nursing homes and hospitals.
560 Covid-19 outbreaks in hospitals and care settings
Health services are dealing with 560 outbreaks of Covid-19 in hospitals and residential care settings.
Ms O'Connor said there are 132 "open" outbreaks in acute hospitals currently, along with 428 outbreaks in residential care.
Outbreaks "continue to be a challenge for us," she said, with the highest levels of outbreak in the south and east regions, where they are "quite significant".
The HSE is currently providing support to 1,466 long-term residential care facilities, Ms O'Connor said.
Meanwhile, 34% of nursing homes across the country are dealing with outbreaks of Covid-19.
However, the numbers of staff in hospitals who are unavailable because of cover went down from 1,053 two weeks ago to 738 by the end of last week.
She described this as a "good, notable reduction", but pointed out that there are still hospital staff members testing positive for Covid-19.