The Chair of the National Immunisation Advisory Committee has said that the decision to advise against the use of the Oxford/AstraZeneca vaccine for people over 70 was due to a low amount of data on its efficacy in older age groups.
Speaking on RTÉ's Morning Ireland, Professor Karina Butler said: "We are in a very good position and have a number of different vaccines, but all prevent serious hospitalisations and disease across all age groups." 
Prof Butler said that there are definite advantages to the Oxford/AstraZeneca vaccine, but added they "are anxious to prevent against severe outcomes in those most vulnerable and have two vaccines [Moderna and Pfizer] that are a bit better at doing that and have more data on them in older age groups".
She said the vaccine has an overall efficacy that is somewhat lower than mRNA vaccines, but the committee has every reason to believe it would work as well across different age groups as indicated by the immune response across ages.
However, she said, there "just was not enough data in older age groups when we had another choice".
---
Read more: Latest coronavirus stories
---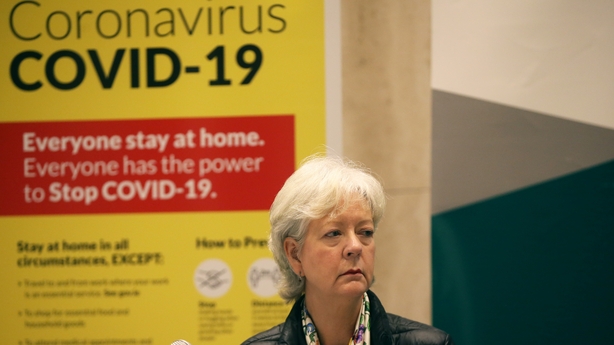 Prof Butler said: "If there was not another choice you'd be saying, absolutely fine, this vaccine is above the bar that any of us thought we would have that the WHO set, and absolutely it is a good vaccine and has other things which may show over time it has definite advantages."
She said the decision will not lead to an untimely delay in rolling out both types of vaccines to get most people vaccinated as soon as possible.
Prof Butler said that in the case of significant delays, "the best vaccine to take is the one that is available".
She added the Oxford/AstraZeneca vaccine is showing to have a good impact on transmission rates and will be used as part of Ireland's campaign to tackle the virus.
Meanwhile, a Professor of Immunology at Maynooth University said the caution that is being exercised around the AztraZeneca vaccine is due to a lack of data on the its effectiveness on people aged over 65.
Professor Paul Moynagh said he would be surprised, however, if it turns out not to be as effective as the Pfizer/BioNTech and Moderna vaccines.
Speaking on RTE's Claire Byrne, he said data is showing that there is a "high human response immunogenicity", which is a "good correlator" of protection.
Prof Moynagh said he expects that data will become available very quickly to provide more clarity on the effectiveness of the AstraZeneca vaccine on older people and also called for a greater focus to be given on how to maximise the doses that can be given from Ireland's vaccine supply.
Several other European countries have also advised against the use of the vaccine for older people because of a lack of sufficient trial data related to older age groups. 
Switzerland however, took a tougher line and declined to authorise the Oxford AstraZeneca vaccine for any age group, claiming the company provided insufficient trial data to reach a firm conclusion about its efficacy.