The decision not to use the Oxford/AstraZeneca vaccine for people aged over 70 will mean the rollout of the vaccine for that group will be slower, Tánaiste Leo Varadkar has told the Dail. 
Speaking during Leaders' Questions in the Dáil, he said this means the roll-out for healthcare workers and others will be faster and the same total number of vaccines will be administered.
People over the age of 70 will be given the Pfizer or Moderna mRNA vaccines where possible.
Responding to a question on vaccine delays from Sinn Féin's Pearse Doherty, Tánaiste Leo Varadkar says the same number of vaccines will still be given as had been intended. However, he says the roll-out for over 70s 'may well be slower' pic.twitter.com/AQqFEqPIQl

— RTÉ News (@rtenews) February 4, 2021
Sinn Féin's Pearse Doherty said there are now major challenges facing GPs to deliver the vaccine to older people.
He said there is no sense of a Government plan and it is not clear how long it will take to vaccinate older people.
Mr Varadkar insisted that the only constraints are the supply of vaccines.
He said GPs will still be involved but they may not be able to administer the vaccines in their surgeries and centres might have to be used.
Mr Varadkar added that pharmacists are also likely to be involved in the vaccination programme.
Also speaking in the Dáil, Aontú Leader Peadar Toibin described the delivery of vaccines as scandalously slow.
Responding, Mr Varadkar said Ireland was among the top four European countries when it came to the vaccine roll out and the only constraint is supply.
He added that it was a shame that vaccines were not available earlier but that was beyond the Government's control.
---
---
Meanwhile, Minister for Health Stephen Donnelly said he had authorised the use of the AstraZeneca vaccine with the first delivery due next week.
In a tweet, Mr Donnelly said that Ireland now has "three safe and effective vaccines".
I have just signed the authorisation for use of the AstraZeneca vaccine by our vaccinators, effective immediately. The first delivery of this vaccine is due next week. Ireland now has three safe and effective vaccines #holdfirm pic.twitter.com/wQToihO7bf

— Stephen Donnelly (@DonnellyStephen) February 4, 2021
The Taoiseach has said that by mid-year we will be in a different space and a different landscape.
Speaking on RTÉ's Prime Time, Micheál Martin said there is hope but people need to stick with the restrictions to get the country in a better position.
He said the vaccination programme has put us in a better place, and that the Government would have to look at the order in which people will receive vaccines, in particular for those who have illnesses that compromise immunity.
Task force and HSE to work through vaccine logistics 
The High-Level Task Force on Covid-19 Vaccination and the HSE are continuing to work through the implications of the Oxford/AstraZeneca vaccine decision, which presents new logistical challenges in order to supply GPs around the country with the mRNA vaccines. 
The mRNA vaccines are more difficult to transport, store, and administer than the Oxford/AstraZeneca vaccine, which GPs had been expecting to receive in large quantities. 
The task force meets later today to consider how to ensure the vaccine roll-out plan remains on schedule. 
About 400,000 doses of the Oxford/AstraZeneca vaccine are expected to be delivered by the end of March. 
It is low cost, easily transported and can be stored in a fridge for up to six months. 
The plan was to get it to GPs to vaccinate all over 70s as fast as possible, starting with all those over the age of 85 from the middle of this month, but now that will not happen, so planning is required to ensure GPs can administer the Pfizer-BioNtech and Moderna vaccines instead. 
The task force will have to decide who to give the spare AstraZeneca vaccines to as soon as they arrive, as well as how to stick with the Government's sequencing plan for different priority groups, while sourcing enough of the mRNA vaccines to vaccinate the over 70s on schedule.
Pharmacists seek supply of AztraZeneca vaccine 
The Irish Pharmacy Union has written to the HSE proposing that community pharmacists be immediately supplied with the AstraZeneca vaccine to start vaccinating frontline healthcare workers who have not yet been vaccinated and other healthcare workers not in direct contact with patients. 
Speaking on RTÉ's Morning Ireland, IPU General Secretary Darragh O'Loughlin said while discussions have begun with the HSE about vaccinating in pharmacies there has been "no concrete plans or dates". 
He said that pharmacies can do vaccinations in their premises where they do hundreds of thousands of flu vaccines each year, but could also run clinics in halls or community centres if required to. 
Mr O'Loughlin said agreement on payment for pharmacists has been reached but operational issues, including the delivery and recording of vaccines by pharmacists, as well as training for pharmacy teams, have yet to be finalised.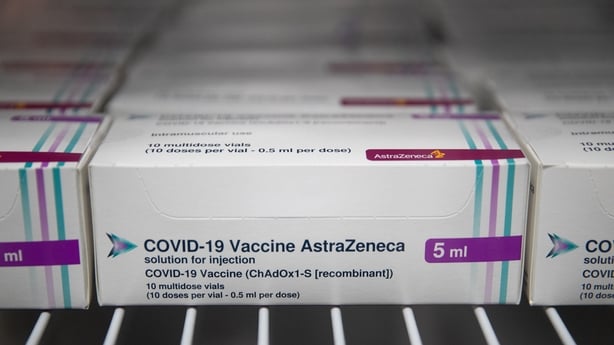 The Tánaiste has said the vaccination programme is the light at the end of the tunnel and the target of vaccinating between 70% and 80% of adults by September is still attainable, despite changes to the roll-out. 
Leo Varadkar said that vaccines are delivered to people as soon as they arrive here and no vaccine will be wasted or left in a fridge. 
Speaking on 2FM Breakfast with Doireann and Eoghan, he said cases have dropped dramatically but public health officials remain concerned that cases are not falling as fast as they should or "not at all" and there is a big risk that people are letting their guard down again. 
Mr Varadkar said that the main goal is to reopen schools during February and March and the best way for this to happen is for people to follow the public health guidelines. 
Plans to ensure roll-out continues quickly
The chair of the Irish Medical Organisation's GP sub-committee said plans are being devised to ensure the vaccine roll-out continues as quickly as possible. 
Dr Denis McCauley said he did not imagine that there will be a supply of the AstraZeneca vaccine sitting in fridges while "we vaccinate the over 85s", but will be directed towards vaccinating healthcare staff. 
He also said he did not think his older patients will be concerned at the changes to the roll-out and there was always the potential for a hybrid of vaccines to be administered by GPs. 
Meanwhile, a GP has called for "clear messaging" that all three Covid-19 vaccines, due to be available in Ireland, are effective.
Speaking on RTÉ's Today with Claire Byrne, Dr Yvonne Williams said she will be urging all her patients to take whatever vaccine is available to them first.
She said it would have been beneficial if GPs had been made aware in advance of yesterday's announcement to allay any concerns patients may have and that it should be made clear to people that taking a vaccine is "much safer than waiting" for an alternative. 
The Irish Medical Organisation said it recognised the Pfizer-BioNTech and Moderna vaccines involve difficulties in relation to storage and reconstitution and are both time limited, but it is comfortable that this can be administered through general practice.