Schools are to remain closed in Northern Ireland for an unspecified period with "extended period of remote learning".
It follows an emergency meeting of the Stormont Executive to tackle the spread of the coronavirus.
The Executive has confirmed that the "stay at home" guidance will become law, including restrictions on travel.
BREAKING: Stormont Executive confirms "stay at home" guidance will become law, including restrictions on travel. Also schools to remain closed for unspecified period with "extended period of remote learning." Details to be discussed tomorrow @rtenews @FergalBowers @GeorgeLeeRTE

— Vincent Kearney (@vincekearney) January 4, 2021
It is expected that a range of increased restrictions will be announced after the Executive reconvenes tomorrow afternoon.
It is likely the measures will be similar to the actions announced by British Prime Minister Boris Johnson.
In a televised address, Mr Johnson ordered a third national lockdown for England to combat the spread of coronavirus.
Earlier today, Northern Ireland's First Minister Arlene Foster said that the Stormont Executive has "very difficult decisions to take" in a "dire situation".
Ministers took part in an urgent meeting this evening in response to soaring numbers of coronavirus infections.
The First Minister, along with Deputy First Minister Michelle O'Neill, took part in a four nations call at 5pm on the response to the pandemic.
Speaking to reporters in Fermanagh before the Executive meeting, Mrs Foster did not rule out keeping schools closed.
"The advice coming to us is that we will need to take action and that we'll need to take action very quickly," she said.
"I don't want to prejudge the discussions at the Executive at 6pm but we will have very difficult decisions to take, there is no doubt about that.
"I was very clear that I would like to keep schools open for as long as possible, but if it is the case that we do need to close schools as we did in March of last year, I will deeply regret that, but we will of course take whatever action is needed based on the medical evidence in front of us."
The First Minister also expressed disappointment at the number of gatherings and said ministers will speak to police about enforcement.
Almost 100 house parties were broken up by police in Northern Ireland over the last week despite strict rules against indoor gatherings.
The PSNI also issued 339 £200 fines for breaches of the coronavirus regulations.
"Just today I was sent photographs of Portstewart and Portrush over the past couple of days and there were huge crowds gathering together and I really regret that because we have very difficult decisions to take tonight as a consequence," Mrs Foster said.
"It is very clear to me that we cannot keep going in the trajectory upon which we currently are, 1,801 cases today, something similar yesterday, over 2,000 the day before. We cannot keep going in this direction or our health service will fall over, it will not be able to cope with what is going on.
"In terms of compliance, I have indicated that I have been disappointed by some of the actions which I have seen people being involved in.
"We will be engaging with the Police Service of Northern Ireland in the next coming hours as well to see what more we can do in relation to enforcement."
Ms O'Neill tweeted: "Urgent decisive action is required to respond."
---
---
It comes amid spiralling numbers of cases of Covid-19.
A further 1,801 positive cases were notified in Northern Ireland on Monday as the number of new cases over seven days hit 12,507.
Hospitals remained under pressure with a 99% occupancy rate.
There were 513 Covid-19 positive patients, 39 of whom were in intensive care units. Chief medical officer Dr Michael McBride described those figures as "deeply troubling".
A six-week lockdown came into effect in Northern Ireland last week, which included the closing of non-essential retail, most of the hospitality industry and close-contact services.
Oxford/AstraZeneca vaccinations begin across Northern Ireland
The roll-out of the Oxford/AstraZeneca vaccine has begun at GP surgeries across Northern Ireland, with 94-year-old Eileen Lynch among the first to receive it in Belfast.
Ms Lynch gave the thumbs up after she received her vaccine from west Belfast GP Dr Michael McKenna at his practice on the Falls Road.
Up to 11,000 people aged over 80 are set to receive the jab this week, and a batch of 50,000 doses has been allocated.
Those aged over 80 will be prioritised initially.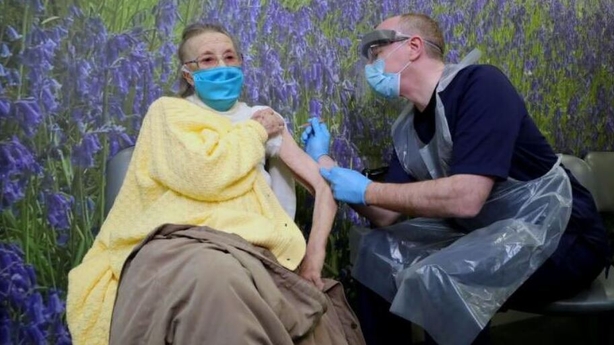 The country has moved to accelerate delivery of the inoculation as the pace of the pandemic has picked up, and the number of cases has increased rapidly.
Chief medical officers across the UK have decided to delay delivery of the second shot of vaccines.
The BMA's Northern Ireland chairman Dr Tom Black said: "A delayed Pfizer second dose is a mistake. Everybody knows."
The intention of officials is that the maximum number of people receive their first jab, with its partial protection, as quickly as possible to help stem the tide of cases that threatens to overwhelm the health service.
Dialysis patient first to get Oxford/AstraZeneca vaccine
Earlier, an 82-year-old retired maintenance manager became the first person in the world to receive the Oxford/AstraZeneca vaccine outside of clinical trials.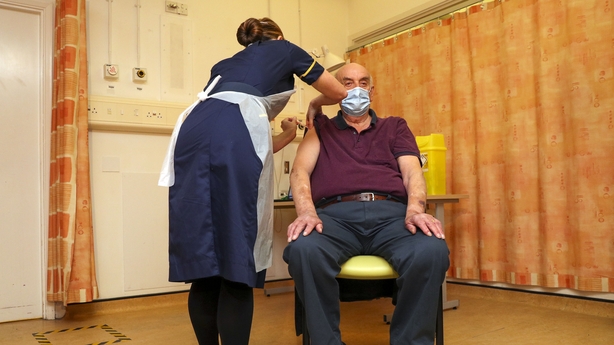 Dialysis patient Brian Pinker received the jab at 7.30am from nurse Sam Foster at Oxford University Hospital's NHS Foundation Trust's Churchill Hospital.
Mr Pinker, who has been having dialysis for kidney disease at the hospital for a number of years, said the jab will give him peace of mind as he continues to receive treatment.
"I am so pleased to be getting the Covid vaccine today and really proud that it is one that was invented in Oxford," Mr Pinker said.
"The nurses, doctors and staff today have all been brilliant and I can now really look forward to celebrating my 48th wedding anniversary with my wife Shirley later this year."
The UK has begun inoculations of the Oxford/AstraZeneca Covid-19 vaccine, with the first recipient, 82-year-old Bob Pinker, saying that it 'means all the world' to him | Read more: https://t.co/x3tBPfebPZ pic.twitter.com/cKV7mVKuuy

— RTÉ News (@rtenews) January 4, 2021
Just over half a million doses of the Oxford vaccine are available across the UK from today.
Delighted that today we roll out the @UniofOxford / @AstraZeneca vaccine across the whole UK 🇬🇧

It's a vital step in our fight against this pandemic

This is a national mission. Thank you to everyone involved. pic.twitter.com/EU3R0AJoCx

— Matt Hancock (@MattHancock) January 4, 2021
The bulk of supplies will then be sent to hundreds of GP-led services and care homes later in the week for wider roll-out.
Britain, which is rushing to vaccinate its population faster than the US and the rest of Europe, is the first country to rollout the Oxford/AstraZeneca shot.
It rolled out the Pfizer and Germany's BioNTech vaccine last year.
The UK has put more than a million Covid-19 vaccines into arms already, more than the rest of Europe put together, Health Secretary Matt Hancock said.
Additional reporting: Tommie Gorman, PA