Donegal is moving to Level 3 Covid-19 restrictions after the 14-day incidence of the disease in the county shot up again today.
The 14-day incidence of the disease shot up again today and is now at 122.5 confirmed cases per 100,000 people.
This is up from 106.2 yesterday, the sharpest jump recorded by any county in the country.
Two and a half weeks ago the 14-day incidence rate for Donegal was below 20. So there has been a six-fold increase in the number of active or open infections in 16 days.
On top of that 42 new cases in the county were confirmed by the Department of Health this evening, and 30 yesterday. They have yet to be added in and are sure to drive the incidence rate even higher.
This is a serious situation for people throughout the county.
Level 3 social and economic restrictions will impact throughout the hospitality and tourism sectors and beyond.
People are being asked not to travel outside the county.
There will be no visiting relatives in nursing homes, an increased emphasis on working from home, no spectators at sporting events, further restrictions on who can visit your home, and much more.
Level 3 will hurt and it will last for weeks.
But where exactly in Donegal is the source of the problem? What parts have the highest incidence of disease?
The county is broken down into seven local electoral areas. Some are predominantly rural. Others are more urban.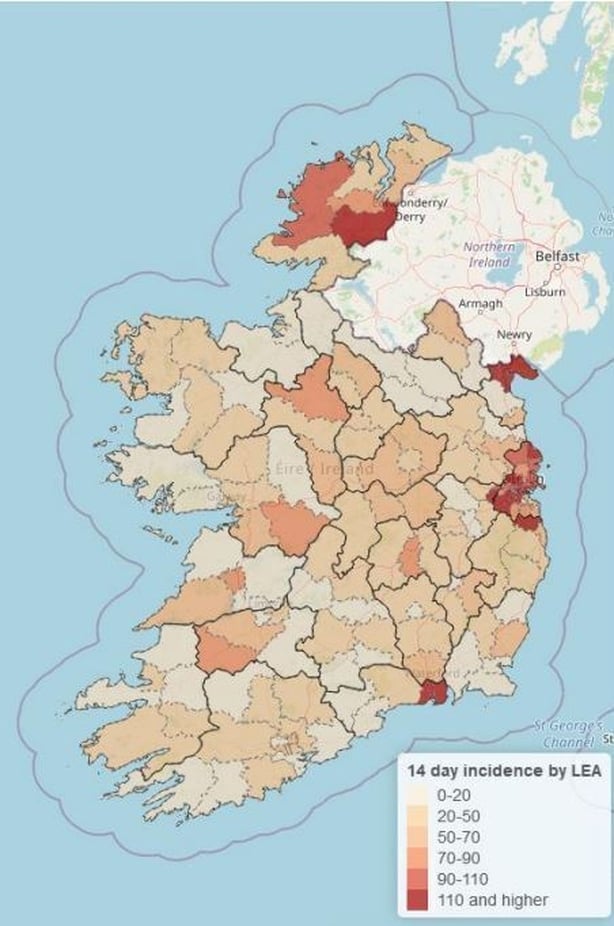 NPHET's head of modelling Professor Philip Nolan showed a colour-coded map of the disease incidence range in each area.
It illustrated clearly that the largest incidence of Covid-19 in Donegal is in the Lifford-Stranorlar Local Electoral Area, a region with almost 26,000 people.
On 14 September the 14-day incidence of the virus in this region was 57.9 per 100,000. Prof Nolan's latest map suggests this rate has since doubled. We can say it is now certainly more than 110 cases per 100,000.
The Glenties Local Electoral Area, a region of 24,000 people, is the next highest. 10 days ago the incidence rate here was reported as less than five cases per 100,000. Since then it has shot up and is now running at 90-100 cases per 100,000 people according to the map.
Exactly why the rate in this region should have jumped so high so fast is not clear yet as no official information or explanation has yet been given.
The Letterkenny Local Electoral Area has the third highest disease incidence in the county with 70-90 cases per 100,000 - up from 57 cases ten days ago.
Buncrana Electoral District with a population of about 22,500 people comes next. The map suggests the 14-day incidence rate of the disease here is running at 50-70 cases per 100,000, up from less than five cases 10days ago.
For the Milford Local Electoral Area (13,800 population) the map suggest some stability with a disease incidence rate of 20-50 cases compared with a rate of 43.6 10 days earlier.
The Donegal Local Electoral Area (26,500 population) centred on Donegal town also has a low incidence of disease. The 14-day rate here is 20-50 cases per 100,000, up from less than five cases 10 days ago.
The Carndonagh Electoral Area (17,000 population) is showing the same low level of disease, 20-50 cases per 100,000 people, also up from less than five cases ten days ago.
The situation and Covid-19 disease statistics for Donegal serve as a clear warning for the rest of the country about just how fast the situation with the virus can change.
For the county as a whole the number of open or active cases has grown six-fold since 6 September threatening lives, livelihoods businesses and health.
This is a deadly and highly transmissible virus. If the Covid-19 situation can deteriorate so seriously and so fast in a county located so far from Dublin then surely everywhere in the country is highly vulnerable.
Last night Acting Chief Medical Officer Dr Ronan Glynn issued a special appeal to people in Donegal in particular to reduce their social contacts right now.
He highlighted that in recent weeks more than a third of new infections in the county were in people aged 15-24 and that there has also been a large number of family outbreaks of Covid-19 in the county.
"Please move away from focusing on what NPHET will do, and focus instead on what their communities and counties can do for themselves".
He also asked people to "please move away from focusing on what NPHET will do, and focus instead on what their communities and counties can do for themselves".
That was a message directed at all counties - not just Donegal - but there is little doubt that he really does want the people of that county to hear it.
Dr Glynn said we all have to make choices. He said we are on the verge of exponential growth in the pandemic so we cannot have everything we want.
The power to control the situation is in people's hands. He said either we make hard individual choices about social contacts and interactions right now or we are going to face having more difficult choices imposed on us by the authorities in future weeks.
Dr Glynn was pleading with the public, and young people in particular, to get on board and play their part.
If people cut their social contacts and interactions by half then, in a matter of weeks, the reproduction number for the virus will also be cut in half.
He said: "I would implore people not to wait until warnings come from this table (NPHET) and to take precautions now."
One sincerely hopes that people everywhere are listening to him.