The National Public Health Emergency Team has advised that Dublin be moved to the Level 3 risk rating of the Covid-19 plan, RTÉ News understands.
No other county would see their risk rating changed under the advice. Some additional measures will also apply to Dublin.
The recommendations have been discussed by an oversight group this evening, which will advise Government.
This group is chaired by the Secretary General at the Department of the Taoiseach. It considers the wider societal and economic impact of the recommendations.
The special Cabinet Covid-19 Sub-Committee is scheduled to meet tomorrow.
This committee is chaired by the Taoiseach and also includes the Tánaiste, Minister for Health, Minister for Transport, Minister for Finance and the Minister for Public Expenditure.
Arising from its discussions tomorrow, it is likely that the Cabinet would then make a final decision tomorrow evening.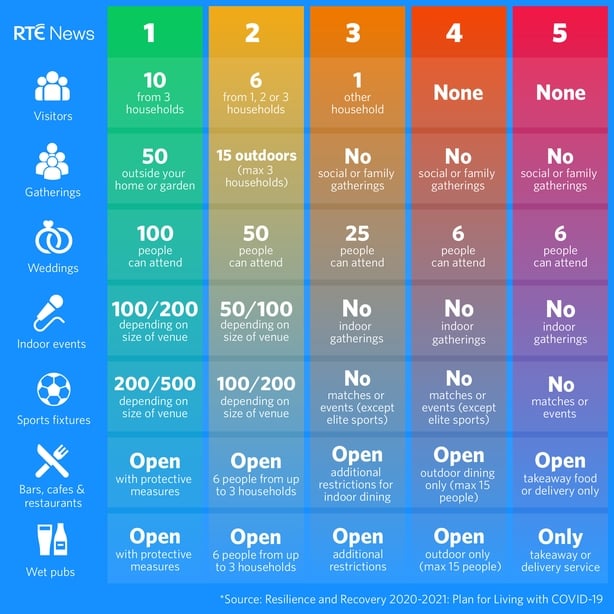 NPHET was set to recommend that third-level colleges in Dublin should offer tuition online as much as possible under the "nuanced" Level 3 restrictions likely to be imposed on the capital tomorrow.
Minister for Higher Education Simon Harris said a huge amount of work has been done for the safe return to third level but that further measures might need to be taken, particularly around Dublin.
"Without getting ahead of NPHET recommendations ... I would draw your attention to the fact that it's the balance between what you do on-site and what you do online," he said.
Meanwhile, the Cabinet is to consider a request from the National Public Health Emergency Team to stop indoor dining in pubs and restaurants in Dublin.
Given the rise in Covid-19 cases in the capital over the last seven days senior figures are tonight indicating that Government will agree to the proposal.
It would mean that these pubs and restaurants could only serve customers if they have outdoor areas or offer a take-away service.
NPHET has also told the Government that the incidence of Covid-19 amongst health workers in Dublin is rising five times faster than in the rest of the country.
Pubs that do not serve food will not be allowed reopen in Dublin next Monday.
Earlier, the Minister for Justice Helen McEntee had said that any additional Covid-19 restrictions for Dublin would be put in place before the weekend.
Speaking on RTÉ's Morning Ireland, Ms McEntee said the figures for Dublin are increasing and show "a worrying trend" with 55% of new cases announced yesterday in the capital.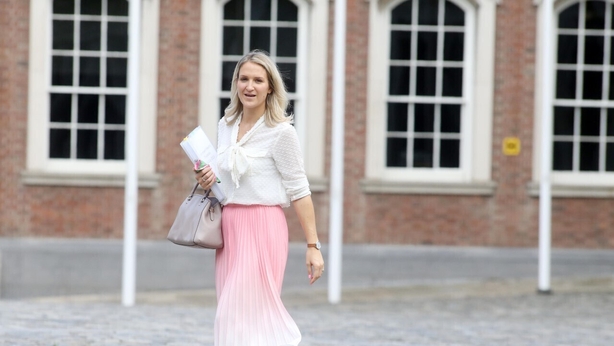 ---
---
What does the National Public Health Emergency Team consider when making recommendations to government? pic.twitter.com/2882gbR9Ly

— RTÉ News (@rtenews) September 17, 2020
She said it has been made clear that people in Dublin should restrict their movements and increase control measures, such as limiting social contacts, practising physical distancing and hand hygiene.
Ms McEntee also accepted that the travel recommendations were made last Thursday, but said the Government did not want to have two different announcements within a short space of time, as the medium term Covid-19 road map was revealed on Tuesday.
Ms McEntee also said that the new oversight committee has been established to ensure that where recommendations are made they can be implemented quickly.
The Tánaiste has said that if local restrictions are imposed on counties in the coming months, they will get the same financial supports as Laois, Offaly and Kildare did when those counties had localised lockdowns implemented.
Speaking in the Dáil, Leo Varadkar said the virus rates are worrying in Dublin, but other European cities such as Brussels, Amsterdam, Madrid, Prague and Paris have much higher instances of it.
Mr Varadkar said: "If we choose to act in the next couple of days, we would be one of the first in Europe to impose the kind of restrictions we may need to impost in Dublin, so we would be first-movers and quick-acters."
Dublin 14-day incidence at 104 case per 100,000
The most recent data from the Health Protection Surveillance Centre shows that the 14-day incidence of Covid-19 per 100,000 people in Dublin is at 104.
It is the highest level in the country, followed by Louth on 76.8, Leitrim on 71.8, Waterford on 64.6 and Offaly on 61.6.
New figures also show the most common underlying conditions for patients admitted to hospital with Covid-19.
The main condition is chronic heart disease 34.6% of cases, chronic respiratory disease 19.8% of cases, Diabetes 16.5% of cases and Hypertension 16% of cases.
GP calls for NPHET guidance to be dealt with promptly
Dr Ray Walley, a GP and Vice President of the European Doctors Association, has said when NPHET issues its guidance on restrictions for Dublin, it needs to be dealt with promptly.
Speaking on RTÉ's Today with Claire Byrne, he said he believes this decision that comes from the public health experts needs to be acted on by the Government within 24 hours.
Dr Walley also said he will remain concerned if Dublin moves to Level 3 of Covid restrictions because within this level, up to 25 people can still attend weddings and other events.
Dr Ray Walley, a GP and Vice President of the European Doctors Association, says he will have concerns if Dublin moves to Level 3 of the Covid-19 restrictions because within this level, up to 25 people can still attend weddings | More: https://t.co/7tVElZdf4a pic.twitter.com/Bx8hWxH3fi

— RTÉ News (@rtenews) September 17, 2020
He said he can not see how this can be allowed and believes it should be moved to Level 4 instead.
Dr Walley said it is something NPHET has to "seriously consider" given the worrying rate of the virus in the capital.
Nationally, the number of patients with confirmed Covid-19 in hospital continues to rise.
Latest figures from the HSE show that there are 73 patients with the virus in hospitals, with 14 of these in intensive care units.
The figure a week ago was 51 confirmed cases, with seven in ICU.
There are also 106 suspected cases in hospitals and seven of these in intensive care.
The health system has 49 intensive care are beds free and 299 general beds free for adults.