The Department of Health has recorded an additional 240 confirmed cases of Covid-19, while one further person who was diagnosed with the virus has died.
The death toll here now stands at 1,789, while the overall number of cases now stands at 32,023.
Of the cases notified today, 61% are under the age of 45, while 44 of them have been identified as community transmission.
The department said 47% are confirmed to be associated with outbreaks, or are close contacts of a confirmed case.
Dublin accounts for 119 of the cases, just shy of half of the total.
Elsewhere, 19 cases were confirmed in Wicklow, 17 in Kildare, 16 in Donegal, 15 in Waterford, ten in Limerick, eight in Cork, six in Louth, and five in Wexford.
The remaining 24 cases are located in Carlow, Cavan, Clare, Galway, Kilkenny, Laois, Longford, Meath, Monaghan, Offaly, Tipperary, Westmeath.
In a statement, Acting Chief Medical Officer Dr Ronan Glynn said we are now seeing a higher proportion of cases in older age groups.
"Act now to save lives. Limit your contacts as much as possible. Assume you and those you meet are infectious, keep your distance and do your part to keep others safe," he said.
Transmission may have occurred in school for 35 virus cases
The figures come as the HSE earlier said that the number of Covid-19 cases in schools is 131, with 96 cases believed to have arisen through community transmission, and another 35 where transmission may have occurred in a school.
To date, 96 schools have had to test students or teachers for the virus, with 2,100 tests carried out.
The breakdown of these tests between students and teachers is not yet known.
Speaking at a HSE briefing on Covid-19 this afternoon, HSE Chief Clinical Officer Dr Colm Henry said that cases in schools are not driving community transmission.
Dr Henry also said that community transmission remains the greatest threat to schools and not the other way around.
He said there were two cases of probable inter-school transmission, adding that in a further three cases they thought that this was possible but not likely.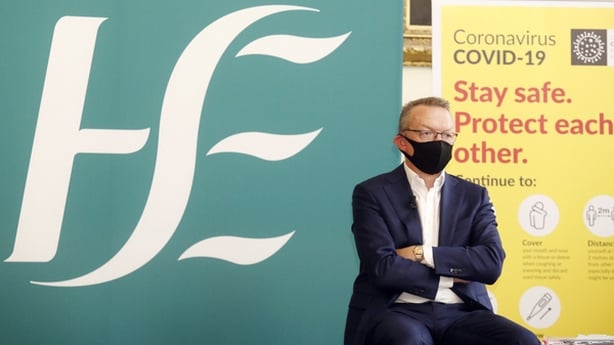 Also speaking at the briefing, HSE Chief Executive Paul Reid said they are seeing more referrals for testing for young children.
Of the number of young children coming forward for testing during the week 23-29 August, Mr Reid said 17% of them were in the 0-10 age group, with a positivity rate of 1.4%
The following week from the 6-12 September, the same age group accounted for 36% of referrals among young people, but the positivity rate for that age group was 0.5%.
Mr Reid said the country is at a very concerning crossroads right now in terms of the performance of Covid-19, adding that the bottom line is that if we stay on the current trajectory we are at it would be quite concerning, and will only get worse.
Mr Reid said that earlier this week, he was contacted by senior officials in the NHS to see if the Irish health service could do laboratory testing for them.
He said that Ireland is not in a position to carry out testing for the UK at the moment, adding that they have built capacity here for "on-island".
---
Read more:
Latest coronavirus stories
Explainer: What does Level 3 mean?
Any additional Dublin measures would be in place by weekend
---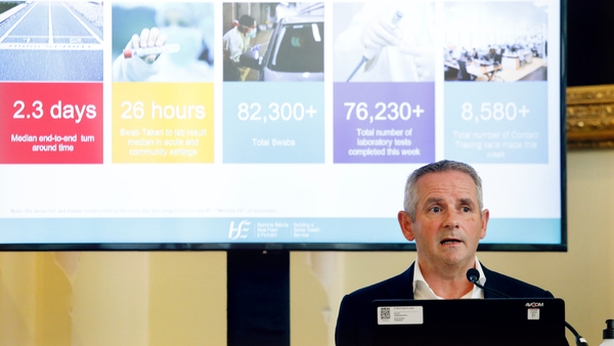 Mr Reid said the 14-day incidence rate of the virus in Dublin was over 104 and was continuing to rise.
New figures show that there are currently 281 adult intensive care beds open and staffed. At the start of September, the number of ICU beds open and staffed was higher at 356.
The HSE said that the most important issue was to have enough intensive care beds on a given day, adding that ICU bed numbers can change from day-to-day as staff may be redeployed to other units.
Mr Reid said that a few weeks ago in August they had around 23 positive cases in hospitals, where today there are now 73.
Today, there are 14 cases in intensive care, compared to six back in August. He said it was a continuous rising trend albeit from a low base, but is a consistent and rising trend.
Paul Reid HSE Director General says, "it's a very concerning crossroads we are at right now in terms of the virus" pic.twitter.com/VweVaFUPbF

— RTÉ News (@rtenews) September 17, 2020
Mr Reid said they need a much stronger unified voice to the public about the real concerns ahead.
He urged the public to think about frontline workers and vulnerable people and asked people to think that they themselves could be a positive case and take all the precautions.
He said that they cannot let what is happening in France and Spain, where there is a serious increase in cases, happen in Ireland.
Mr Reid said they are seeing the transmission of the virus in a rapid way across houses, social settings, and communities, and urged people to take it seriously.
He said there was a particular concern about a rise in cases in those over the age of 65 who are more vulnerable.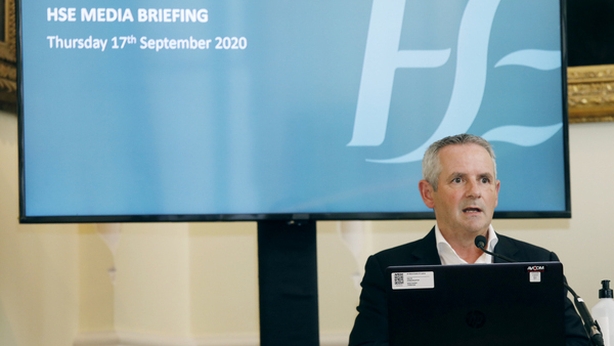 On testing, Mr Reid said there is currently a median turnaround time from initial referral to result of 2.3 days.
He said there was a 70% increase in volume last week in people coming forward for community testing, and said serial testing in food and meat processing plants has recommenced with more than 15,500 now completed and positivity rate of 0.4%.
He said nursing home serial testing continues, with 57,000 tests completed so far, with a positivity rate of 0.2%.
They have commenced serial testing in direct provision centres with over 500 tests completed, he said, adding that one case has been identified.
Mr Reid said the HSE is still living with the implications of the lockdown from earlier on this year.
The health service is still seeing cases coming through that they would have liked to see treated during that period and some of the mental health issues that have emerged since that time. He said that was not a good road either.
Mr Reid also said that for a short period of time earlier this week, he had to restrict his movements.