The Department of Health has confirmed that an additional three people with Covid-19 have died, while a further 357 cases of the virus have also been confirmed.
It brings the number of deaths linked to the virus to 1,787, and the overall number of cases to 31,549.
Of today's cases, 218 of them were recorded in Dublin.
Elsewhere, 18 were recorded in Louth, 12 in Waterford, 11 in Kildare, nine in Cork, eight in Kerry, eight in Limerick, eight in Meath, seven in Westmeath, six in Wicklow, five in Offaly, five in Roscommon, five in Mayo, and five in Tipperary.
The remaining 32 cases are located in Carlow, Cavan, Clare, Donegal, Galway, Kilkenny, Laois, Leitrim, Monaghan, Sligo and Wexford.
Of the cases notified today, 185 were men, with 172 women.
The department said 63% of the cases were under the age of 45, while 38% were associated with outbreaks or are close contacts of a confirmed case.
Sixty of the cases have been identified as community transmission.
The country's 14-day incidence rate also stands at 48.5 cases per 100,000 people, according to the European Centre for Disease Prevention and Control.
In a statement this evening, acting Chief Medical Officer Dr Ronan Glynn said we must now focus our response to the pandemic in the medium term.
He said: "In the first half of 2020, Ireland responded swiftly to a new and unpredictable pandemic. Our collective response suppressed the curve, saved lives and put us on a solid foundation to deal with Covid-19 going forward.
"The basic preventions against the spread of Covid-19 remain unchanged; wash your hands regularly, physically distance from others including friends and family, wear a face covering, know the symptoms and what to do if you experience them."
Elsewhere, members of Cabinet will restrict their movements after Minister for Health Stephen Donnelly felt unwell and was sent for a Covid-19 test.
The Dáil was adjourned for a time, but will return this evening with Ministers of State taking questions from the opposition.
The figures come after the Government earlier today announced its medium-term plan for living with the virus.
Taoiseach Micheál Martin has said the plan is not just about how we will live with Covid-19, but how we will work to renew social, economic and cultural life.
Speaking this morning, Mr Martin said the plan contains concrete measures to deal with the spread of the coronavirus.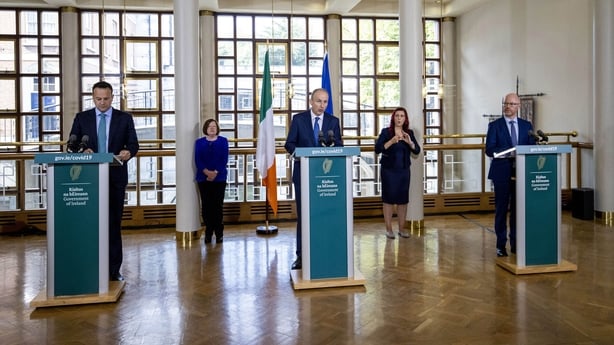 The six to nine-month plan involves a risk-ranking system, from a lowest risk level of one to the highest full lockdown level five.
The entire country is now considered to be at level two.
However, new measures are being introduced in Dublin from midnight, including restrictions on household gatherings, while pubs in the capital that do not serve food will not reopen next week.
---
Read more:
Covid-19 plan about 'renewing social, economic life' - Taoiseach
What's in the Govt's medium-term plan for living with Covid?
Extra advice for Dublin, vigilance urged after cases rise
Explainer: What does Level 2 mean?
---
The reopening of pubs in other parts of the country will go ahead as planned on 21 September.
Meanwhile, the Government is to work towards the adoption of a proposed new EU 'traffic light' system that aims to open up international travel across Europe.
The proposals would see different countries or regions designated red, orange or green, depending on the incidence of Covid-19 there.
The plan is currently being worked on at EU level and it is hoped that it will be finalised in time for decision at the EU's General Affairs Council meeting on 13 October.
In the meantime, the Department of Foreign Affairs is to update the Green List of countries from where people arriving into Ireland do not have to restrict their movements.
Minister Donnelly said he expects that Norway, Germany and some other countries will be added to Ireland's green list from next Monday.
Elsewhere under the plan, crowds of 200 people will be allowed attend sporting events where the capacity of a stadium is over 5,000.
Venues that do not meet that criteria can host 100 spectators.
The 200 number will apply in 25 counties, but not Dublin, due to the high number of Covid-19 cases in the capital in recent weeks.
Large stadiums will see specific guidance developed with the relevant bodies using the facilities, taking account of size and different conditions of the venues.
A decision will then be made on what the permitted capacity can be for major events to take place later in the year.