The Government's medium-term plan for living with Covid-19 has outlined how infection rates of the disease will impact on everyday life around the country.
However, in Dublin where the 14-day incidence of coronavirus for every 100,000 people now stands at 95.1, according to today's figures from the Health Protection Surveillance Centre, there are extra measures to try to tackle the rise in cases. 
Reopening of 'wet' pubs
The plan includes a delay in the reopening of pubs in the Dublin area that do not serve food.
The 'wet' pubs will remain closed beyond the planned reopening of pubs elsewhere in the country on 21 September.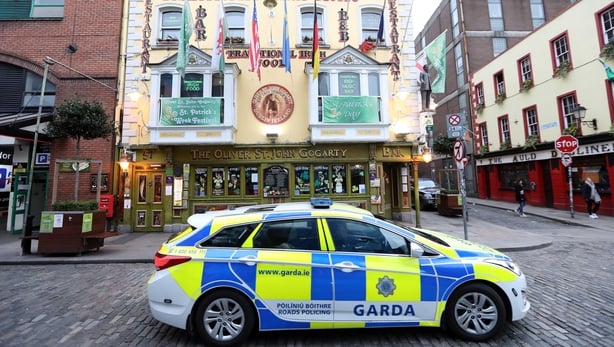 Social and family gatherings 
No more than two households should meet at any given time, and you should have a maximum of six visitors from one other household to your home.
Socialising can continue at indoor or outdoor public venues, but only with people from your own household or one other household, and in groups of no more than six.
Keep your distance
People in Dublin are also urged to wash their hands, watch their distance and if it is not possible to do either of those things, then you should wear a face mask. 
Attendance at outdoor events
The exemption allowing a maximum number of 200 people at certain outdoor venues with a 5,000 capacity will not yet apply in Dublin.
Travel outside Dublin
There is strong advice for people in Dublin to stay within the county. 
Anyone living in Dublin is being advised to limit travel outside the region, and only meet one other household when outside the county.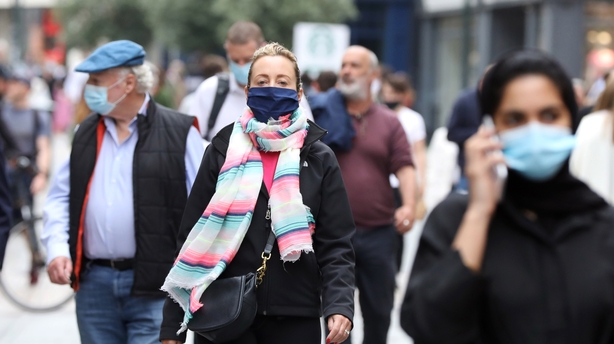 Nursing home visits
As previously announced, only one person, instead of four people, will be allowed to visit a family member in a Dublin nursing home for the next three weeks.
No move to Level 3
Asked why Dublin is not on Level 3, the Taoiseach said "effectively, Dublin is on Level 2 with some modifications".
Micheál Martin said moving to Level 3 is a very significant decision, in terms of the impact of "certain sectors of society".
He said NPHET may well provide further advice in relation to Dublin on Thursday.
The Taoiseach said the Dublin situation is "worrying" and that is why he said the Government was appealing to people in the capital to reduce social contacts and adhere to the public health guidelines.
Minister for Justice Helen McEntee has said she does not accept that government information in relation to Covid-19 measures in Dublin has been confusing.
Speaking on RTÉ's Drivetime, Ms McEntee said a small number of additional measures apply to Dublin and they have been clearly outlined by the government.
She said she hopes that the additional measures will bring Dublin in line with the rest of the country by 3 October.
Ms McEntee said she believes it would have been "more confusing" if the government had given advice on the back of NPHET recommendations last week, to then "follow it with a new announcement today".
She said the government have acted responsibly, as "there was no advice to suggest that recommendations given by NPHET last week, needed to be acted upon that day."
"It had been made clear to people that figures were increasing in Dublin", she said.
She said the new group, chaired by the Secretary General of the Taoiseach's department, which will sit between the National Public Health Emergency Team (NPHET) and the government will help to ensure that advice given by NPHET can be implemented "in a practical way".
"NPHET say themselves that they are not experts in sport, or certain industries and how their advice can be applied.  A body of work can now be done to see how practically this can be implemented."
She said the group will "provide a seamless transition from advice to a decision being made at cabinet."
Ten-fold rise in case numbers in two months 
Tánaiste Leo Varadkar said made a special appeal to the people of Dublin saying the level of the virus in the city and county has increased more than ten-fold in the past two months.
Mr Varadkar said that if this continues it may not be possible to keep the virus out of nursing homes, hospitals and factories.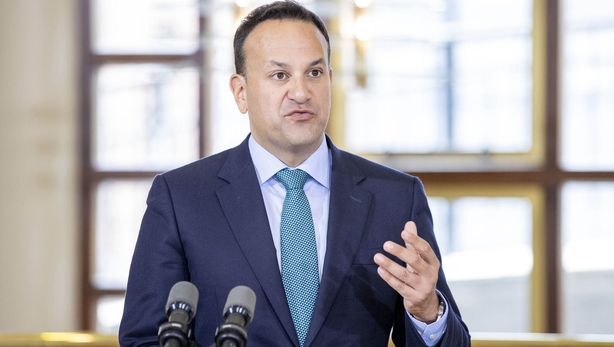 He said that for the next few weeks the people of Dublin were being asked to take particular care.
Mr Varadkar advised the public not to welcome any more than one other household into their home, wash their hands and watch their distance.
Sinn Féin's health spokesperson has described the Government's plan as "incoherent".
Speaking to RTÉ News, David Cullinane said the plan is confusing and appears to leave Dublin in "limbo of between Level 2 and 3".
Meanwhile, Labour's Ged Nash said when people needed clarity from the Government they got "confusion", especially in relation to Dublin.
Labour TD Ged Nash has said people were expecting 'clarity' from the Govt announcement today but 'instead we've got confusion', with a Level 2.5 created for Dublin 'on the hoof' | Follow live updates: https://t.co/BnPgAzVvVh pic.twitter.com/MhP7fR0sCZ

— RTÉ News (@rtenews) September 15, 2020
Róisín Shortall, co-leader for the Social Democrats said: "The new plan was supposed to provide clarity about the five different levels of risk, yet on the first day of the announcement this was muddied by having Dublin at 'level two and a bit'.
"For the Dublin area, where the rates of Covid-19 are growing rapidly, there was little clarity provided by the Government in respect of additional restrictions necessary and people are largely left to scramble for basic information."
She said this was "unforgiveable" when people needed "strong political leadership in respect of the steps they should now take to reduce the risk in the Dublin area".