Taoiseach Micheál Martin has said he is encouraging people not to travel outside of Dublin if at all possible, following the publication of the Government's medium-term plan for living with Covid-19.
The six to nine-month plan involves a risk-ranking system, from a lowest risk level of one to the highest full lockdown level five.
The entire country is now considered to be at level two.
However, new measures are being introduced in Dublin from midnight, including restrictions on household gatherings, while pubs in the capital that do not serve food will not reopen next week. The reopening of pubs in other parts of the country will go ahead as planned on 21 September.
Asked about the situation in Dublin, which stands at level 2 of the plan but with additional restrictions, Mr Martin said the National Public Health Emergency Team had advised Government in relation to it.
Speaking on RTÉ's Six One, Mr Martin said the advice is that they are "encouraging people not to travel", adding that it was advice and that there is not a regulation attached to it.
People are watching this tonight, they might have plans to travel outside Dublin this weekend - as Taoiseach what are you saying to them?

Taoiseach @MichealMartinTD: "I'm encouraging people not to travel if at all possible."

Live blog: https://t.co/OkdLRsWmQG pic.twitter.com/LsmTsQ5rAK

— RTÉ News (@rtenews) September 15, 2020
He said the advice from NPHET was just that, adding that people may have obligations or a necessity to travel.
Mr Martin said the only difference between Dublin and the rest of the country in relation to the varied measures in place was in relation to 'wet' pubs, which he said NPHET had advised Government on.
He said NPHET will meet again on Thursday and will advise on Dublin thereafter, adding that the situation in the capital was very worrying.
On advice for restaurants and cafés, Mr Martin said there would be additional guidance for them as levels are increased, adding that NPHET retains discretion within the 5 levels in terms of the various advice given.
He said the different levels are clear, and that it was unfair to say there are not mechanisms within the plan that NPHET will use to trigger a change to the different variables involved in the stages.
He said these included the number of cases, clusters, incidence rate and reproductive rate of the virus in various areas.
"NPHET will remain the key body to provide public health advice..."

"And they're not being sidelined?"

"Who said that?"

Taoiseach @MichealMartinTD criticises some of the Opposition reaction to the #Covid plans.

"They would say they're seeking clarity," @mcculld responds. pic.twitter.com/aypnH5O9h9

— RTÉ News (@rtenews) September 15, 2020
Mr Martin said the critical point in relation to the new oversight group established between NPHET and Government, was a need to coordinate the advice given from NPHET to Government.
He said having this extra group would not slow things down.
He said NPHET would remain the key body in terms of providing public health advice, and said they were not being sidelined.
Mr Martin had earlier said he valued the work of NPHET but the new group, chaired by the Secretary General of the Taoiseach's Department, will coordinate the public health advice and implement measures and permanent coordination between departments will be enhanced.
People in Dublin discouraged from travelling outside county, says Tánaiste
The Tánaiste has said people in Dublin are being strongly discouraged from travelling outside the county unless they really have to for work or to care for others.
Speaking on RTÉ's Prime Time this evening, Leo Varadkar said the Government is appealing to people in Dublin not to make "discretionary journeys" outside the capital.
Asked if it is possible that Dublin could go move to Level 3 of the new Government plan, Mr Varadkar said it depends on the behaviour of the virus and the trajectory of numbers this week. 
He said the Government will consider any advice from the National Public Health Emergency Team. And he added that it would not be a decision the Government would take lightly.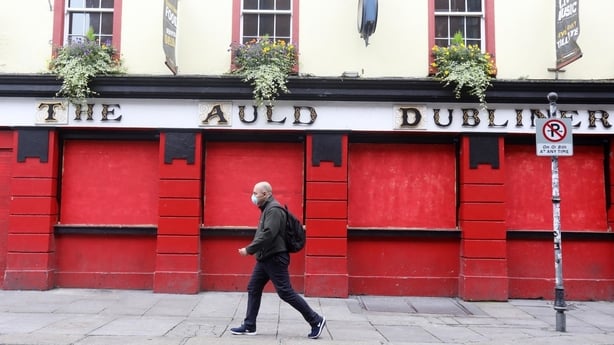 ---
Read more:
What's in the Govt's medium-term plan for living with Covid?
Extra advice for Dublin, vigilance urged after cases rise
Explainer: What does Level 2 mean?
---
We need your consent to load this rte-player contentWe use rte-player to manage extra content that can set cookies on your device and collect data about your activity. Please review their details and accept them to load the content.Manage Preferences
Earlier whilst unveiling the plan, Mr Martin said the plan is not just about how we will live with Covid-19, but how we will work to renew social, economic and cultural life.
Mr Martin said the plan contains concrete measures to deal with the spread of the coronavirus.
Mr Martin said after six months of the pandemic, he understands how people are exhausted from thinking about it and coping with it.
"Our country has been able to achieve important progress; schools have reopened and the economic stimulus package is making a very real difference," he said.
Mr Martin added that in the last 11 weeks more than 200,000 people have been able to come off the pandemic payments and go back to work but, he said, most of all we have been able to reconnect with our family and friends.
Until there is an effective vaccine and it has been widely administered we need to live with the reality that Covid-19 is potentially deadly, the Taoiseach said.
Mr Martin said the new plan is a whole-of-Government approach and is broad and comprehensive, with three pillars: protecting health, strengthening employment and supporting communities.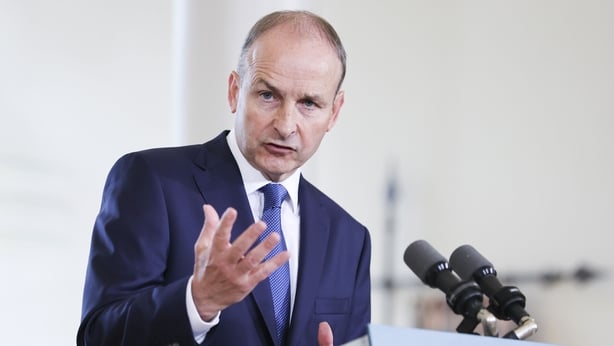 Mr Martin said that every county is currently at Level 2 restrictions and collective effort is required to get to Level 1.
The Taoiseach said that the Government decided today that existing public health restricted measures as amended in line with the new Level 2 framework will continue for a further three-week period.
The Government has approved a €600m winter initiative package to develop and protect health services over the coming months, the Taoiseach stated, adding that it has revised decision-making procedures.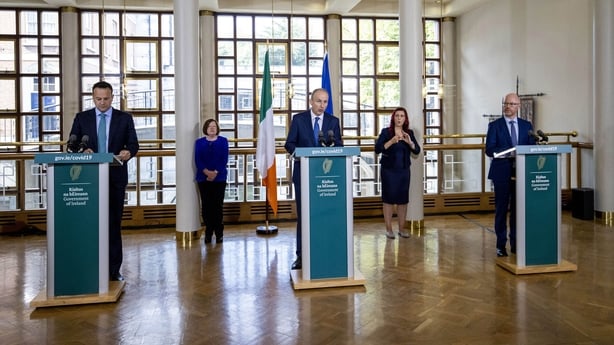 "This is a comprehensive and detailed plan for how we will respond to the ongoing threat of Covid, limiting its deadly impact, allowing us to move forward as a country," he said.
The Government has also decided to broadly support the European Commission proposals on travel as the best way to stay connected and keep supply chains open.
Mr Martin said the Government will continue to work with member states to come up with a proposal for travel and the current Department of Foreign Affairs travel advisory normal precautions list will be updated.
The Government has agreed to allow limited crowds to attend sporting events under specific conditions.
Mr Martin said creativity is important and access to theatre and live events will be allowed in small, controlled settings.
He said the plan sets out the Government's determination to strengthen the country's recovery and that the virus "has probed and tested our national character". 
Situation in Dublin 'worrying' 
Tánaiste Leo Varadkar reiterated that by doing the right things we can protect each other. He said he understood that people are feeling frustrated and anxious, but that nothing is certain about Covid-19. 
The country has reason to be hopeful, he said, because of what we have learned about the virus and the plan sets out how we can keep the virus under control.
Mr Varadkar said that businesses have shown remarkable grit, resolve and adaptability in the face of unprecedented challenges.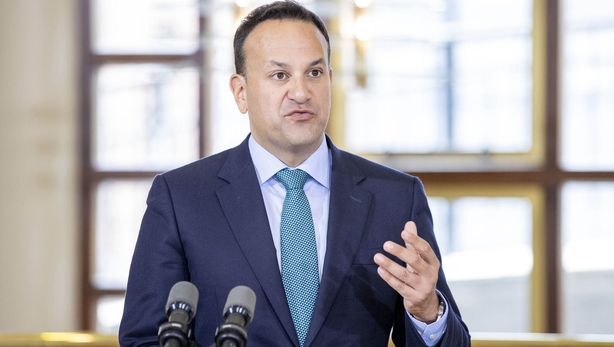 He said the Government will continue to back enterprise and protect workers as best it can, and review existing financial supports for businesses in the Budget, paying particular attention to businesses that have had to stay closed.
The Tánaiste also said that the Pandemic Unemployment Payment will not be closed to new entrants as had been planned. 
Mr Varadkar made a special appeal to the people of Dublin, saying the situation in the capital is "worrying". The level of the virus in the city and county has increased more than tenfold in the past two months. 
If this continues it may not be possible to keep the virus out of nursing homes, hospitals and factories, he added.
Mr Varadkar said 50 people indoors and 100 people outdoors will be able to gather in controlled environments and 200 in large stadiums. 
Details of health plan to be announced in coming days
Minister for Health Stephen Donnelly said this road map is about keeping schools and colleges open and to protect lives. 
He said Covid-19 is now costing more and taking longer to do less within the health service and because of that, this winter poses the biggest challenge to our healthcare services "in living memory". 
Mr Donnelly said details of the €600m winter support package for healthcare will be announced in the coming days.
He said the winter plan has been designed alongside Sláintecare guidelines and it will aim to care for people in the community as much as possible, to add capacity to hospitals and to provide pathways back to the community for discharged patients.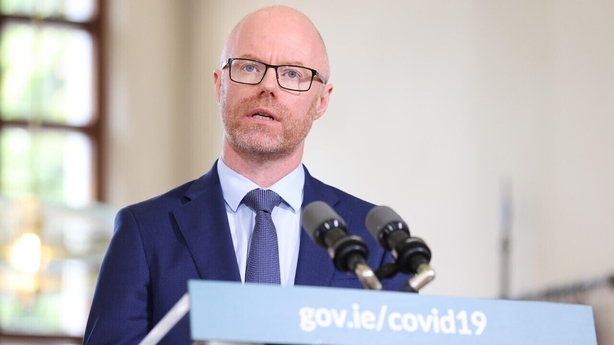 The minister said the flu vaccine will be distributed very widely and that several thousand people are now being hired to run the testing and tracing system. 
The 14-day incidence of Covid-19 in Dublin for every 100,000 people is 95.1, according to the Health Protection Surveillance Centre's latest report. The next highest is Louth on 66.7.
Leitrim is on 65.5 cases, Limerick 63.1 and Waterford 62. The HPSC figures are up to midnight on 13 September.
The number of confirmed cases of Covid-19 in hospitals has increased to 64 up from 57 the day before.
Latest overnight figures from the HSE show that 11 of these patients are in intensive care units.
Yesterday, the Department of Health said 208 more cases of the coronavirus were diagnosed, bringing the number of confirmed cases to 31,192.
No further deaths have been notified. There has been a total of 1,784 Covid-19 related deaths in Ireland.
No Cabinet discussion on allowing 5,000 at stadiums
Meanwhile, the Taoiseach said in terms of sporting events capacity, the current Level 2 is still quite limited.
He said there was no discussion about allowing 5,000 people into stadiums for sporting events.
Mr Martin said that towards the end of the year there will be ongoing engagement with NPHET and the various sectors as to what might be organised in terms of bigger events.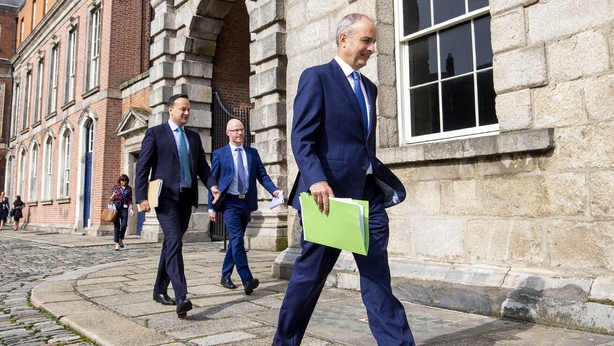 Asked about Christmas and if an exemption would be made around that time, the Taoiseach said that this was a six-month plan.
Mr Martin said that the Government would see how much progress can be made over the next three months, but Christmas was not discussed today at the Cabinet meeting.  
The Government followed advice from NPHET in relation to the decision on Dublin and this would be reviewed again on Thursday, he said.
Mr Martin said that NPHET was anxious that the pubs in Dublin would not reopen on 21 September, which was the main key difference with the rest of the country.
He acknowledged that the framework for people would be challenging when it comes to the number of visitors to houses.
Regarding people aged over 70, Mr Martin said it was clear that they were adhering "better than most" to the advice given since the outset of the pandemic.