The Taoiseach has said there will be a new structure around how public health advice is acted on by the Government, with no "kneejerk reactions".
Speaking in Co Cork, Micheál Martin said next week's medium-term Covid plan will set out a new framework for the next six months of living with the virus.
He said there will be a modification of the structure by which advice is filtered to Government from the National Public Health Emergency Team, in terms of making sure it can implement what has been advised.
A new oversight group will be set up involving stakeholders and Government departments on how to implement NPHET's advice, fine-tune it and deliver it to the public in a structured way.
The overarching objective of the Government's Covid-19 strategy is to protect public health, Mr Martin said, but equally the aim is to protect livelihoods and to keep people working and to have a decent quality of life.
The Taoiseach said he understands that people are fatigued with restrictions and would love to go back to normality, but the country has to be clever and resilient, as the virus will be around for a while.
---
---
Under new guidance issued by the Department of Health following yesterday's NPHET meeting, nursing homes in Dublin will restrict visitors from this Sunday.
Only one nominated visitor per resident will be permitted. Measures had been relaxed recently to allow four visitors per resident.
The new restrictions will apply to all long-term residential care facilities in Dublin for three weeks, and will affect around 7,000 residents in Dublin nursing homes.
Tighter restrictions on home visits in Dublin and a possible delay in reopening pubs in the capital are understood to be among the latest recommendations made by the National Public Health Emergency Team to the Government.
It may mean that only six visitors, from two other households, will be allowed. At present six visitors are allowed from three other households.
Earlier Minister for Public Expenditure and Reform Michael McGrath said the current restrictions and guidance related to Covid-19 remain in place until the Government publishes the medium-term plan to live with the virus next week.
The latest plan comes as cases of Covid-19 in Dublin continue to rise, with the acting Chief Medical Officer warning that the number of cases there could double over the next fortnight if people do not take immediate action.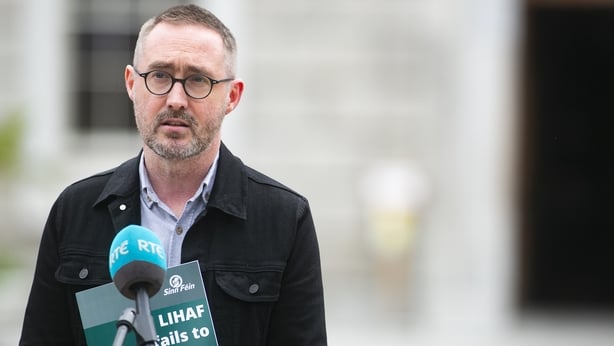 Sinn Féin's Housing spokesperson Eoin Ó Broin has said there needs to be a clear and consistent message from the Government when it comes to a plan for managing Covid-19.
Deputy Ó Broin said that there needs to be a full and open debate in the Dáil on the new set of Covid-19 regulations that will replace the existing ones.
He said people are reading leaks from NPHET in the news today and they do not know what is going on.
He said this has been a feature of the Government's handling of the issue, particularly under Taoiseach Micheál Martin.
He also said one of the reasons there had been local lockdowns is because the Government has not been getting some of the basics right in areas including testing, contact tracing and isolation.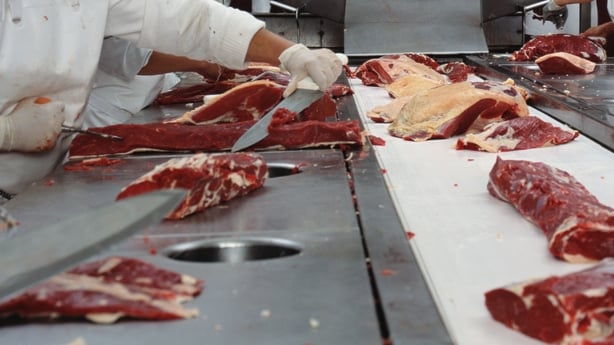 Minister wants to see resumption of testing at meat plants
The Minister for Agriculture has said he wants to see the recommencement of serial testing at meat plants "as soon as possible".
Charlie McConalogue said he hoped that it would resume "very, very soon", adding that it was very important that happened.
The Minister was speaking during the annual conference of the Agriculture Science Association.
The HSE confirmed on Wednesday that it was postponing the serial testing programme in food processing plants due to increased demand for testing in community and hospital settings.
The World Health Organization says data to date suggests 80% of Covid-19 infections are mild or asymptomatic, 15% are severe infection, requiring oxygen and 5% are critical, requiring ventilation.
Generally, you need to be 15 minutes or more in the vicinity of an infected person and within two metres of them, to be considered at-risk, or a close contact.
Majority of cases around families and households - GP
Meanwhile, Dr Mary Favier, a GP in Cork and former President of the Irish College of General Practitioners, has said at the moment, particularly in Dublin, the majority of Covid-19 cases are around families and households.
Speaking on RTÉ's Today with Claire Byrne, Dr Favier said: "If we all reduce those by just one a week it would make a difference."
She said the mental impact of Covid-19 is starting to leak out with more people coming in to her with this health concern.
"It varies hugely from the 'cocooners' who are afraid through to those who have had economic disruption and lost their jobs."
Speaking on the same programme, Dr Yvonne Williams also outlined the mental health impact of the virus on some of her patients, particularly children and teenagers.
She said it is impossible for them to access free counselling and that it is only available to those on medical cards.
Additional reporting by Fergal Bowers, Fran McNulty and Fergal O'Brien