A reduction in the number of social visitors to people's homes in Dublin is understood to be a key recommendation from the National Public Health Emergency Team, RTÉ News has learned.
It may mean that only six visitors, from two other households, instead of three other households, will be permitted.
The measures would be introduced for three weeks in Dublin if accepted by the Government.
The opening of all pubs in Dublin on 21 September may also be contingent on the spread of the virus in the capital at that point.
Tighter visitor restrictions may also be introduced in residential facilities, to protect vulnerable people.
While NPHET makes recommendations, it is a matter for Government to decide whether it accepts them, or decides to make changes or additions.
It is understood the Government will not make a decision on NPHET's recommendations until Tuesday's Cabinet meeting.
It comes as the Cabinet sub-committee on Covid-19 also met today to discuss the medium-term Covid strategy, which is due to be published on Tuesday.
Up to five levels of Covid-19 restrictions will apply across the country under new plans being finalised by the Government.
The overall plan will set out a "living with Covid" plan for at least six months.
Taoiseach Micheál Martin says he is 'very concerned' with the increase in the number of Covid-19 cases | https://t.co/V3RrpJSLIG pic.twitter.com/1e2bpUF3rv

— RTÉ News (@rtenews) September 10, 2020
Taoiseach Micheál Martin said this morning he was "very concerned" with the increase in cases.
He told RTÉ's Morning Ireland that the Government had learned lessons over the past six months and he hoped we would not see a return of significant outbreaks in nursing homes.
The Taoiseach said the Government wants to bring an overall framework to the way we live our lives with Covid-19, protecting lives and livelihoods and ensuring there is a clear, consistent approach to dealing with the virus.
Mr Martin said that localised responses will be "part of a suite of options open to NPHET" in the future and that these have been successful in the past in containing the virus, such as in Laois, Offaly and Kildare.
However, he added that it will be clearer to the public when these measures might begin.
Chair of the NPHET Irish Epidemiological Modelling Advisory Group Prof Philip Nolan said that cases in the capital are growing close to 5% per day and if this continues the number of cases would double every 14 days.
Data shows that around half of all new cases in Dublin are transmissions involving private households.
The 14-day incidence in Dublin has risen significantly in recent days to 70.8 cases per 100,000 people, according to data from the Health Protection Surveillance Centre for the two weeks ending at midnight on 7 September.
The rate was 53.2 just six days ago.
Call for testing to be ramped up
Elsewhere, Chair of the Oireachtas Special Committee on Covid-19 and Independent TD Michael McNamara said testing has to be ramped up and not stopped in certain settings.
He was speaking after the decision was made to temporarily suspend testing at meat plants to cope with the current demand in the wider community.
Speaking on RTÉ's Today with Claire Byrne, he said during the pandemic we were told by the State that they would be testing up to 100,000 a week.
"While we didn't need to reach that figure we were told we could ramp up again at very short notice and be able to test 100,000 a week," he said.
Mr McNamara is questioning now why testing cannot be increased to higher levels without depriving certain sectors from being regularly tested.
He said there needs to be a more coordinated State effort, adding: "There appears to be lack of joined up thinking among the various bodies."
---
---
Today, the Taoiseach said the consistent message will be that personal behaviour matters and reducing social contacts is crucial.
He said that serial testing in meat plants has been rescheduled to next week because of the increase in community transmission, which has always been the principle applied, that the allocation of resources must be prioritised in those areas experiencing pressure.
Mr Martin said that Ireland has one of the highest testing rates across Europe and the Government intends to ramp this up further, with testing and tracing a key element of this.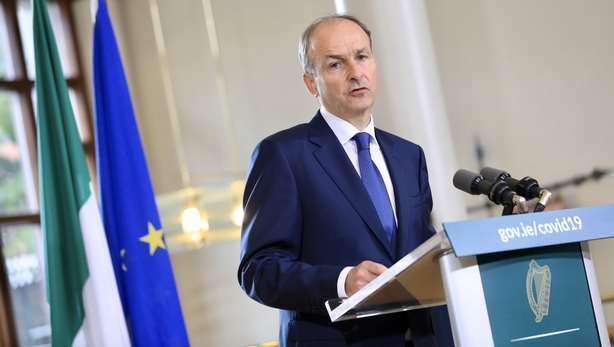 He said he was concerned about the increase in community numbers, but lessons have been learned from the past and serial testing in areas, such as nursing homes and meat plants, helps us keep on top of the virus.
Mr Martin said the decision to open pubs has a caveat with "whatever happens over the next while in terms of localised restrictions or in terms of epidemiology", but added that publicans need the opportunity to demonstrate that they can adhere to the restrictions and conditions, and reopen their businesses that have been closed for six months.
People are tired and fatigued with the virus, Mr Martin said, but he is asking everyone to continue to be resilient. Fundamentally, he said, it is all about reducing social contacts.
Mr Martin said the overarching objectives are to keep schools open, resume health services and maintain economic activity.
The HSE has said that in the last seven days, 72,246 swabs have been taken. Of these 55,546 were in the community, including 16,934 as part of serial testing. There were 16,700 swabs taken in hospitals.
The positivity rate has been around 1.6% but it can vary from day to day.
Full page newspaper ad @merrionstreet demonstrates widely differing #COVID19 infection rates across #Ireland's 26 counties: Dublin 67.8 cases per 100,000 v Cork 7.2 pic.twitter.com/TSEQWs33Uh

— Jon Williams (@WilliamsJon) September 10, 2020
Minister for Tourism, Sport, Arts, Culture and the Gaeltacht Catherine Martin said she wants to see the current restrictions on gatherings lifted to support the arts and music industry, so they can get back to work and "performers can perform".
She said the current restrictions on numbers are not viable for the industry.
Minister Martin said that she fully accepts the social and economic impacts of the restrictions on the arts, music and sports industry and she wants to see audiences back and the "turnstiles open".
She said financial supports for sports organisations are being considered as the loss of ticketing and the closure of stadiums is being felt.
She said that she recognised the extraordinary difficulty for the music and arts industry and said: "I am listening to them" and that she wants to open up performances to live audience saying she is more about "opening up than shutting down".
Ms Martin said that public health is central to all decisions but she feels the numbers can be increased in line with what has happened abroad.
A new arts task force is being set up along with two pilot schemes launched last night to provide some funding to the arts sector.
She said there is nothing to stop live performances in pubs when they all reopen once done safely.
Additional reporting Fergal Bowers, PA