The Acting Chief Medical Officer has warned that coronavirus cases are rising by around 4% per day in Dublin with the reproductive rate has high as 1.4.
Dr Ronan Glynn said cases in the capital could double over the next fortnight, if people do not take immediate action.
Over the last two weeks, there have been 1,055 cases in Dublin, which means the 14-day incidence rate is now at 78 per 100,000 of the population.
There is now an average of 104 new cases among Dubliners every day.
Dr Glynn urged people to "act as though you have the disease" and that keeping an extra distance from others can make a big difference in curtailing the spread of Covid-19.
He asked the public to also wear a face covering where appropriate, follow coughing and sneezing etiquette and wash their hands regularly.
He also confirmed there has been "a very large increase" in the number of people coming forward for testing over the past week.
Dr Glynn said knowing the symptoms and coming forward quickly for a test was a vital part of the defence against the virus and reminded people that both a referral and test for Covid-19 are free.
---
Read more: Latest coronavirus stories
---
A direct message to people living or working in Dublin to explain where we are currently and what we can all do to get where we need to be with #COVID-19. Your individual actions really do matter. They all count. They do work. #HoldFirm [For Closed Captions, select "cc".] pic.twitter.com/fbZlexdOVl

— Department of Health (@roinnslainte) September 11, 2020
Dr Glynn said there have been lots of household clusters spread across the city and county, with the vast majority of cases in younger people.
He said "if nothing were to change, we would expect to see the number of new cases in Dublin double over the next 14 days".
However, there is now "a window of opportunity for us to bring the current trajectory of the disease under control".
He appealed to people living and working in Dublin to "act now to break the chains of transmission" by adhering to the public health guidance.
He said people need to "double our efforts to stay safe" and he urged people to "commit to meeting less people inside your home" and to "limit your social contacts as much as possible".
He also advised people to avoid crowds and to "prioritise the people that you need to see".
Taoiseach Mícheál Martin echoed the calls for people to exercise extra caution.
He said on Twitter: "Please limit your contacts this weekend as we continue our effort to limit the spread of #COVID19 and protect those most vulnerable."
The comments come after the Department of Health reported 211 number of new cases of coronavirus and one further death.
Please limit your contacts this weekend as we continue our effort to limit the spread of #COVID19 and protect those most vulnerable. Simple actions remain our best means of defence:
Hand washing??
Masks??
Cough etiquette??

Especially when with friends, and those well known to us

— Micheál Martin (@MichealMartinTD) September 11, 2020
It brings the total number of confirmed cases of Covid-19 to 30,571, with 1,781 deaths associated with the virus.
More than half of the new cases reported are in Dublin, with 121 cases reported there.
There were 17 cases reported in Louth, with ten in Limerick, eight in Cork, and seven each in Westmeath and Wicklow.
Six of the cases were reported in Laois, along with five each in Donegal and Galway.
The remaining 24 cases are in Carlow, Clare, Kerry, Kildare, Kilkenny, Leitrim, Longford, Mayo, Meath, Offaly, Roscommon, Tipperary, and Waterford.
73% of the cases involve people under the age of 45, while 42 of them have been identified as community transmission.
Meanwhile, new visitor restrictions are to be reimposed on nursing homes in Dublin from Sunday.
Following new guidance issued by the Department of Health only one nominated visitor per resident will be permitted.
The new restrictions will apply to all long-term residential care facilities in Dublin for the next three weeks.
We need your consent to load this rte-player contentWe use rte-player to manage extra content that can set cookies on your device and collect data about your activity. Please review their details and accept them to load the content.Manage Preferences
Meanwhile, the number of people being treated for Covid-19 in hospitals around the country remains stable.
The latest HSE figures show that as of 8pm last night, there were 51 patients receiving treatment.
Of that number, seven people were in intensive care units.
There were also 119 suspected cases in hospitals, of which five were in ICU.
In Northern Ireland, 88 new cases of Covid-19 have been confirmed from tests on 4,691 individuals.
It takes the total number of cases there to 8,123 since the outbreak began.
There have been no further deaths reported.
The national waiting list figures now stand at over 827,485 patients, according to figures released by the National Treatment Purchase Fund.
It means the numbers rose by over 8,400 patients at the end of last month, compared with July.
Most of the patients are waiting to be seen at an outpatient clinic.
The outpatient clinic numbers are 610,996.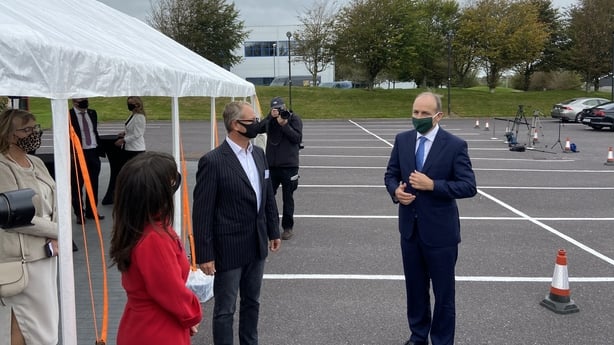 Earlier, the Taoiseach said there would be no "kneejerk reactions" to how public health advice is acted upon by the Government.
He said a medium-term Covid-19 plan, which is to be launched early next week, would set out a framework for the next six months of living with the virus.
A new oversight group is to be set up involving stakeholders and Government departments on how to implement NPHET's advice.
Mr Martin said this group would "fine-tune" the advice and deliver it to the public in a structured way.
Elsewhere, speaking at the Dublin Economics Workshop, Tánaiste Leo Varadkar said Ireland may be close to the level "at which we can live with the virus".
He said the overriding imperative now is to keep the virus suppressed to avoid "if possible" a second lockdown.