There have been no further deaths and 102 additional cases of Covid-19 confirmed to the Department of Health in the past 24 hours.
The cumulative total number of cases in Ireland is 29,774 with 1,777 deaths.
There are 49 patients with the virus in Irish hospitals and six of these in intensive care.
Acting Chief Medical Officer Dr Ronan Glynn said it is "concerning" that hospital numbers have risen in the past week.
"We are monitoring with growing concern the number of cases nationally, particularly in Limerick and Dublin where there has been increases in recent weeks.
"The next seven days are vital; everyone needs to reduce their contacts and assume any person they meet may be carrying the virus," he said.
.@ronan_glynn says there is particular concern over the number of Covid cases in Dublin and Limerick, urges people in those counties to cut down social contacts over the next week and take all of the precautions | https://t.co/AeEEt5nWQ9 pic.twitter.com/M4SNen8w3Q

— RTÉ News (@rtenews) September 7, 2020
The next 7 days is really important. In particular, people in Dublin and Limerick need to assume that #COVID19 is circulating.

1. Reduce your social contacts
2. Take a step back and keep your distance from others
3. Do not drop your guard just because you know someone

— Dr Ronan Glynn (@ronan_glynn) September 7, 2020
---
---
Asked about people being worried about a potential lockdown, particularly in Dublin, Dr Glynn said the language of 'lockdown' is "really unhelpful".
He said they have learned "an awful lot" over the last number of months about what measures do and do not work and said people still have the power to change the trajectory of the pandemic.
"Each of us individually needs to have a higher level of risk perception than we do at the moment," he told a press briefing.
Over the past two weeks, 1,672 new cases have been reported, giving a 14-day incidence of 35 cases per 100,000.
The median age of these cases is 33 with 77% under the age of 45.
Of these new cases, 791 are in Dublin, 131 in Kildare, 116 in Limerick, 92 in Tipperary and 46 in Cork. The remaining 496 cases were spread across 21 counties.
In the past week there have been two new clusters in residential care facilities - one of which was in a nursing home. There are six new clusters in workplaces, none of them in meat plants.
Health Service Executive CEO Paul Reid said on Twitter that the health service had carried out its highest ever number of tests last week at almost 70,000.
"Today alone we have over 13,000 referrals for testing in the community, more than double any day last week. The virus is out there and spreading, don't be fearful just be careful at all times."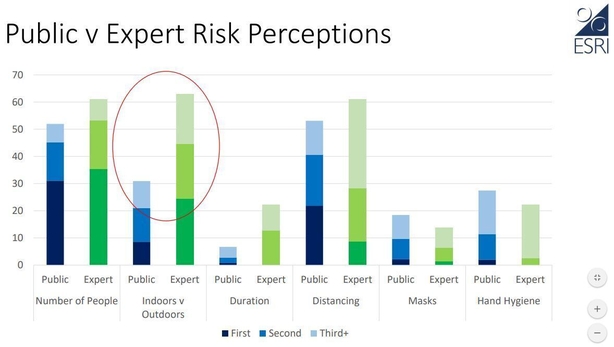 Meanwhile, head of the ESRI's Behavioural Research Unit Professor Pete Lunn said it had carried out a study of 800 members of the public and compared their thoughts on Covid-19 with an expert group of about 56 leading infectious disease experts.
He said the general public had absorbed public health messages "really well" but were underestimating the difference it makes to be outdoors rather than indoors.
"In fact, being outdoors makes a real difference," he told a press briefing.
"The public are well behind on that one.
"Getting outdoors and having social interactions outside reduces the risk more than the public thinks it does."
Professor Lunn said that now is the time to plan for the winter months ahead.
"Plan for the milestones - such as Halloween, Christmas and New Year's Eve - within a Covid-19 environment. Be innovative in how you can celebrate safely with loved ones.
"Choose your close network of social visitors this winter and prioritise members of your family or friends who may be more isolated."
Dept of Health confirms 102 additional Covid-19 cases, no further deaths | https://t.co/AeEEt5nWQ9 pic.twitter.com/a9sYpqCiua

— RTÉ News (@rtenews) September 7, 2020
Asked about Halloween and Christmas, Dr Glynn said he did not want to send out any message that NPHET was cancelling these events.
"I am sure closer to the time we can give advice around that, but we have not given any specific consideration to trick or treating as yet."
He added: "I think the vast majority of people have internalised the message and know how to keep themselves safe. It comes back to the single greatest predictor ... the underlying circulating values of the virus."
When asked if he thought it possible that 'wet' pubs could open as early as the middle of this month, Dr Glynn said: "I think it is possible but we need to monitor the disease very closely."
He said NPHET was focusing on "today and tomorrow" and people's behaviours over the next seven days was really important.
When asked if he thought it possible that 'wet pubs' could open as early as the middle of this month, @ronan_glynn said it was possible but the virus would have to be 'monitored very closely' | https://t.co/AeEEt5nWQ9 pic.twitter.com/qYyyUf0csc

— RTÉ News (@rtenews) September 7, 2020
Asked about new mothers in maternity hospitals not being able to have partners with them, he said NPHET does not have a formal position on that, but "pragmatism needs to play a part" in decision-making.
Dr Glynn also said he wants people to improve the way they are wearing face coverings. "Over 90% of people are now wearing them but unfortunately many are doing so inappropriately, such as over their chin or under their nose.
"We are also seeing too many people wearing visors. Face visors do not give the same protection as face coverings."
Rachel Kenna, Chief Nursing Officer, Department of Health, said: "Know how to wear a face covering appropriately and how to safely remove and dispose of it.
"Incorrect use of a face covering can increase your risk of infection. I would urge all families and households to watch the how-to-guide on face coverings and practice safe use."
We need your consent to load this YouTube contentWe use YouTube to manage extra content that can set cookies on your device and collect data about your activity. Please review their details and accept them to load the content.Manage Preferences
Dr Glynn said it was "disappointing" that one in four people was not turning up for a Covid-19 test. He also urged people not to go to work if they had "any symptoms at all" of coronavirus.
There has been one further death as a result of coronavirus in Northern Ireland, taking the official death toll there to 565.
There are 141 new cases, resulting from tests on 4,652 individuals. It takes the cumulative total of cases in the North to 7,868.
Meanwhile, the devastating impact of the pandemic on the Irish economy was revealed by new figures from the Central Statistics Office.
They show that the economy contracted by 6.1% during the second quarter of 2020 - the biggest quarterly drop ever recorded.
Tánaiste and Minister for Enterprise, Trade and Employment, Leo Varadkar, announced a new scheme to help businesses, including the farming and fishing sectors, deal effectively with the economic fallout from Covid-19.
Firms will be able to apply to participating banks for loans covered by the Government's €2bn credit guarantee scheme from today.
Irish businesses will be able to apply to participating banks for loans covered by the Government's new €2bn Credit Guarantee Scheme #CGS

Speaking at the launch, Minister @McConalogue said liquidity is vital for businesses and it is especially important at this time. pic.twitter.com/WHgt2iOHks

— Dept of Agriculture, Food and the Marine (@agriculture_ie) September 7, 2020
Mr Varadkar also said the Government's Green List for safe travel will not be updated until the publication of the medium-term roadmap on dealing with Covid-19 later this month.
The World Health Organization says data to date suggests 80% of Covid-19 infections are mild or asymptomatic; 15% are severe infection, requiring oxygen and 5% are critical, requiring ventilation.
Generally, you need to be 15 minutes or more in the vicinity of an infected person and within two metres of them, to be considered at-risk, or a close contact.