Close to a third of all travel to Ireland from overseas is for the purpose of 'visiting friends and relatives,' according to Tourism Ireland.
But Ireland's cautious approach to international travel means it could now be a full calendar year – or more – before those living abroad can safely travel home here to meet up with their families and loved ones again.
Despite the publication of the long awaited 'green list', the Government's advice is still to avoid 'non-essential' journeys overseas, but many families are now grappling with what this means for them.
Our reporter Eleanor Burnhill has been speaking to some people whose family travel plans have been disrupted this summer, and to others who are pushing ahead with what they say is a much needed family reunion before a possible resurgence of cases in the winter months ahead.
"It's almost like you're split in two," said 67-year-old Rosaleen Duddy Owens, who is in the middle of a second lockdown in her home city of Leicester in England. Unlikely to make a green list any time soon, she says it could be a long time before she and her husband, 80-year-old Al Owens, travel from England to see family here again.
"One side of your heart is saying, we'll go – and it's almost like you're trying to convince yourself that it's ok to go.
"Then the other side of your heart knows that it's not ideal, and it's just not feasible."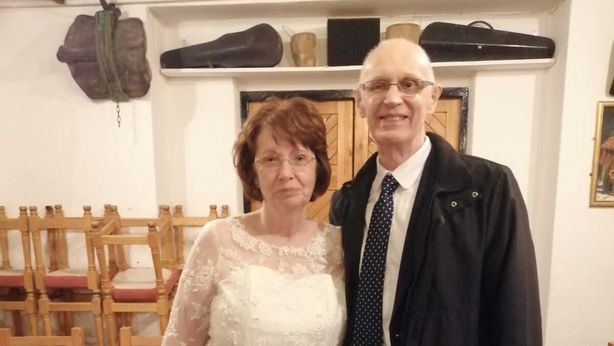 It is not surprising that our nearest neighbours in the UK did not make today's green list, after Taoiseach Micheál Martin said earlier this month that it was "too early" for British holidaymakers to come to Ireland without restricting their movements.
For Rosalyn and Al, this has been a big adjustment.
Both are heavily involved in Comhaltas Ceoltóirí Éireann and regularly travel to Ireland three or four times a year, rarely missing a Fleadh – in fact, they should have been in Mullingar for the now-cancelled Fleadh Cheoil next month.
"I miss going home", said Al, a former show band member of Downbeats who was born in Strokestown in Co Roscommon. "I always call it home because that's where my roots are, in Roscommon."
The pair got married in England in early February this year, but celebrated in Ireland also with a get-together with family and friends in Comhaltas headquarters in Monkstown in Dublin at the end of that month.
"We just got back as Ireland was shutting down", said Al.
"You can't be too careful", added Rosaleen. "If we went to Ireland and we were carrying the virus, if we met our relations and anything happened to them, I don't think either of us could ever forgive ourselves."
She does a lot of volunteer work with the Irish community in Leicester.
"I think where you hear of people who have sadly died, and their relatives from here haven't been able to attend the funeral, that is hard. But I think it's something that most people here now have actually got used to.
"The rules were put in place to safeguard everybody and I think that is just paramount."
Al is not sure when they will be able to return to see his brother, who is living in the same house in which they grew up.
"Will things will be back to normal by Christmas, or even into early next year?" he asked. "We don't know, do we? I think the winter months and the cold weather isn't a good time for Covid-19, so how do we know what's going to happen from say October, November onwards?"
For now, the newlyweds are keeping themselves occupied with music sessions, Irish language lessons and set dancing on Zoom, but they say it is not the same as the real thing with musicians and an audience all crowded in together.
On the first of May this year, Aoife Murray, an Irish mother-of-four living in Luxembourg, got a call from her brother to tell her that their 80-year-old-mother had had a stroke.
She quickly tried to arrange a flight home but the airport in Luxembourg was closed.
Months later, her mother is making good progress with her rehabilitation in a nursing home, but Aoife has still not been able to see her face-to-face. She will not travel unless the public health advice means that it is safe to do so.
"I have friends who have travelled home … but as a medic myself, I just can't do it," she said.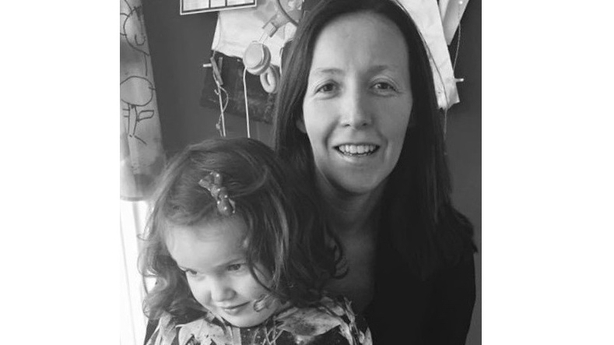 Aoife did not have any hope that Luxembourg would be on today's green list. This month, the landlocked country had the highest number of new Covid-19 cases per capita in Europe.
However, she hopes that it will be possible to make the journey back to Dublin soon, and she would do so if the requirement for restricting her movements on her return to Ireland was lifted.
Those returning from countries that are not on the green list have to restrict their movements for two weeks by not going to work or using public transport, not having visitors to their homes and not visiting others, even if they usually care for them. They are also told not to meet face-to-face with anyone who has a long term medical condition.
"It's two-fold," said Aoife. "The first thing is that I can't get home because of quarantine, and the second is that nursing home visits are now limited to once a week for 10 minutes. So you would be in quarantine for two weeks for a 10 minute visit."
She said that if Luxembourg makes it to a future green list, she would be more likely to travel.
"And believe me, if mum was acutely unwell, I would absolutely travel."
She added: "If we don't all take personal responsibility, this is never going to go away."
Italy, once Europe's epicentre for Covid-19, made it onto the green list as numbers there hold steady.
But on Twitter, Italian woman Roby Crasto asked Irish people not to rush to holiday there.
I'm Italian. #Italy on the #GreenList. I won't go. I won't see my family yet. Because I don't want to make anyone at risk, and I do respect the country I live in. Please don't put #Ireland at risk for a holiday abroad! #COVID19ireland #COVID19

— Roby Crasto (@robbycrasto) July 22, 2020
However, Gaia Galli, who lives in Co Cork, said she has now booked flights for next month to see her family who live in a small town outside Rome.
Giving her reaction to Italy being on the list, she said: "I was surprised actually. There have not been as many cases in Italy as before, but still more than Ireland."
In preparation for her trip, Gaia says she has spent the last month keeping away from others and only seeing her flatmates.
"During this month, I've been very straight, just going to the supermarket early in the morning", she said. "I really miss my family and friends and I would really like to spend some time with them."
The green list will be reviewed every two weeks, but Gaia said that if Italy falls off it again whilst she is away, she will have no problem restricting her movements when she gets back, especially considering she is able to continue working from home.
She believes that if she does not meet her family soon, it could be a long time before they are reunited again.
"I am scared that this autumn the situation will be worse than now."
Eyleen Gomez, who is originally from Co Wexford but now lives in Gibralter, said she is pleased that Gibralter made the green list today, but added that travel from there would be virtually impossible without going through Spain, which was not included.
"It's like you're having a party and inviting people who you know are not going to come", she said. "There's no direct flights from Ireland to Gibralter, so what do you do? If you have your own private jet – granted, there is one that comes into Gibralter quite often and flies to and from Dublin – but that is not an option for most people."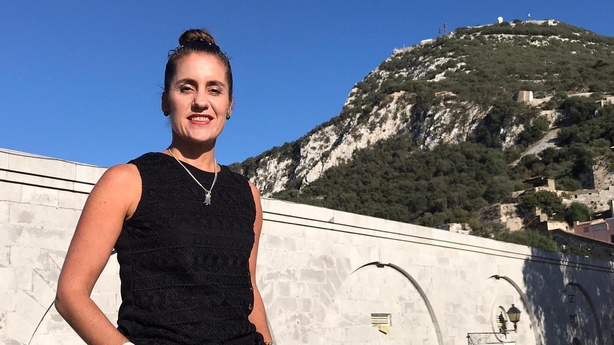 Eyleen said that in March, she missed out on the opportunity to travel home for her niece and nephew's confirmation, and then another flight she had booked was cancelled in June.
This Christmas would have been the first time that her husband, who is an air traffic controller at the local airport in Gibraltar, could have travelled to Ireland to spend time with her family there.
"I find it very difficult at times", she said. "I miss my family. I'd love to be at home. My husband works in a job where he only gets one in five Christmases off and this would have been his first time coming home to Ireland for Christmas."
With all the uncertainty over a second wave, coupled with the winter flu season, she said that despite the green list, it "looks like we're not going to be able to be there".
Aline Seyn, originally from outside Dusseldorf in Germany, will pick up her family from Dublin airport at the end of this month, before they go to stay at an isolated holiday cottage that she has booked in Co Kerry.
She has lived in Co Galway for the last six year and says this is the longest she has ever been away from her parents.
She is longing for the family to be reunited again and said she has carefully planned things in the hope that she can make the trip as safe as possible for all concerned, including her parents aged 65 and 72.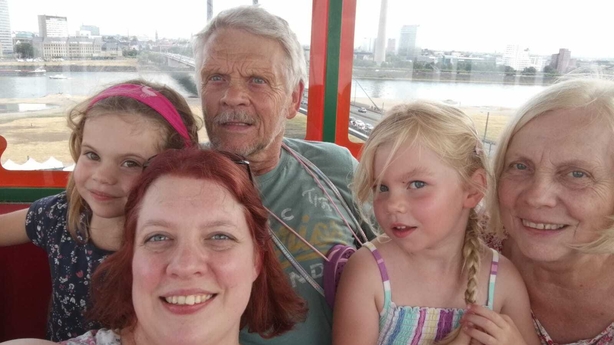 "My parents will wear masks in public and on the plane and in the airports"
Aline said they will fly via Cologne where they can avail of free Covid testing at the airport.
The family had originally planned a trip to France for this summer, but when that didn't look possible or advisable, they started making plans to get together here.
"We decided to meet here in Ireland. My parents and my niece are coming over. We will hire a cottage and isolate there together and just spend time together. We might go out for a walk or something but avoid people, avoid crowds."
She said they will bring as much food as possible with them, avoid restaurants and order take away when they are there.
"I'm so excited. We really can't wait because we don't know when the next time will be that we can meet. It's so uncertain now. They miss us a lot and they really want to see us, especially our daughter, so this is why we decided to meet.
"We all suffer a lot being apart and not being able to see each other."
Aline says she understands why Germany did not make the green list.
"They have to make everything as safe as possible. But being away from your family is really tough. I consider seeing family – at least, close family – as essential. There's a difference between being a tourist and trying to see a family member."
Nadia Vavro from Slovakia has lived in Ireland since 2006 and is the mother of two teenage boys, who both have special health needs.
She said she welcomes the fact that Slovakia is now on the green list, as it will make their "uneasy life" a little bit less difficult.
She is currently in Slovakia with Vlad, her 17-year-old son, who has insulin dependent diabetes, and she is waiting for a medical appointment for him in August. Her younger son Slav, who is 14, has been diagnosed with a rare form of cancer.
For now, the family is separated.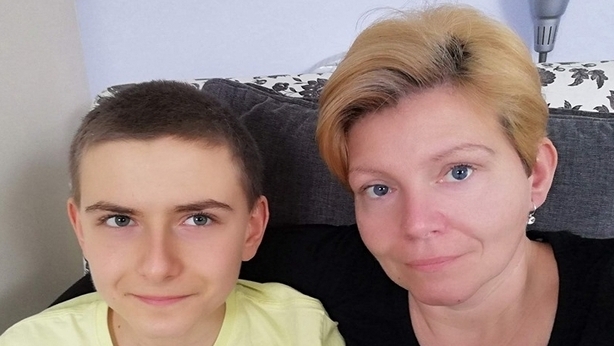 "Slav already travelled back home to Ireland with his dad, so he is now in home quarantine and has to wait 14 days before his next scheduled oncology appointment for IV medication in Crumlin", she said.
"I was very anxious about what would happen if we went back home to Ireland and would have to stay in quarantine, considering the fact that half of our family is already back home."
Nadia said she feels life in Slovakia now is "nearly back to normal, and the presence of Covid is reminded only by people that wear masks in all indoor areas, such as shops and hospitals."
She said that even in situations that can be deemed 'essential travel', the pandemic has caused many problems for families like hers who frequently travel from one country to another.
"We initially travelled to Slovakia by an Army plane to be able to see doctors and attend all our appointments", she said. "Our flight was arranged through the Slovakian Embassy. We are now looking forward to travellingback home without any restrictions and to be together, as a family should be."
Sinn Féin's health spokesperson, David Cullinane, is now calling on the Government to work with NPHET to define what is and what isn't "essential travel."
"This needs, first of all, to be guided by medical advice", he said. "Is it travelling to see a sick relative? It is up to the government to work with NPHET and medical advisors.
"We can quarrel about what travel arrangements fit into essential or not essential travel but that would not be helpful. The Government has an obligation to be very specific on this."
---
Read more:
Does the green list offer any clarity on foreign travel?
Govt handling of foreign travel 'cack-handed' - McDonald
Green list published but advice is to 'holiday at home'