The publication of the Government green list last night was meant to provide clarity to people. However, it appears to have caused more confusion than anything else. Consumer Affairs Correspondent Fran McNulty addresses some questions on the issue.
Is the green list a list of countries which we can travel to, or from, freely?
No, there is a perception that the green list is a 'go list', a list of countries to which you can freely travel. It is not.
The HSE says clearly that "the advice is to avoid all non-essential travel overseas until further notice".
In fact, when the Government published the green list last night, its statement concluded by saying: "The pandemic is not over and the public health advice remains the same. The safest thing to do is not to travel."
What is essential travel?
The HSE says essential travel is allowed if people need to travel for "essential work, care for family members abroad and return home". It does not detail what essential work is or what level of care family members might need.
So we asked the Department of Health for more detail. They said that our query would be "best addressed" by the Department of the Taoiseach. So, we contacted Micheál Martin's office.
Officials there said there was no detail beyond what has been published on the HSE website. We also asked for more detail on what was deemed "essential work", and the response was the same.
So "essential work" is essential work, there is no detail, no definition, no work areas, no job types, it appears it is entirely a matter of opinion. The same logic applies to what is essential travel.
What countries are on the list?
The countries on the green list are Malta, Finland, Norway, Italy, Hungary, Estonia, Latvia, Lithuania, Cyprus, Slovakia, Greece, Greenland, Gibraltar, Monaco, and San Marino.
The fact that some of the territories don't have airports and one of them is technically not a country are all complicating factors.
One insurer getcover.ie has focused on some of the confusing aspects of this, David Hughes from the company saying: "Monaco is listed, yet France isn't. To get to Monaco one must fly to France, as in Nice. Is it therefore possible to actually travel to Monaco? Likewise for Gibraltar. There are no direct flights from Ireland to Gibraltar. One would need to travel via Spain."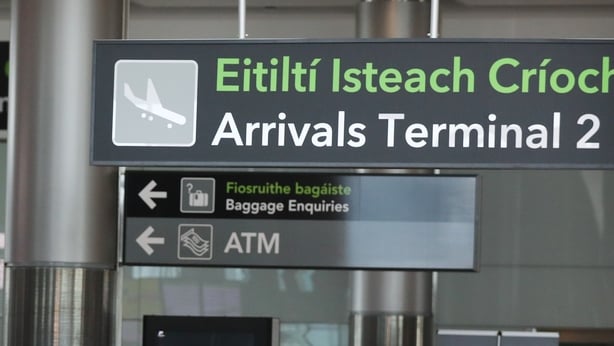 What's different for people returning from green list countries?
If you have to travel to a green list country for reasons deemed "essential", on your return you will not have to restrict your movements. But people returning must maintain social distance from others.
The HSE advises: "Family and friends arriving from a green list country should be treated as visitors. This means you should follow social distancing and other public health guidelines. You should not interact with them in the same way as the people in your household that you live with every day."
What are politicians saying about the list?
Sinn Féin have rounded on the Government handling of the issue, Pearse Doherty told RTÉ News today that the entire green list issue was a "mess" and "it is contradictory, confusing and dangerous".
On the Government side, the Taoiseach said during Leaders' Questions in the Dáil that "the safest thing to do is not to travel". He urged people to "holiday at home".
Another TD, Independent Michael McNamara told the Dáil that airlines were still flying to avoid issuing refunds to consumers. He asked for the issue to be sorted out and said that "ordinary people have to bear the brunt of everything".
Does the list mean any change for consumers?
The Consumers Association of Ireland (CAI) has said it has created a "Will I, won't I" situation for travellers who will lose money if they don't travel. Because flights are not being cancelled, airlines aren't issuing refunds and so consumers are losing out.
The CAI wants the Government to compensate people for some of the losses incurred.
There has been widespread criticism of airlines and travel companies who are refusing to issue refunds because people aren't travelling because of Government advice. In most cases, consumers lose out and aren't being given refunds.
"People are losing money on flights they aren't taking on foot of Government advice, yet airlines aren't issuing refunds"
Travel agents have rowed in too. The Irish Travel Agents Association says consumers are losing nearly €1m every day, and, it says that that the green list doesn't change anything for consumers or for travel agents.
People are losing money on flights they aren't taking on foot of Government advice, yet airlines aren't issuing refunds, because the flights are still operating. It's deeply unfair on consumers.
We contacted insurers today to ask if and when they were going to start providing cover for people who are heeding Government advice. Insurance Ireland said they are "reviewing" the issue and "working to understand how the international travel 'green list' of countries published last night by Government will operate in conjunction with the General Covid-19 travel advisory and would welcome more clarity on this".
Insurance Ireland also said that they are trying to understand and see, "if travel insurance can be underwritten for these countries if the advice is different from the General Covid travel advisory".
Insurers know they are under mounting pressure to provide cover and they are calling on Government to give them more detail.
Are previous movement restrictions still in place?
Yes, if you are arriving into Ireland from a green list country or from Northern Ireland you are not subject to movement restrictions.
But, if you are arriving into Ireland from elsewhere, the 14-day movement restrictions must be followed. These movement restrictions apply to Irish citizens coming home, people with no symptoms arriving here and people who have tested negative for the virus in another country.
For 14 days you must stay at home and "avoid contact with other people and social situations as much as possible".
You are also required not to use public transport, not to visit anyone and not to meet face-to-face with people in higher risk categories. The HSE advises you can only go to the shop if "absolutely necessary" and must wear a face covering.
Do any exceptions to the rules apply?
There is a small group of people exempted from movement restrictions if they've been out of Ireland. Aircraft crews and pilots, ship crews, heavy goods vehicle drivers are exempt, as are people arriving into Ireland from a green list country or from Northern Ireland.
For everyone else, the 14-day movement restrictions must be followed.
The HSE says that "the risk of bringing back the virus from other countries remains high".
It also states clearly on its website: "Everyone in Ireland is being asked to avoid non-essential overseas travel."
---
Read more
Green list published but advice is to 'holiday at home'
Latest coronavirus stories
---