Minister for Foreign Affairs Simon Coveney has said that while a 'green list' of countries has been published, the safest thing for people to do is to holiday at home this year. 
Last night, the Government published the list of 15 countries where the travel advice will be to take normal precautions and people arriving to Ireland from these countries will not have to restrict their movements for 14 days.
The countries are Malta, Finland, Norway, Italy, Hungary, Estonia, Latvia, Lithuania, Cyprus, Slovakia, Greece, Greenland, Gibraltar, Monaco and San Marino and all have a similar or lower level of Covid-19 to Ireland.
Aer Lingus has said the green list means Ireland is effectively closed for business.
The airline said it will have profoundly negative impacts on the Irish economy and on the aviation and tourism sectors and jobs within them.
Speaking on RTÉ's Morning Ireland, Mr Coveney said Ireland remains slow to open up international travel but there have been no cases of Covid-19 brought into Ireland from these countries.
He said that 50,000 people a week are leaving Ireland and there is an obligation to give them travel advice based on risk. 
The minister said "we would rather they were not [leaving], but they are" and it is important they have information about risk levels and about restricting movements when they return from other locations. 
We need your consent to load this rte-player contentWe use rte-player to manage extra content that can set cookies on your device and collect data about your activity. Please review their details and accept them to load the content.Manage Preferences
---
Read More:
Watch Leaders' Questions live
Arriving in Ireland: What you need to know 
Latest coronavirus stories 
---
Simon Coveney: Message from Govt is still clear. The safest thing to do is not to holiday abroad. But we know that 50,000 people a week are leaving the country and I have an obligation as minister to give them guidance on risk attached to that travel | https://t.co/SvZ0ZZm73s pic.twitter.com/yohlCx1Hzh

— RTÉ News (@rtenews) July 22, 2020
He said the 15 'green list' countries have an infection rate of 5 per 100,000 population, or lower, over the last 14 days. Ireland is currently at 4.9. 
Mr Coveney said he accepts there has been confusion over the last few days, but what Ireland is doing on international travel is being really cautious as the most important priority is protecting public health here. 
The minister also said that he does not think it is "doable" to quarantine people who arrive here for 14 days in a designated facility.
He said this has led to clusters in some quarantine locations in Australia, adding "we have looked seriously at that model and it could cause more problems than it solves".
Mr Coveney said the passenger locator form is moving online to improve accuracy and a call centre is being set up to make sure everyone who comes into Ireland gets a check call and are up to date on latest Covid-19 restrictions. 
He said there are also concerns about "hot spot" regions and countries where the virus is at high levels or at risk of increasing in the coming months.
Mr Coveney said the Government is also going to look at countries with high risk levels over the coming weeks in terms of whether further restrictions on international travel should be introduced.
He said this could involve a requirement to be tested before a person comes to Ireland.
He said random testing at airports will be put in place for people coming from non-green list countries and there will be testing facilities at airports for people who may have symptoms of Covid-19. 
Simon Coveney says in the next few weeks Govt will look at countries and regions with high risk level in terms of whether they should introduce further restrictions on international travel from those areas | https://t.co/oFdKfwF2VF pic.twitter.com/N0GT779dXn

— RTÉ News (@rtenews) July 22, 2020
He said Ireland cannot close itself off from the rest of the world.
Aer Lingus criticises 'green list'
Aer Lingus, however, said in a statement the list is more restrictive than in any country in Europe.
"Ireland now stands alone in Europe in applying this policy the rest of Europe has opened for travel," it said.
"The criteria used for the 'Green List' is even more restrictive than that used by the European Union for passengers from third countries entering the EU."
It added that Ireland has failed to act upon the European Commission's request to member states to lift all border restrictions within the EU to allow free movement of people by 15 June.
Sinn Féin calls for 'red list'
Sinn Féin's Finance Spokesperson Pearse Doherty said "now is not time for opening up Ireland to international travel", and to "increased risk".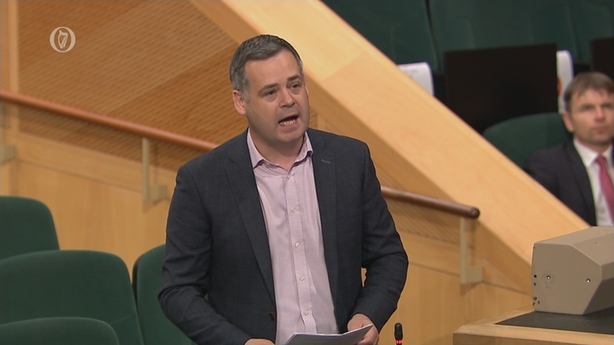 Speaking on RTÉ's Today with Sarah McInerney programme, said the priority for government should be to ensure children can go back to school in September.
He called for further clarity on the advice in relation to restricted movement for people when they arrive in Ireland, and said the government's advice is not in line with that senior health officials.
The Donegal TD called for the publication of a "red list" of countries of where the virus is at acute levels, and the implementation of additional measures to ensure mandatory quarantine from those countries or regions.
Speaking on the same programme, Dermot Jewell, policy advisor with the Consumer Association of Ireland, said the publication of a green list will lead to a "will I, won't I" scenario for those with holidays booked abroad, as he urged the Government to compensate people for some of the losses incurred.
He said that as flights continue and are not cancelled, those with a booking will lose money if they do not go.
The Government has said it will continue with plans to strengthen the measures for monitoring passengers arriving into Ireland and processes will be explored to restrict flight or passenger travel in certain circumstances.
The National Public Health Emergency Team advice remains against all non-essential foreign travel, regardless of whether a country is on the 'green list' or not.
Government urged over travel insurance
Meanwhile, the Government has been urged to refund people who have booked holidays but cannot travel while the non-essential travel advice remains in place. 
The CEO of the Irish Travel Agents Association said the publication of the 'green list' does not change anything for the consumer nor will it impact on thousands of jobs at risk in the tourism and aviation sector. 
Speaking on RTÉ's Morning Ireland, Pat Dawson said that when the Government makes a decision, it should have an impact, but this does not. 
He said that airlines are at least breaking even, if not making money in this "dreadful situation" because there is only an onus on an airline to refund if a flight is cancelled.
Mr Dawson said airlines are charging hundreds of euro in change of date fees, which means that the consumer cannot even change their dates without losing a lot of money. 
Quarantine 'impossible' to enforce
Meanwhile, Taoiseach Micheál Martin has said there are complex legal issues involved with mandatory quarantine for anyone coming into the country.
He was responding to Independent TD for Clare Micheal McNamara who said there is a lot of confusion about quarantine rules and there is a lot of hostility towards people arriving into Shannon Airport.
Mr McNamara asked the Taoiseach to "spell it out if it is a requirement from EU law" that we cannot enforce quarantine.
The Taoiseach said quarantine is impossible to enforce and it's "questionable whether it is the wisest thing to do because he said in some countries there were clusters in the places they were quarantining. 
Mr Martin said "we have discussed this with the WHO and others" and you must be able to contact people very quickly once they have arrived into the country.
He asked Mr McNamara to "think through the logic of mandatory quarantine" asking "how many hotels would the State be booking?"
He said there are complex legal issues invloived and that the better approach is essentially contact tracing and the electronic form, which will be introduced.
Taoiseach Micheál Martin says a mandatory quarantine is "impossible to enforce", adding that it is "questionable as to whether it is the wise approach" | More: https://t.co/vSe9VyKhjG pic.twitter.com/zx6FEzM39e

— RTÉ News (@rtenews) July 22, 2020
The Dáil has also heard about concerns over people coming back from holidays or from working abroad and not isolating.
Independent TD Richard O'Donoghue said the Government must look after people who are staying at home and not travelling abroad.
The Limerick TD asked how returning to school would be policed and he said there must be a system linked to passport numbers so schools can be alerted to children who should be isolating.
Responding, Mr Martin reiterated that the safest thing to do is not to travel abroad. 
He said anyone who travels outside the 15 countries identified on the green list should restrict their movements when they return home to Ireland.
The Taoiseach said "we do not want families travelling to holidays outside of those 15 countries in the first place and it is very very important they do not risk the capacity of schools to open or create situations that could lead to the spread of the virus".
Minister for Higher Education Simon Harris said the Green List is not a series of destinations for people to go on holidays abroad.
He said: "It is the advice of Government and public health experts that you should holiday in Ireland and not abroad. So let there be no ambiguity about that."
He said: "The Green List is not producing a list of destinations. What the Green List is, is the Department of Foreign Affairs fulfilling its obligation to provide factual data based information about the state of the virus and the precautions you as Irish person should take should you decide to visit that country."
Speaking at a press conference to announce further funding for the Higher Education sector to deal with Covid-19 Minister Harris said: "we can't have data and not share it."
We are recoginising people have to travel for a lot of different reasons. 
He said that Government also took decisions in terms of tightening up on people coming through airports including the introduction of randomised testing. 
He added the best way to support the hospitality sector was to holiday at home.
Calls over VAT rates for staycations
The President of the Irish Hotels Federation has said if VAT rates were reduced in line with what's happening abroad, it would give Irish people another reason to holiday at home.
The Irish Hotels Federation is seeking an urgent reduction in VAT rates to 5% for the rest of this year, and a permanent reduction to 9% from next year.
Speaking on RTÉ's Drivetime, Elaina Fitzgerald Kane said they are calling for a reduction in VAT to encourage further spending and this would be passed onto customers to reflect that.
She said only one other country in Europe has a higher VAT rate than Ireland.
She said the industry is also looking for a continuation and an extension of the wage subsidy scheme.
She said while many coastal hotels are booked, there is still 70% availability in hotels across the country, where she said there was plenty of value. She urged people to book directly with the hotel.
Additional reporting Will Goodbody, Maggie Doyle, David Murphy