The Archbishop of Dublin has urged all churches in the archdiocese to adhere to Covid-19 restrictions after a church in Blackrock in Dublin opened its doors for mass.
In a statement, Archbishop Diarmuid Martin said the current public health emergency has required sacrifice "on the part of all of us" and "we must show respect for those whose sacrifice has been greatest". 
He said his thoughts are with those who have had to bury a loved one without the normal process of grieving, with funeral rites limited to a bare minimum. 
He added that public health policy will only work when its proposals and sequencing are fully respected by all.
Parish priest at the Church of the Guardian Angels in the south Dublin suburb of Blackrock, Fr Dermot Leycock, said that members of the public had been permitted to enter the church for mass, so long as they adhered to social distancing guidelines.
Initially, he said those who wished to attend mass stayed in the porch area at the back of the church.
He said this area was opened each morning and kept open throughout the day, to facilitate parishioners who wanted to pray inside the church.
But, he said, "around ten days ago" during recent windy weather, an area was set up just inside the porch at the back of the church to allow parishioners to sit down, in accordance with social distancing guidelines.
The Church of the Guardian Angels kept its doors closed until Mass was over this morning.
Fr Leycock said that the doors would remain closed during daily mass services at 10am until he was "given the all clear" to allow members of the public to attend again.
---
Read more:
Two-metre rule would make return to school difficult - McHugh
Mandatory passenger locator form comes into effect
Latest coronavirus stories
---
In his statement this afternoon, Archbishop Martin said: "There is no room for self-dispensation from or self-interpretation of the norms. 
"Jumping the queue by individuals or communities puts everyone at risk. I have reminded all parishes this week that disregard for the norms of public health is something that is unacceptable. 
"The Dublin parish referred to in media reports in these days has in fact a policy statement on its website stating unambiguously 'public attendance at daily or Sunday Mass is not permissible during the current pandemic'. I am assured that the parish has now returned to that policy."
The Archbishop acknowledged "the desire by believers to be able to take part fully in public worship again as soon as possible".
He said the Irish Bishops Conference will publish a detailed document and checklist regarding the steps that each parish must take before churches can reopen for mass, with each parish being asked to provide a detailed plan regarding its preparations. 
He said: "What is involved is more than simple social distancing." 
On 23 March, Archbishop Martin asked churches in Dublin to suspend the celebration of mass in public.
A guidance document for parishes from the Archbishop was also issued yesterday, which stated that "the disregard for the norms of public health regarding the opening of Churches for public worship is something that is unacceptable.
"It will only damage the efforts of all to move forward together patiently and with caution."
A spokesperson for the Dublin Archdiocese has confirmed that churches may open to members of the public who wish to pray there, so long as strict social distancing guidelines are adhered to.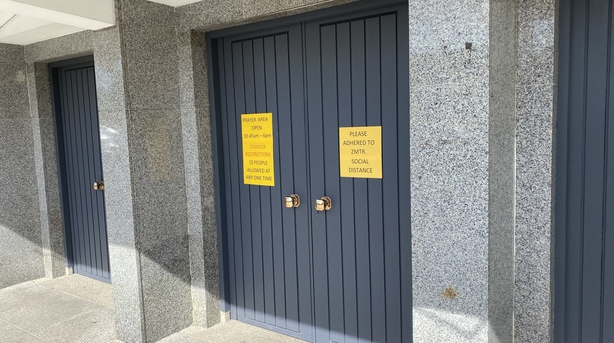 Fr Leycock said his parish is working on developing a detailed plan so the church can reopen to the public, as has been requested by the Archdiocese.
Government guidelines advise that places of worship should not reopen until Phase Four of its roadmap for lifting restrictions, which is provisionally set for 20 July.
Currently ten people are permitted to attend funeral masses and they must be family members.
More generally, the current guidelines state that up to four people who do not live together can only meet outdoors while still keeping at least two metres apart.
Outside the Church of the Guardian Angels, parishioners who were not permitted inside for mass were visibly upset.
Two women said prayer was very important to them, and they felt that they were doing nothing wrong as they were keeping a safe social distance inside the church.
One woman said that mass being streamed online was no good to her as she could not access it.
A number of parishioners also expressed anger that the media was reporting on the story, and said that it was to blame for the fact that the mass was no longer open to them to attend in person.