The body representing private nursing homes has said that lessons must be learnt to respond to a potential second wave of the Covid-19 virus or another future pandemic.  
Speaking on RTÉ News tonight, Nursing Homes Ireland CEO Tadhg Daly said there were "gaps in the preparation by the State" in the early stages of the pandemic. "What we have to do now is learn the lessons and make sure we are ready for any future pandemic or second wave."
He was responding to comments by the head of the Health Service Executive, Paul Reid, who earlier said there were obvious gaps in the clarity of responsibilities in the overall governance and oversight of private nursing homes during the virus outbreak.
At a briefing in UCD today, Mr Reid pointed out that the HSE does not normally have a direct relationship with private nursing homes. He said it was something that emerged as a consideration.
Asked was he confident that residents will be safe in care home settings in the future, Mr Daly said he would be confident "with the supports being put in and the efforts of the staff".
He said testing would be "critical" going forward as 40% of people with Covid were asymptomatic.
Tonight, it emerged that there have been 1,030 Covid-related deaths in residential care facilities. It accounts for 63% of the total of deaths. 900 of these were residents of nursing homes, which represents 55% of all deaths. 
In what is believed to be the largest number of deaths in any nursing home setting to date, over 30 people died at the 142-bed Ryevale Nursing Home in Leixlip, Co Kildare 
In a statement, the owners said they had been devastated by the loss, which includes those residents who have been with them for many years. 
"Never in our 35-year history as a family run nursing home, have we experienced a crisis like this and it is due to the commitment of our dedicated staff that we have managed to get through it.
"We would like to express our gratitude to the families of all our residents who have supported us in this trying time." 
North Kildare TD Catherine Murphy said she became aware of the situation at the nursing home when family members of relatives contacted her advocating for additional staff.
"They needed nurses and carers to help manage this," she said.
Ms Murphy said nursing homes have to be part of the health service. "You can't have a nursing home detached from the HSE in terms of support."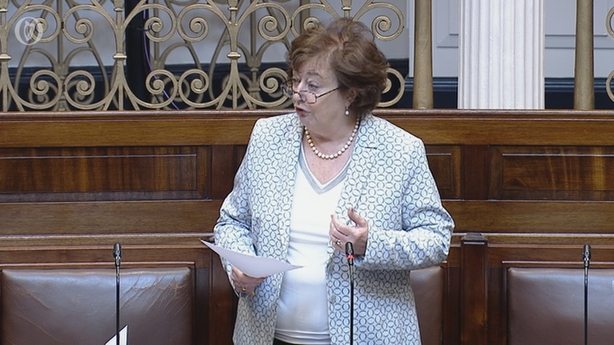 In relation to HIQA, which has been regulating the living conditions of people in nursing homes, Ms Murphy said there needed to be a closer relationship between medical care and risk scenarios. 
Ryevyle said that while it could not comment on the medical conditions of its residents, it appeared the worst was now over and the home "is well on the road to recovery".  
Twenty-eight residents have died at the Marymount Care Centre in Lucan. Owner Fergus McNulty told RTÉ's Drivetime that staff and owners are still processing what happened. 
"The emotion we feel is devastation. When we start to look back, there is no question that there have to be lessons learnt from this experience." 
Mr McNulty said it was early April when the nursing home was first impacted by the virus. He said of the team of 170 staff, 40 members were not at work at the peak of the impact.
Responding to comments by Fine Gael TD Fergus O'Dowd that private facilities can pay for the extra staff, or to buy infection control, he said the virus was "a once in a century war and to isolate this into 'you could have paid for this or that' completely misses the point".
The Marymount owner said the care centre did everything that was asked in line with guidelines in relation to infection control but "clearly this was not sufficient. We are trying to find a way to understand what's happened".
Amanda Phelan, Professor of Ageing and Community Nursing at Trinity College Dublin, said many historical factors contributed to nursing homes in Ireland being "under the radar" ahead of the Covid-19 virus and this contributed to the high volume of cases. 
She told RTÉ's News at One that from the beginning of the crisis, the European Centre for Disease Control (ECDC) identified nursing homes as prime environments for the virus to take a foothold and yet there was very limited testing initially for patients and staff. 
Professor Phelan said it was a previous government policy to incentivise people to open private nursing homes and, combined with an overall lack of collaboration in governance, these contributed to the situation being worse during the crisis. 
She said nursing homes were "under the radar" and the focus was on acute care and ventilators in hospital settings, instead of in places where people were congregated and the virus could spread rapidly.
Professor Phelan said that the more we learn about the unusual traits of Covid-19, it suggests the virus was spreading in nursing homes during the pre-symptomatic and symptomatic stages.
She said the ECDC points to staff moving between nursing homes as another factor contributing to disease spread, so continuity is very important. 
She described as "very disillusioning" that some narratives suggest it is a low skill area, which she said was far from the truth. 
The TCD Professor said palliative care has been completely transformed by the Covid-19 crisis and that watching someone die from the virus was very traumatic.
She said the World Health Organization suggests "end of life" care plans be revised for the pandemic to ensure people are treated with dignity and respect.