Regulations making it mandatory for all passengers coming into Ireland to fill out a passenger locator form have come into effect.
It means that anyone entering the country from abroad must provide details of where they intend to stay for the following 14 days, and they will be asked to self-isolate at that location.
Some exemptions include transport workers involved in supply chains, and those crossing the border from Northern Ireland.
Those who arrive in the Republic of Ireland and travel immediately onwards to Northern Ireland will only have to fill out their name and signature on the form.
Failure to fill out the form will be punishable by a fine of up to €2,500 or up to six months in prison.
The regulations will remain in place until 18 June, when they will be reviewed.
Minister for Health Simon Harris said this is an important measure to ensure the risk of imported cases of Covid-19 is lowered.
"The people of Ireland have managed to suppress Covid-19 in our communities, and through their actions they are enabling the resumption of social and economic life", he said.
"The Government is concerned that as we move towards the easing of measures, the risk of importing new cases through non-essential travel increases.
"The introduction of these rules aims to limit this risk".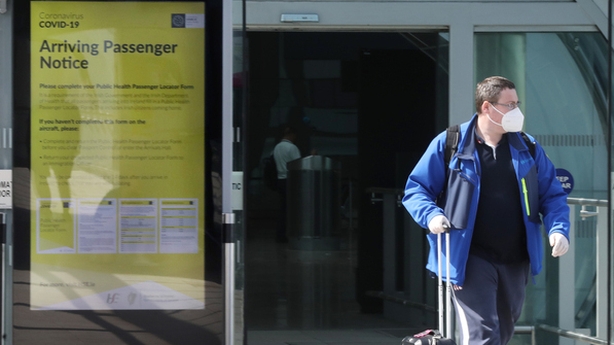 The minister also said earlier this week that while it is mandatory to fill out the form, making it mandatory for people to complete self-isolation is "tricky, legally".
He said he is "working on proposals" to bring to Cabinet in that regard.
---
Read more:
Outbreak an 'unprecedented shock' to Irish economy - ESRI
Global Covid-19 infection numbers top 5.7 million
Latest coronavirus stories
---
The Director of the Irish Council for Civil Liberties has said there are some concerns regarding the form, including the issue of data protection.
Speaking on RTÉ's Morning Ireland, Liam Herrick said it is reasonable to introduce regulations of this type, but some safeguards need to be put in place.
The public have a lot of concerns about the control of personal information, he said, and it would be helpful to have additional detail about how this will operate.
Mr Herrick added that there may be a small number of scenarios where a person might not be in a position to fill out the form - for example, if they are claiming international protection on arrival.
He said that while he is certain such matters could be dealt with, more clarification would be helpful.
Additional reporting PA