Fianna Fáil has called on the Government to cancel this year's Leaving Certificate and work on what it calls "fair alternatives", while Sinn Féin has asked for clarification of the public health criteria needed for the exams to proceed.
Both parties have criticised the fact that there was no mention of the Leaving Certificate exams in the Taoiseach's roadmap statement on the easing of the Covid-19 restrictions yesterday evening. 
Fianna Fáil's education spokesperson Thomas Byrne said he believed this was a "huge oversight". He said this absence had added to "the already heightened anxiety among Leaving Cert students". 
Solidarity/People Before Profit and the Social Democrats have already called for this year's Leaving Certificate to be cancelled.
Both parties made pleas for cancellation in a Dail debate on education over a week ago.
Earlier this week, Minister for Education Joe McHugh reiterated that details as to the timetable and structure of the exams would be finalised by early June, when it will be more possible to foresee the public health picture for late July when the exams are planned to begin.
A spokesperson for Mr McHugh has said that planning for the Leaving Cert is still being discussed, including through the Advisory Group set up by the department involving education stakeholders.
It is still hoped to bring just Leaving Cert students back in July, subject to adequate planning and public health advice, the spokesperson said.
We need your consent to load this rte-player contentWe use rte-player to manage extra content that can set cookies on your device and collect data about your activity. Please review their details and accept them to load the content.Manage Preferences
But in a statement issued this morning, Mr Byrne said he believed the Government could not continue its "wait and see approach" .
"It is becoming clearer with every week that passes that it is simply not tenable for it to proceed. The time has come to make the call to cancel the Leaving Cert and take the pressure off students, parents and their teachers," he said.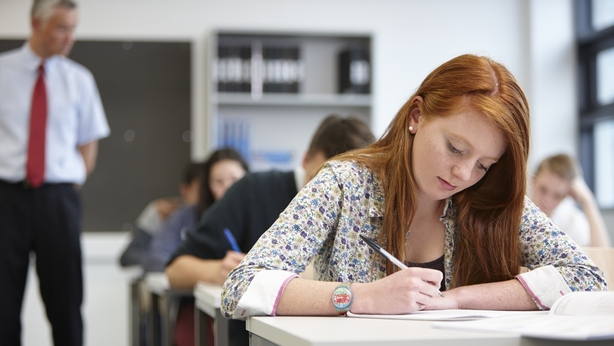 He said alternatives existed and it was time to switch the focus to them.
Sinn Féin Spokesperson on Education Donnchadh Ó Laoghaire said the continued uncertainty was causing massive concern to students and their parents.
He said for the past two months the demand of students and their parents had been for clarity and certainty. "The anxiety and stress they have faced is unbearable".
He said the Taoiseach's announcement last night did not leave people much wiser, and had added to the uncertainty surrounding the exams. 
"What Leaving Cert students need to know is in what circumstances will it be considered safe to run the Leaving Cert, and in what circumstances will it be considered unsafe, and how likely are these scenarios?" he said. 
---
Read more:
Latest coronavirus stories
At a glance: Which restrictions are going to be lifted?
Live: Updates as they happen
---
However, Sinn Féin TD Louise O'Reilly has said she does not agree that the Leaving Cert should be cancelled.
Speaking on RTÉ's Saturday with Cormac Ó hEadhra she said that a knee-jerk reaction was not helpful and what was needed now was the input of all the stakeholders.
Asked on Wednesday whether he could guarantee the exams would go ahead Mr McHugh said: "Any Minister who gave a guarantee on anything at the moment would be living in a fool's paradise".
He said the exams would go ahead as planned starting on 29 July, if the public health advice deemed it was safe to do so. 
"We are living in a period of uncertainty," he said. "We don't know where we will be."
He said however that "all contingencies" were being looked at. 
Labour Education spokesperson Aodhán Ó Ríordáin said: "Knee-jerk reactions without providing viable alternatives doesn't help anyone.
"Those calling for the cancellation of the Leaving Cert should be putting forward a credible alternative entry mechanism for third level places.
"Labour wants to hear from education stakeholders at the planned critical meeting of that group on Wednesday when decisions on practicals are due to be decided.
"We are open to all alternatives that will protect the health and mental health of students, and will uphold the integrity of the exams process."
Additional reporting Sandra Hurley