The Minister for Education, Joe McHugh, has confirmed that this year's Leaving Cert will begin on Wednesday, 29 July.
Speaking in the Dáil, Mr McHugh also revealed that details about the format and timetabling of the exams will be released in the first week of June.
And he urged any young people who are feeling lost, stressed or unsure, to "please reach out".
Speaking at the start of a debate on education, Mr McHugh said that "all of us" were struggling to adapt and adjust in times of great change.
He praised "phenomenal efforts" right across schools, further education centres and higher education institutions to ensure continuity of learning, to support students and seek to mitigate educational disadvantage.
Mr McHugh said there had been a major focus on supporting the needs of vulnerable groups, including those with special educational needs and those from disadvantaged backgrounds, where a loss of school time can be most harmful, as well as homeless children, children in temporary accommodation, children in refugee centres or asylum seekers' accommodation.
The minister said that details of a dedicated helpline to support students in terms of their wellbeing will be announced shortly.
Speaking about the school bus transport scheme, Mr McHugh said that his department was in the process of working out refunds for parents who have paid for the service. He said refunds would be pro-rata. 
The Fianna Fáil education spokesperson criticised the Department of Education's handling of education issues over the past weeks.
Thomas Byrne said he believed a lot of the mistakes that had been made could have been avoided with more political engagement.
Labour's Aodhán O'Riordan criticised the level of political communication of the minister and that of his department, and called for more transparency.
He said the new date of the Leaving Cert should have been announced in the Dáil, not in an online chat. Mr McHugh replied to say he was confirming that date now. 
Mr O'Riordan also called for a waiving of the €116 fee for the Leaving Certificate exam. 
Acknowledging criticism of a lack of communication from his department, Mr McHugh said 1,300 staff in his department had had to change the way they were working, and they were being bombarded with work.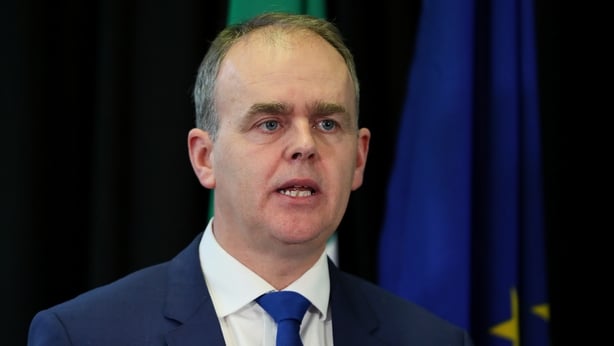 Independent TD Catherine Connolly raised the issue of international students here. She said there were almost 1,000 international students "left stranded", not included in the Covid-19 payment, and facing accommodation, visa, and other problems. She asked for a task force to be set up. 
Accepting that this was an issue, Mr McHugh said his department had been engaging with the Department of Housing and the Department of Health to ensure support in this regard.
He said it was difficult because some students were getting the payment while others were not. Those who would not be eligible would include those who had arrived but had not yet sourced work. 
On the issue of the University of Limerick's refusal to give accommodation refunds to students, the minister, under questioning from Ms Connolly, said the secretary general of his department had been engaging directly with the president of UL.
Mr McHugh said he and his department would appeal to UL to join with other third level colleges in relation to the decisions that they make.
The Green Party's Catherine Martin referenced the fact that the minister announced the intended starting date of the Leaving Cert exams on an Instagram Live chat stream last Tuesday evening.
She criticised what she called the minister's "casual delivery of vitally important information" in this way. She said it was simply unacceptable and showed a lack of regard for the welfare of students. 
Gino Kenny and Mick Barry of Solidarity/People Before Profit called for the Leaving Cert exams to be cancelled. 
Mr Kenny called for predicted grades to replace them, with exam provision for any student who is not satisfied with their results. 
He asked if the public health situation on 1 June is the same as now was it the minister's intention to cancel the exams. However, Mr McHugh did not respond to this question. 
Mr Barry said students and teachers were telling politicians that stress levels were going through the roof. He said he didn't see how the minister could say he had the health and wellbeing of students at heart when the majority of students wanted the exams cancelled.
He said it would be "pious hypocrisy" on the part of the minister if he "drove ahead" with this plan.
Mr Barry called for an increase in State investment so that there would be a place at third level for every student who wanted it.