Current restrictions extended until 18 May
People over 70 can go outside their homes from Tuesday
2km limit in place for exercise to be extended to 5km
Schools to stay closed until September
Outdoor workers will return to work in two weeks' time
DIY and hardware stores to reopen from 18 May
Taoiseach Leo Varadkar has addressed the public on steps to ease the existing Covid-19 restrictions.
The Taoiseach said the current restrictions will be extended until 18 May and two more weeks of tight restrictions are needed to weaken the virus further.
However, in a speech tonight, he said that people who have been cocooning should continue to do so, but they can go outside their homes from Tuesday if they avoid all contact with other people.
He also said the 2km limit that is currently in place for exercise for the general population is to be extended to 5km from Tuesday.
From next Tuesday, people can exercise within 5km of their home. People who are cocooning can go for a walk or a drive within 5km of home if they avoid all contact with other people. | Follow live updates: https://t.co/rOWrBuKXEX pic.twitter.com/88N0gcXmQv

— RTÉ News (@rtenews) May 1, 2020
Mr Varadkar said the virus has transformed our lives in ways we could not have imagined. He said the risk of a second phase of the virus was ever present.
The Taoiseach set out a road map with five steps for how Irish society and the economy can be reopened. The stages will be three weeks apart starting on 18 May.
He said we can only move from one stage to the next if we can keep the virus under control. 
Mr Varadkar also said that outdoor workers will be able to return to work in two weeks' time on 18 May.
From 18 May, some retail outlets such as garden centres, hardware stores and repair shops will reopen. Some outdoor sporting activities in small groups will be allowed. 
Mr Varadkar said many regular health services will resume operating and it will be possible to meet friends and family in small groups outdoors.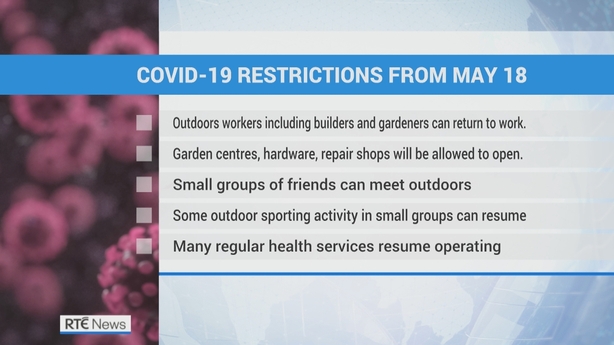 He said we have not yet won the fight and too many people are in intensive care units with Covid-19 and we have too many deaths.
Mr Varadkar said if the restrictions are lifted too early, everything we have achieved would be lost and we could be back to square one. 
He said our physical health has been attacked, the economy battered and society put to the ultimate test. 
On 18 May, Ireland will begin to reopen. Until we have a vaccine or an effective treatment, there will be a long-term need for social distancing, says the Taoiseach. | Follow live updates: https://t.co/rOWrBuKXEX pic.twitter.com/u1M3QoGmlk

— RTÉ News (@rtenews) May 1, 2020
Mr Varadkar said that in later phases restaurants, pre-schools, cafes, bars, cinemas and gyms will reopen. 
He said schools and colleges will reopen in September/October at the start of the academic year.
He said businesses will need help to get going again and he said Cabinet would meet tomorrow to discuss how to get businesses to restart. 
The Taoiseach said a national protocol was being developed, which would enable a gradual restart of economic activity while protecting workers as they return to work. 
He said the Government would do everything it can to get businesses up and running again.
The Taoiseach also said it would take some time for people's lives to get back to normal but he said it will happen.
He said: "Not long from now, some summer night, we will see our friends again."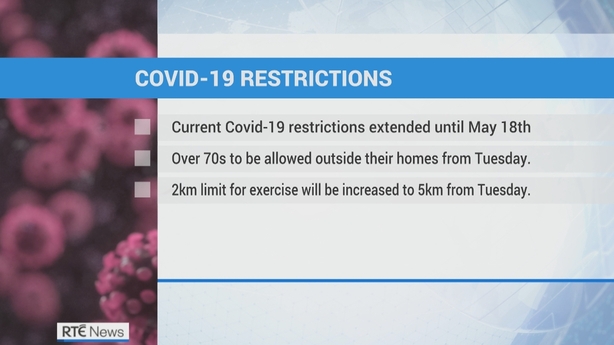 ---
Read more: 
---
Over-70s cannot go shopping
In an appearance on RTÉ's Late Late Show, Mr Varadkar said that over-70s and those who are cocooning cannot go shopping from Tuesday, saying this will come in a later phase of the Government's plan.
The Taoiseach also said that it was possible the GAA championships could proceed behind closed doors perhaps on a later calendar than usual in August and September.
Some counties could be allowed to ease restrictions to contain Covid-19 quicker than others, the Taoiseach said.
"We could have different regions in different phases, that is possible," he said.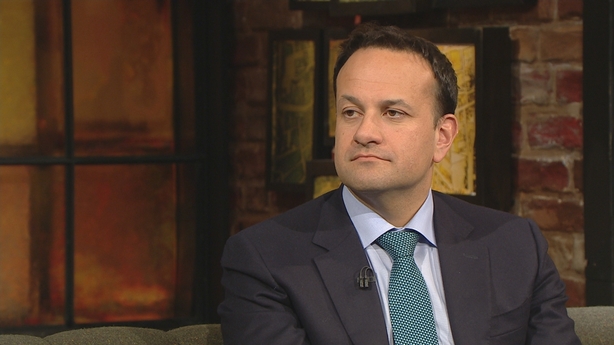 Mr Varadkar said the jury was still out on the use of face masks and they are working on guidance of it.
He indicated that unemployment and wage supports put in place as a result of Covid-19 restrictions will be extended.
"Neither the wage subsidy scheme nor the Covid payment can last forever.
"It wouldn't be right to unwind it before those sectors can actually reopen."
"So my anticipation is that it will have to be extended. But as sectors reopen we can unwind it then – when people have the opportunity to go back to work," he told Ryan Tubridy.
Clear we are going to have to live with Covid-19 for a long time, says Martin
Fianna Fáil leader Micheál Martin said although not everyone will be happy with the ongoing restrictions we have to pay tribute to the strong public health advice.
Speaking on RTÉ's Six One News, he said it was clear we are going to have to learn to live with Covid-19 for the foreseeable future until there was a vaccine.
Mr Martin said he would like to see more transparency when there are clusters and there needs to be clarity around the Leaving Cert and the logistical arrangements.
Speaking on the same programme, Sinn Féin president Mary Lou McDonald said the only way we can exit the restrictions safely is on the basis of an all-island approach, saying "this is not about constitutional politics".
She said there needs to be energetic pursuance of this by the Government in Dublin and colleagues in the Northern Ireland Executive must cooperate.
Ms McDonald also said she is very happy that the Irish people now have a sense of direction and a plan for the weeks and months ahead.
Labour leader Alan Kelly welcomed the loosening of restrictions for people who are ocooning and the new 5km rule.
He said the road map is "a comprehensive plan" but he said more detail is needed, particularly in relation to the phases announced. He said more detail is needed for workers so they can plan.
Mr Kelly said: "I also believe the three-week intervals are something that are going to have to be assessed as we go through the plan."
The Department of Health said this evening that thirty-four more people who were diagnosed with Covid-19 have died in Ireland.
There have now been a total of 1,265 Covid-19 related deaths in Ireland.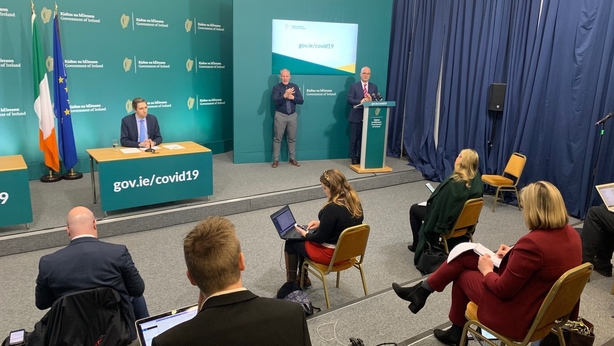 In a press briefing this evening, Minister for Health Simon Harris said public health officials continue to have real concerns about the spread of the coronavirus. 
He said while restrictions will be eased slightly from 18 May, the next two weeks are needed to bring numbers lower. 
He said: "If we get it right, we can get off to a very good start with our road map." 
Chief Medical Officer Tony Holohan said if we continue the progress made so far, they are hopeful the restrictions can be eased further at each three-week period after 18 May. 
He said they hope to be in a situation that each three-week interval will allow them to take further steps to ease some of the measures.
"That's our hope and our intention," he said.