Thirty-four more people who were diagnosed with Covid-19 have died in Ireland, the Department of Health has said.
There have now been a total of 1,265 Covid-19 related deaths in Ireland.
There have also been 221 more cases of the coronavirus diagnosed here, bringing the number of confirmed cases to 20,833.
The Health Protection Surveillance Centre has said that as of midnight on Wednesday 29 April there were 20,510 cases.
The median age of those diagnosed with Covid-19 was 49.
The figures show 2,768 of those cases resulted in hospitalisation, with 367 people admitted to intensive care units.
There are 5,840 cases associated with healthcare workers.
Half of all cases were in Dublin (10,170), with Kildare the next highest county on 1,215, followed by Cork on 1,154.
In Northern Ireland, health authorities reported a further 18 deaths as a result of Covid-19, bringing the total figure to 365.
Four of the deaths occurred within the past 24 hours, while the other 14 are previously unreported fatalities.
A further 87 people have tested positive for Covid-19, bringing the total number of cases to 3,623.
Around 80% of cases of Covid-19 will be a mild to moderate illness, close to 14% have severe disease and around 6% are critical.
Generally, you need to be 15 minutes or more in the vicinity of an infected person and within two metres of them, to be considered at-risk, or a close contact.
Taoiseach Leo Varadkar has advised that people who are cocooning can go outside from next Tuesday and said the 2km exercise limit is to be extended to 5km.
The restrictions were among a number of measures introduced last month to help curb the spread of the Covid-19 coronavirus.
The Taoiseach set out a road map with five steps for how Irish society and the economy can be reopened. The stages will be three weeks apart starting on 18 May.
In a public address this evening, Mr Varadkar acknowledged the challenges of isolation, job losses and the loss of loved ones endured by people in recent weeks.
---
Read more:
Latest coronavirus stories
Road map for reopening society and business
---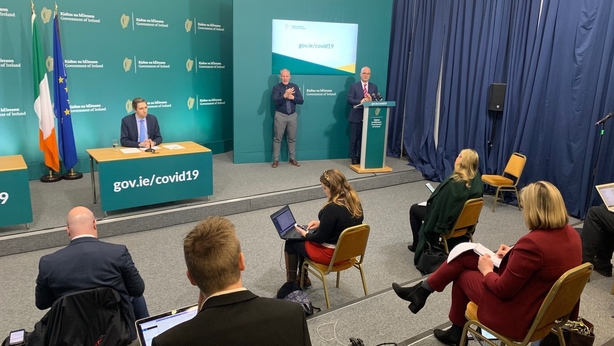 The Minister for Health has said public health officials continue to have real concerns about the spread of coronavirus.
Simon Harris said while restrictions will be eased slightly from May 18, the next two weeks are needed to bring numbers lower.
He said: "If we get it right, we can get off to a very good start with our roadmap.
"If we move too soon there's a real risk of failure and that would have a devastating effect on people across the country."
The Chief Medical Officer said if we continue the progress made so far, they were hopeful the restrictions could be eased further at each three-week period after 18 May.
Tony Holohan said they hope to be in a situation that each three-week interval will allow them to take further steps to ease some of the measures.
Dr Holohan said the measures implemented so far have had an impact on transmission through the hard work of people across the country.
Notwithstanding those efforts, he said, they continue to express concern about the ongoing spread of the disease in the community, in particular in nursing homes.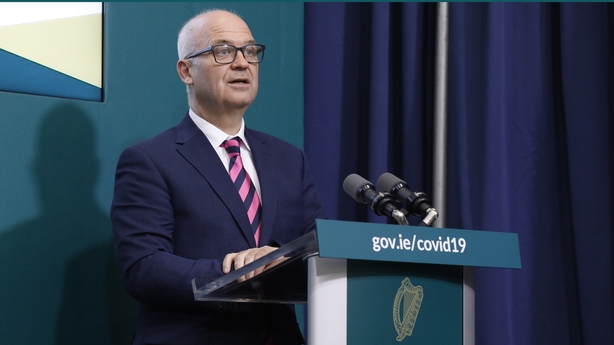 Dr Holohan said we do not have a certainty that the world will be in a position to develop a vaccine.
He said they do have a lot of hope on that, but it is never a certainty that an effective one will be developed.
Minister Harris said we are not going to be able to return to normal life until they can say to people that they are going to vaccinate them or they can provide an effective treatment.
Dr Tony Holohan said in principal, the question of using facemasks, or face coverings, might form an important part of the response when restrictions begin to ease in two weeks' time.
He gave public transport and in retail settings as an example and said they will work up that guidance over the next two weeks.
Earlier, Aer Lingus announced that it is to commence negotiations with unions representing staff at the airline about cuts of up to 900 jobs.
It is understood that at a briefing this morning, union representatives were told that in order to cut costs across the board, the company is seeking to reduce its 4,500-strong workforce by up to 20%.
The timing of the cuts will depend on the outcome of further consultation with unions over the next few weeks.
So far it is not yet clear which jobs, routes or services will be targeted in the cutbacks.
Elsewhere, a Co Tipperary based meat processor has confirmed that all its staff have been tested for Covid-19 after concerns about the virus at the facility.
In Co Westmeath, Dawn Meats has suspended production at its boning hall in Kilbeggan due to four confirmed cases of the virus.
We need your consent to load this rte-player contentWe use rte-player to manage extra content that can set cookies on your device and collect data about your activity. Please review their details and accept them to load the content.Manage Preferences
Rosderra Irish Meats issued a statement in which it confirmed a number of its staff tested positive with Covid-19.
Rosderra Meats has confirmed the positive cases, but has not disclosed the number.
But in the Dáil last night, Sinn Féin's agriculture spokesperson Brian Stanley claimed it was as high as 120.