The Health Service Executive has issued new guidelines following concerns from expectant mothers about restrictions being imposed on partners accessing labour wards in some hospitals.
It comes as the Institute of Obstetricians and Gynaecologists has reassured pregnant women that they do not appear to be more likely to develop a serious illness if they contract Covid-19.
Dr Cliona Murphy, chair of the organisation, said there had to date been no severe cases of the coronavirus among pregnant women in Ireland.
She said that expectant mothers generally have weaker immune systems in order for their pregnancies to continue successfully, and so they may pick up infections more easily. The HSE says it is not yet known how Covid-19 affects pregnant women and their babies.
The new guidance states that women "should be permitted and encouraged" to have a birth partner with them during labour - as long as the partner has no symptoms of the coronavirus. If they do, they are being asked to stay away from hospitals and self-isolate at home.
Several hospitals, including the Midland Regional Hospital in Mullingar, are prohibiting partners from labour wards to reduce the risk of infection.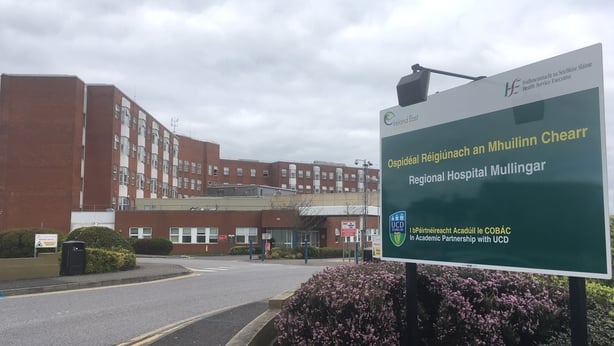 The hospital says it is constantly reviewing the available guidance and watching national and international developments.
A spokesperson said the decision not to permit partners to attend labour and delivery "was not made lightly and was deeply regretted".
It said: "We are truly sorry for the distress this may be causing. At all times our priority is the provision of safe maternity services for our patients at Mullingar.
"We are doing all that we can to provide the best possible care for our mothers and babies and to reduce the risks of infection at this unprecedented time. As a small unit and we are committed to maintaining an adequate compliment of healthy workforce to provide safe care to our mothers and infants in the weeks and months ahead."
---
Read more:
Live coronavirus updates as they happen
Interactive map: Covid-19 cases in your area
Latest coronavirus stories
---
The restrictions are an added source of anxiety for some mothers-to-be, such as Karen Coyle from Bettystown, Co Meath.
She is 36 weeks pregnant, and worried that she may end up giving birth to her first child without her husband being present.
"It's the not knowing that's the hardest. I understand that hospitals want to reduce the number of visitors, but it's good for the woman's mental health to have somebody there. It's good for you and it's good for your husband. It's a once-in-a-lifetime experience," she says.
It's also a worrying time for other pregnant women, particularly those with underlying health conditions.
Lorna Herra from Ballyfermot in Dublin is 26 weeks pregnant, and the mother of a 19-month-old boy called Reuben.
"It's just the fear of the unknown, of not knowing where we might be in a few weeks' time, I already have breathing problems and I don't know whether I could fight the virus if I got it, I also fear for my son, It's just terrifying"
Dr Laura Lenihan, from Galway, is due to give birth to her third child by Caesarean section in May. She has been informed that her husband, Ross, will not be allowed in the labour ward at University Hospital Galway for the birth.
"Because it's my third time, I can handle that better than a first-time mum, I know what to expect. But pregnancy is an anxious time at the best of times, let alone having to give birth during a pandemic. It's always better to have your husband or your partner there for support."