Taoiseach Leo Varadkar has warned that intensive care units may be at capacity "within a few days".
Mr Varadkar said he was concerned about admission rates to intensive care and there was an unprecedented effort being made by the health services.
Any decisions in regard to implementing additional restrictions would be made on the advice of public health officials, he said.
He said that based on evidence from seasonal flu figures, it would be "surprising" to see fewer than 1,000 people dying from Covid-19 by the end of the crisis.
Mr Varadkar said his thoughts were with the ten people who had passed away yesterday, and he warned that the number of fatalities would increase significantly over the next two to four weeks.
He also sent his best wishes to British Prime Minister Boris Johnson, saying he hoped he would make a speedy recovery after contracting Covid-19 and added that he would not criticise how any other country was responding to the virus.
Asked about suggestions that the banks were profiteering from the current crisis, he said that those who were unable to pay loans or mortgages should be given a three-month break.
Mr Varadkar said it was important to ensure that transport and logistics keep working, and said there was enough food in the State to feed 40 million people.
He was speaking during a visit to a fruit and vegetable wholesaler in Swords, Co Dublin, where he and Minister for Business Heather Humphreys were given a tour of the Total Produce warehouse.
They also discussed the work being carried out by the company to ensure that supermarket shelves remain stocked throughout the Covid-19 crisis.
National Public Health Emergency Team meeting
Meanwhile, the National Public Health Emergency Team met for the third time this week.
Yesterday, the Department of Health confirmed the deaths of a further ten people with the illness and 255 new cases.
The news that the death toll more than doubled and that the median age of those who have died so far is 79 years, highlights how terrifying this pandemic is, especially for vulnerable people and their families.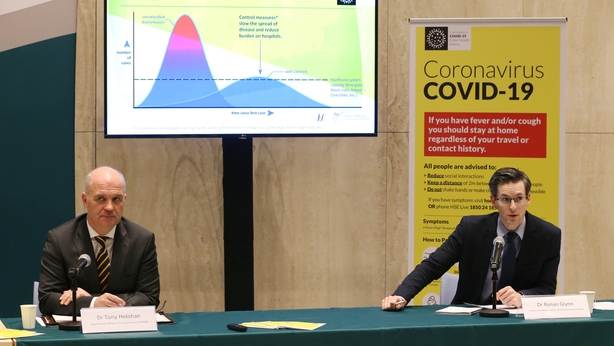 Chief Medical Officer Dr Tony Holohan said most of those who have died were in nursing homes or hospital settings.
NPHET is particularly concerned about clusters of infection in health care settings, including at least nine nursing homes, eight hospitals, and two community long-stay environments.
It is also worried about the pattern and the rate of increase in daily Covid-19 admissions to intensive care units and the growing level of community transmission of the virus.
Dr Holohan said Ireland was preparing for the situations witnessed in other countries, although he was not necessarily predicting that those scenes will be repeated here.
---
Read more:
Covid-19 National Summary
Latest coronavirus stories
---
The latest data breakdown of the figures relates to 1,383 confirmed cases recorded up until Tuesday night, 24 March.
It shows there are 66 clusters of the infection, including nine clusters in nursing homes, eight clusters in hospitals and two in "community and long stay environments".
So far, 55% of people with the virus are male, and 45% are female.
Dublin has the largest amount of infections, accounting for 56% of cases, followed by Cork at 11%.
Overall, 23% of all those with the virus are healthcare workers.
Around 80% of cases of Covid-19 will be a mild to moderate illness, close to 14% have severe disease and around 6% are critical.
---
New facilities for self-isolation
HSE Director of Acute Operations Liam Woods said the HSE is developing new facilities where people infected with coronavirus who do not need hospital treatment can go to isolate.
Speaking on RTÉ's Morning Ireland, he said these facilities will be for people who experience mild symptoms, but who cannot sufficiently isolate at home.
The first of these facilities will open in Citywest in Dublin within the next day or two, he said, and more will be created if there is excess demand.
"Most people who experience this condition will actually be relatively well," he said.
"So the HSE is establishing facilities where people can be isolated who may not need hospitalisation, but may not be able to isolate sufficiently in a home environment.
"There's a range of options being developed and coming into place across the country for that."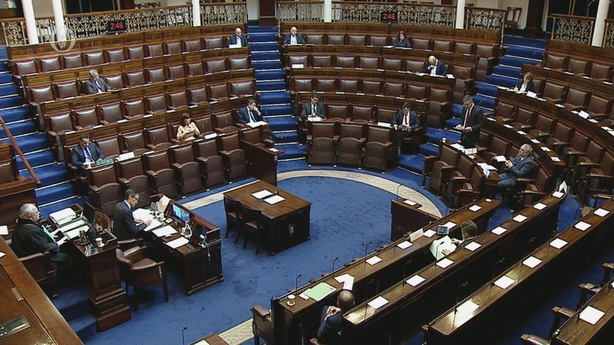 The Taoiseach has warned things will worsen before they get better, but he said Covid-19 can still be slowed and "put back in its box".
Emergency legislation is aiming to reduce the spread of the virus and to diminish its negative economic impact.
The new laws, regulations and income supports were described by the Taoiseach as unprecedented but necessary for unprecedented times.
Concern was expressed throughout the debate however, that some landlords may not honour the spirit of the legislation that freezes rents and outlaws evictions.
An amendment that guaranteed members of the Travelling community would not be evicted from any location during the Covid-19 crisis was passed by the Dáil.
The lack of physical distancing in some workplaces was consistently raised amid warnings from some TDs that this was endangering the lives of hundreds of workers.
There was a warning from Minister Humphreys too, as she told the Dáil that the pandemic unemployment payment was a solidarity payment and anyone attempting to defraud would face the full rigours of the law.
Meanwhile, Prof Sam McConkey of the Royal College of Surgeons in Ireland has said it was "absolutely essential" to keep airports and ports open.
Speaking on RTÉ's Today with Sean O'Rourke, he said Ireland was an "open economy" that does not rely heavily on the domestic market.
"This is going to be a massive economic dent to us," he said.
"If we stop exporting, that will be amplified dramatically. If we don't keep exporting pharmaceuticals then we won't have money to import other pharmaceuticals that we need," said the Head of the Department of International Health and Tropical Medicine at the RCSI.
However, Prof McConkey acknowledged that humans entering the country "could be vectors" and that a 14-day quarantine period might need to be considered.
Additional reporting Mícheál Lehane and Sharon Gaffney