New rules have been introduced for Covid-19 testing, which means patients will need to meet revised criteria to qualify in future.
Patients will have to display two major symptoms - a fever and either a cough or shortness of breath - and fall into a priority group in order to be tested.
These are close contacts of a confirmed case, healthcare staff and vulnerable groups.
All patients who have not yet been swabbed, and who do not have an appointment for a test date, will not now be tested and will be required to re-engage with their GP.
The Irish Medical Organisation and the Irish College of GPs said they were seeking clarification from the health service regarding patients who have been given a test date, but who have not yet been tested.
The changes follow the application of new World Health Organization case definition and prioritisation criteria.
The Chief Medical Officer, Dr Tony Holohan, said that the last change in criteria ten days ago led to an increase in demand, stating that something in the region of 20,000 people per day over the last ten days were seeking testing.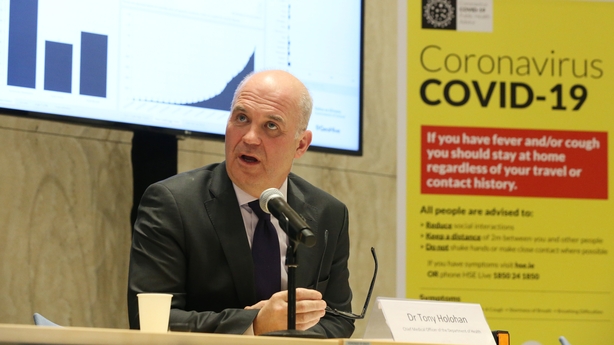 Dr Holohan said it is now expected that the number of positive cases that were predicted for the end of the month will not come to pass, but that it is too early to tell if that is an effect of measures.
He said they will continue to monitor the increase of ICU admissions very closely.
Dr Holohan re-emphasised the advice to the public, which has not changed, that anyone displaying symptoms should stay at home and contact their GP.
He outlined the new measures are essential to grow testing capacity over the next three to four weeks and revealed that, as things stand, Ireland is one of the top countries in Europe in terms of tests being carried out.
Dr Holohan added said the target for test turnaround time is two to three days.
Sweeping new restrictions to curb the spread of coronavirus came into force at midnight.  
All non-essential retail outlets are to close, but supermarkets and pharmacies will remain open.
We need your consent to load this rte-player contentWe use rte-player to manage extra content that can set cookies on your device and collect data about your activity. Please review their details and accept them to load the content.Manage Preferences
For patients who now have to re-engage with their GP (under the new test rules) who were already referred for a test. If the GP refers them again for a test, after triage under the new rules, the GP will again be paid €30 per patient.

— Fergal Bowers (@FergalBowers) March 25, 2020
All playgrounds and caravan parks are to close, as are theatres, clubs, gyms, hairdressers, libraries and other similar outlets.
There will be an increased presence of gardaí and park rangers in public places to "ensure physical distancing is being observed".
This evening, 235 new confirmed cases of Covid-19 were reported by the Department of Health.
There has also been another two deaths, bringing the number of people who have died here from the illness to seven.
The total number of confirmed cases in the country is 1,564.
Minister for Health Simon Harris has said the Government stands ready to implement even tougher measures, should they prove necessary.
Speaking on RTÉ's Prime Time last night, Mr Harris said it was time for everyone to pull together and "we won't be found wanting".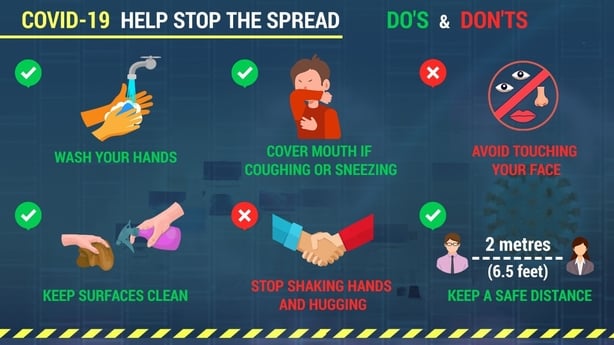 Minister urges employers to look at Covid-19 scheme
Meanwhile, the Minister for Finance has said the Government is determined to do all possible to contain the economic shock.
Paschal Donohoe said if emergency unemployment legislation is passed tomorrow night, payments will be made by the end of the week. 
The minister said that employers are not obliged to top up the payment but he urged them to do so, if possible.
In addition, he urged employers who recently had to let staff go to examine the scheme and see how they can move staff back from an unemployment scheme into the employment subsidy plan, saying "the journey back to economic health is quicker if you are in a relationship with your employer".
Mr Donohoe said he was not underestimating the cost of this scheme and said "it will be paid for in the future".
However, he added, the ability to repay that cost will be transformed if people get back to work quicker, once the crisis has passed.
He said the Department of Children and Youth Affairs is examining the childcare sector and how to support it.
Speaking on RTÉ's Morning Ireland, Mr Donohoe said that we will examine what further decisions need to be made in 12 weeks' time.
He pointed out that other countries are grappling with similar circumstances.