The Taoiseach has announced new stringent measures designed to curb the spread of Covid-19, calling them "unprecedented actions" to respond to an "unprecedented emergency".
In an address from Government Buildings, Leo Varadkar said he was asking people to stay home, unless they could not work from home.
Schools and childcare facilities are to remain closed until 19 April.
The Taoiseach also announced new restrictions regarding the closures of non-essential retail businesses and facilities effective from midnight.
They include all theatres, clubs, gyms, hairdressers, betting offices, markets, and libraries. Hotels are to limit occupancy.
All non-essential retail outlets are to close to the public and all others are to implement physical distancing.
Cafes and restaurants should limit themselves to takeaway and delivery only. All sports events are cancelled.
New measures were also announced to assist those who have lost their jobs and a scheme to ensure they get paid.
Taoiseach Leo Varadkar says Government is taking 'unprecedented actions to respond to an unprecedented emergency' at press conference to announce new measures | Follow live updates: https://t.co/QffPYQeRRY pic.twitter.com/iSitkN33HG

— RTÉ News (@rtenews) March 24, 2020
The Taoiseach said gatherings outside should be of no more than four people. Mr Varadkar said no unnecessary travel should take place in the country or overseas.
He said there would be an increased presence of park rangers and gardaí in parks and public places to ensure that physical distancing was being observed.
He described the actions as unprecedented, however, he said he would not describe what is happening as a lockdown.
The Taoiseach said we are in this for the long haul and this could go on for weeks, even months.
We need to maintain our humanity, he said, and said it was okay to see family and loved ones because we have to look after our mental health, as well as our physical health, but we have to maintain physical distance.
Taoiseach Leo Varadkar outlines new measures to curb the spread of Covid-19 | Follow live updates: https://t.co/QffPYQeRRY pic.twitter.com/i7hqrJSWkb

— RTÉ News (@rtenews) March 24, 2020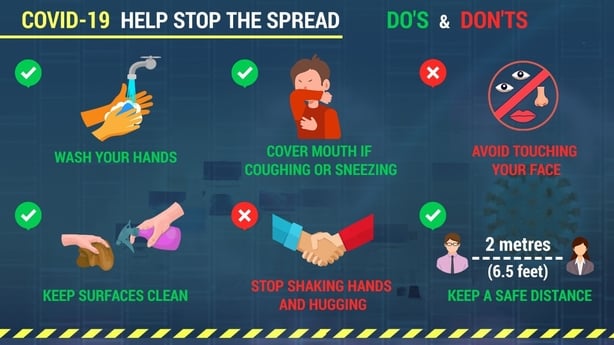 ---
A rundown of the new restrictions:
All theatres, clubs, gyms, leisure centres, hairdressers, marts, markets casinos, bingo halls, betting shops, libraries and other similar places are to shut.
All hotels and non-essential retail outlets will close - a list of those will be provided.
All cafes and restaurants should limit to take away and deliveries only.
All sporting events are cancelled - including those behind closed doors.
All playgrounds and holiday/caravan parks are to close.
All places of worship are to restrict numbers visiting.
All household contacts of someone waiting for a test should restrict their movements.
All non-essential visiting to other persons homes should be avoided.
All scheduled cruise ships to Ireland will cease.
Factories or construction sites should not have to shut - authorities can work with them to make sure physical distancing is possible.
There will be an increased presence of park rangers and gardaí in parks and public places to ensure that physical distancing is being observed.
Significantly raise the amount of money available on cashless card transactions.
All organised indoor and outdoor events of any size are not to take place
Social distancing, in as far as practicable, is to be ensured between the clients/patients in confined settings, such as:
long term care facilities, either for the elderly or people with special needs;
psychiatric institutions;
homeless shelters;
prisons
---
Minister for Health Simon Harris said the State would take control of private hospitals for the duration of the crisis and that patients with the virus will be treated for free with no distinction between public and private.
Priority testing for health staff, including GPs, will be introduced. General health testing will be increased for those with symptoms.
Today our Public Health Emergency Team has made important recommendations in our efforts to slow the spread of #coronavirus. Thank you for all you are doing. Together, we must now do more. Together, we will save lives #COVID19 pic.twitter.com/zaer7Hw99O

— Simon Harris TD (@SimonHarrisTD) March 24, 2020
Mr Varadkar said the impact upon the economy and employment would be enormous.
He announced that the Covid-19 unemployment payment will be raised to €350 per week and the Covid-19 self isolation payment will also be increased to €350.
The Taoiseach said that in order to encourage employers and companies to keep staff affected on the payroll, a wage subsidy scheme will be introduced to co-fund 70% of salaries up to a maximum of €38,000 per year.
He said a subsidy of €410 will be available for a wage subsidy scheme. The Taoiseach said the self-employed will also be covered.
He said the Cabinet approved a new bill that will freeze rents, halt evictions and allow former members of the Defence Forces to rejoin.
Officials believe these are the correct measures now, for the right period of time, however further measures are expected in the weeks ahead.
The Cabinet met to consider updated recommendations on tackling the coronavirus from the National Public Health Emergency Team.
A Government spokesman said that while public compliance with physical distancing measures had generally been good, there was clearly a need to reinforce the message of maintaining an adequate distance in public places.
The Department of Health announced that another patient diagnosed with Covid-19 had died.
It brings to seven the number of deaths related to the respiratory illness in the Republic of Ireland.
The person who died was a male in the east who had an underlying condition.
There were 204 new confirmed cases of the virus in Ireland and 1,329 in total.
Almost 18,000 tests had been conducted, as of midnight on Monday.
Additional reporting Paul Cunningham, Laura Fletcher
---
Read:
Latest coronavirus headlines