The Department of Health has announced another death and 204 new cases of coronavirus in the Republic of Ireland.
The person who died was a male in the east of the country who had an underlying condition.
It brings to seven the number of deaths related to the respiratory illness in the country.
As of midnight on Monday, 17,992 tests have been carried out in laboratories across the country, with 93% of tests returning as negative.
Chief Medical Officer Dr Tony Holohan said that Dublin had the highest number of cases.
The HSE is now working to identify any contacts the patients may have had to provide them with information and advice to prevent further spread.
The Health Protection Surveillance Centre's breakdown of cases as of Sunday 22 March, revealed that 55% are male and 45% are female, with 44 clusters involving 243 cases.
The median age of confirmed cases is 45.
It said 277 (29% of confirmed cases) have been hospitalised and, of those, 36 have been admitted to ICU, while 247 cases (26%) are associated with healthcare workers.
Dublin has the highest number of cases with 535 (55% of the total cases) followed by Cork with 123 (13%).
Of those for whom transmission status is known, community transmission accounts for 47%, close contact accounts for 23%, travel abroad accounts for 31%.
Dr Holohan said: "We are now in the crucial weeks of our response to Covid-19. All actions we take are based on epidemiological evidence and in proportion to our experience on this island.
"As we learn more about this disease, we are prioritising who will be tested. If you are not in a priority group, you might not be tested. However, if you have the symptoms, assume you have Covid-19 and isolate yourself."
Dr Holohan disclosed that analysis of public health contact tracing has shown that the average number of close contacts per confirmed case has decreased from more than 20 to the somewhere in the region of five contacts.
This indicated that the public is generally adhering to social distancing advice and limiting the number of people they are in contact with.
Deputy Chief Medical Officer Dr Ronan Glynn outlined the priority groups for testing, which included "close contacts of a confirmed case with symptoms, healthcare workers with symptoms and people who are vulnerable with symptoms".
He added: "Whether you are tested or not, the advice remains the same; if you have any symptoms, assume you have Covid-19 and isolate yourself for 14 days to help stop the spread of this disease. Household contacts of a suspected case should restrict their contacts for 14 days."
Northern Ireland reports two more deaths
In Northern Ireland, 24 new cases of coronavirus were confirmed by the Public Health Agency, bringing the total number of cases to 172.
That brings the total number of cases on the island to 1,501.
The number of people with Covid-19 in Northern Ireland who have died has risen to five, with two more deaths being announced.
So far, 2,989 tests for the virus have been carried out in Northern Ireland.
Northern Ireland Health Minister Robin Swann stated: "My deepest sympathies are extended to the families affected.
"These deaths must never become mere statistics. Behind each of them is a family plunged into grief."
Around 80% of cases of Covid-19 will be a mild to moderate illness, close to 14% have severe disease and around 6% are critical.
Generally, you need to be 15 minutes or more in the vicinity of an infected person, within 1-2 metres, to be considered at-risk or a close contact.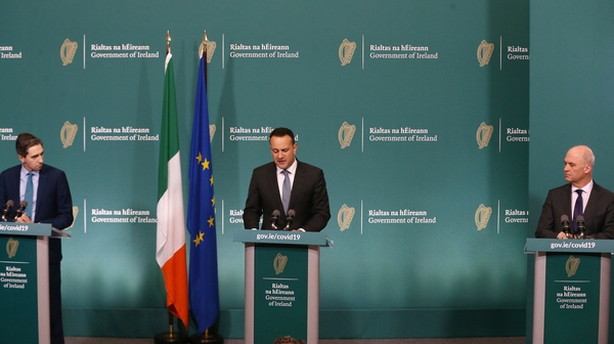 Earlier today, the Taoiseach announced a host of stringent new measures to combat the spread of Covid-19.
At a press conference, Leo Varadkar announced new restrictions regarding the closure of non-essential retail businesses and facilities effective from midnight.
Schools and childcare facilities are to remain closed until 19 April.
They include all theatres, clubs, gyms, hairdressers, betting offices, markets, and libraries. Hotels are to limit occupancy.
The Taoiseach said gatherings outside should be of no more than four people. Mr Varadkar said no unnecessary travel should take place in the country or overseas.
He said there would be an increased presence of park rangers and gardaí in parks and public places to ensure that physical distancing was being observed.
He described the actions as "unprecedented", however, he said he would not describe what is happening as a lockdown.
The Taoiseach said we are in this for the long haul and this could go on for weeks, even months.