The Department of Health has confirmed 102 new cases of Covid-19 in Ireland, bringing the total number of confirmed cases in the Republic to 785.
This is an increase of just under 15% on yesterday's figures.
But the numbers are still too small to be able to confirm any definite patterns.
A statement from the National Public Health Emergency Team also reveals that of 584 confirmed cases as of midnight on Thursday, 55% were male and 44% were female.
There are 29 clusters involving 157 cases.
The median age of confirmed cases is 44 years old.
30% of cases have been hospitalised. 13 of these cases have been admitted to ICU. 147 cases - a quarter of all confirmed cases - are associated with healthcare workers.
Dublin has the highest number of cases at 55%, followed by Cork at 15%. Monaghan remains the only county without any cases of the virus.
Of those for whom their transmission status is known, community transmission accounts for 42%, close contact for 23%, and 35% results from travel abroad.
The HSE is now working to identify any contacts the patients may have had to provide them with information and advice to prevent further spread.
Thanks to publicans who have put public health first & shut their door. Myself & the @CMOIreland are hearing of a small number opening in contravention of public health advice. If this happens, I will use new emergency powers to immediately shut them down #coronavirus

— Simon Harris TD (@SimonHarrisTD) March 21, 2020
The Department of Health has now released more detailed data about Ireland's coronavirus cases. It has analysed all the information available on Thursday, 19 March, including age of patients, how the virus was transmitted and how many cases exist per county.
There were 584 cases of Covid-19 in Ireland on that date. The data is outlined in graphics below.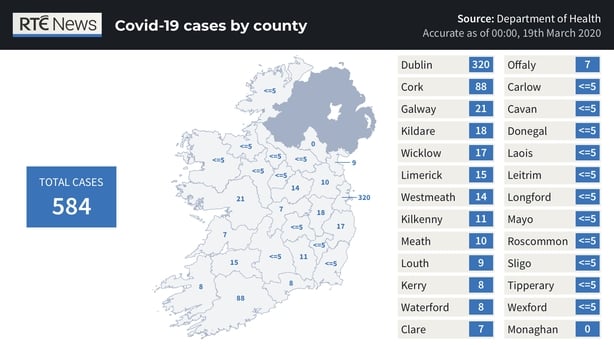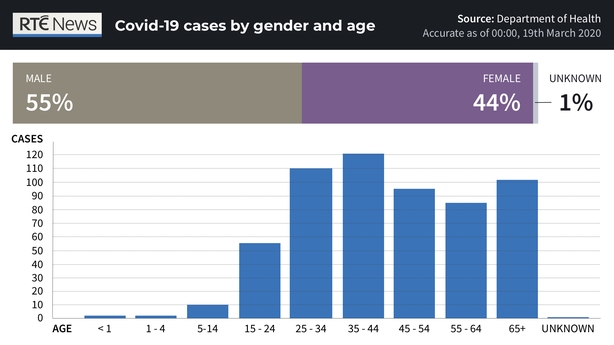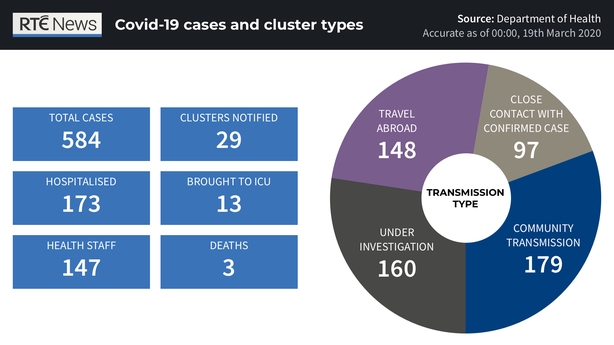 'Testing, testing, testing'
More than 10,000 people in Ireland have now been tested for the virus. 
Dr Colm Henry, chief clinical officer with the HSE, said that its strategy is "focused completely" on identifying case, isolating patients and identifying contacts. 
He said this is in line with the World Health Organization strategy of "testing, testing, testing".
Dr Henry said this is happening on an "unprecedented scale", between hospitals, the National Ambulance Service and soon-to-be 32 testing centres around the country. 
Furthermore, 35,000 extra testing kits are available and "ready to go" from today, and a further 20,000 kits will arrive next week, he said. 
"This way of testing, bringing it out into the population, is designed to identify as many cases as possible". 
More than 10,000 people in Ireland have now been tested for the Covid-19 virus | https://t.co/IzEeNH9p8r pic.twitter.com/xRYHOHIN5q

— RTÉ News (@rtenews) March 21, 2020
Dr Henry said the health service is aware of reports of shortages of personal protective equipment (PPE) for health care staff, but he said: "I can assure people, we are onto it".
He said the HSE has secured a steady supply of PPE and is "confident" we have enough to meet our needs. 
Dr Henry said the health service is getting the supplies into the country as quickly as possible and that the equipment will be delivered to hospitals and GP surgeries.
With regard to social distancing guidelines, the chief clinical officers said that the HSE's own surveys suggest that there is "widespread compliance" with the guidelines.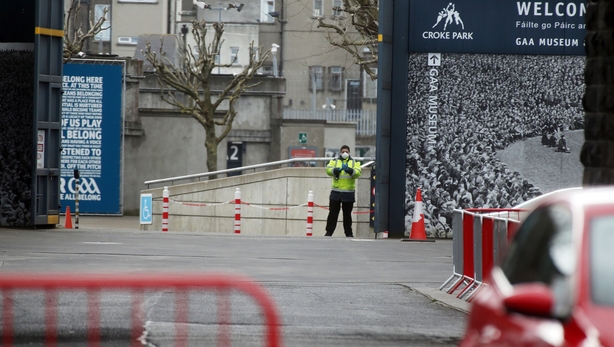 Dr Henry said the message needs to get through to all members of society and that there is "no gain in blaming one section" of society for non-compliance.
For people who are symptomatic, if you have spoken to your GP and it is deemed that you need testing, Dr Henry said people must self-isolate for 14 days. 
"We will get to you, we will test you," he said. 
"The virus does not take a holiday, it does not take weekends off."
As people gear up to celebrate Mother's Day this weekend, Dr Colm Henry urged people to be aware that you are as likely to spread or catch the virus on a Saturday as you are on a Monday.
---
READ MORE:
Every home to receive Covid-19 information booklet next week
Live - government planning new measures for unemployment
Welcome to the new normal - Ireland adjusting to threat of Covid-19
---
He said social distancing, personal hygiene, handwashing and self-isolation if you are sick are our "principal weapons" against the virus.
Around 80% of cases of Covid-19 will be a mild to moderate illness, close to 14% have severe disease and around 6% are critical.
Generally, a person needs to be 15 minutes or more in the vicinity of an infected person, within 1-2 metres, to be considered at-risk or a close contact.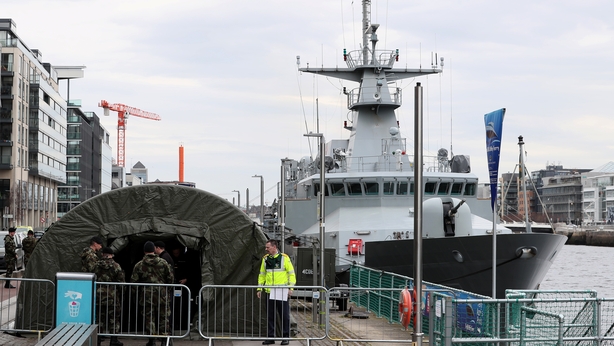 It has also been revealed that an Irish naval vessel is being transformed into a Covid-19 testing centre.
The LE Samuel Beckett is berthed at Sir John Rogerson's Quay in Dublin city centre.
Army engineers  have provided power and lighting for tents that have been erected beside the boat, which is on the north quayside close to the Central Bank.
It is part of a major effort by the Defence Forces to support the HSE's response to the coronavirus pandemic.
Meanwhile, construction has started on a new drive-thru testing centre for Covid-19 in Co Offaly.
Additional reporting Laura Hogan