Picnics in Glendalough in mid-March, tailbacks near major parks and just a handful of patients waiting in hospital emergency departments. The landscape of Ireland has changed utterly.
The usual bustle on Dublin's Grafton Street has almost been replaced by tumbleweed. It's the same around the country, towns and cities virtually silent.
To borrow from Joyce, silence is general all over Ireland. Welcome to the new normal.
It has now been 21 days since we had the first confirmed case of Covid-19 in the Republic of Ireland. Yet it has already been dubbed the 'Year of the Mask'.
People should now be very familiar with and practicing the social distancing advice, to keep at least three feet and ideally six feet (1.8m) from one another.
Also, the amount of time a person spends near someone who is a confirmed case matters. The HSE says that 15 minutes is the timeline set to define "close contact".
But of course, there are higher-risk settings where transmission is possible in a shorter time interval, when health staff are dealing directly with known or suspected cases and may need personal protective equipment.
Over the past week, we have seen how the public health crisis has been dealt with by the US and Britain. Ireland has taken another approach, informed by the World Health Organization, the European Centre for Disease Control and Prevention, the European Medicines Agency and our own Health Protection Surveillance Centre.
The Government here takes its lead from the National Public Health Emergency Team, which itself is advised by an Expert Group led by Dr Cillian De Gascun. Overall advice is provided by the Chief Medical Officer, Dr Tony Holohan.
I appreciate social distancing is a new concept for pretty much all of us, but hopefully this graphic can illustrate its importance and the #PowerOfOne Each of us has a role to play in interrupting transmission of #SARSCoV2 #WashYourHands #CoverYourCough #SocialDistancing pic.twitter.com/hijpbWmbpY

— Cillian De Gascun (@CillianDeGascun) March 20, 2020
The daily evening media briefings at the Department of Health (not usually held at weekends, unless a major issue has arisen) are crucial.
We hear the latest figures on confirmed cases, deaths and other important developments.
At these briefings, information is provided by highly qualified doctors and others who know the science and epidemiology to date on this changing viral threat.
They can field the complex questions which, in fairness, the politicians cannot. So nothing should get in the way of that, especially as we head into the most testing time. The speed and accuracy of information for the public is important.
The department briefings have become a focal point, watched by hundreds of thousands of people, live streamed by RTÉ News and fully covered by a range of other media.
The room where these briefings are held is properly set-up to meet social distancing rules. The information provided is not distilled through any PR sieve. This approach should continue, as a crucial information stream, trusted and led by Dr Tony Holohan, the Chief Medical Officer.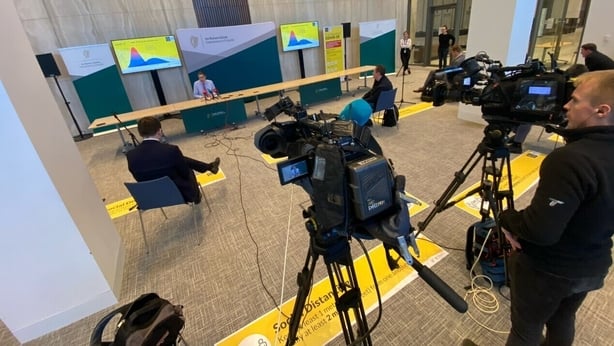 People have mostly avoided politicising this health emergency but of course hard questions must be asked and those in the administration of the crisis must continue to be honest with people. Trust and maintaining that trust is crucial and will be even more so, as the period ahead gets much tougher.
Health officials must explain each action and the science behind it to the public, to get as much buy-in as possible for the difficult choices ahead.
The publication this week of the county-by-county analysis, along with other detail on hundreds of cases to date was welcome. This will be updated more or less each day and as time goes on, it will provide a much greater picture of who is affected. We should not draw too many conclusions yet on the relatively small number of cases examined in detail.
For example, even on a global level, if many people do not report mild or moderate cases to the authorities, that has an impact on the overall mortality rate. The greater the number of mild or moderate cases, the lower the mortality rate. A lot of this will not be clear until the main Covid-19 threat has passed.
The data so far here in Ireland should have driven a major message home to people, that youngish people are affected by this virus, people under 55. In relation to hospitalisations, older people are more affected. But essentially, this virus is no respecter of age.
To help get the importance of social distancing as widely accepted as possible, perhaps some younger people will heed the message better from their sports and music idols rather than listening to parents, grandparents, politicians and at times mainstream news?
But also to be fair to the younger generation, while the pubs were still open, there were also reports on social media of some children aghast at their parents going out in the evening for drinks. Did we ever think we would see such a reversal of roles?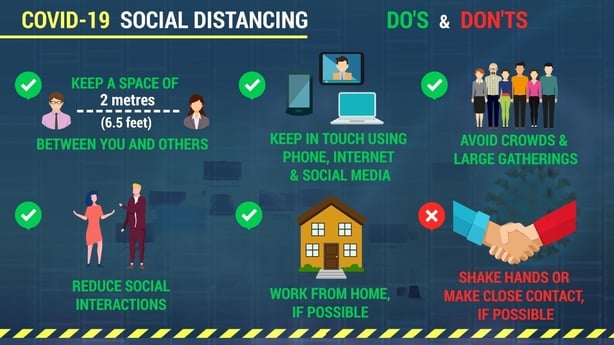 The advice is to stay physically away from elderly parents, if you have them, on Mother's Day. They will appreciate the thought and there are lots of other ways to stay in contact.
There are still so many questions people have about Covid-19. I am receiving an increasing number of emails to RTÉ News and DMs on my Twitter feed from people who are understandably anxious and concerned.
Delays in getting tested or receiving the test results are big topics. As the system ramps up to 15,000 tests a day, the backlog is likely to get worse. In some respects, it will be a victim of its own success. Patience will be needed.
We have all seen those projections about us possibly having 15,000 confirmed cases or more by the end of this month. It will take another week or ten days to see the impact, if any, of the closure of schools, universities, pubs, the move towards home working and people adopting the precautionary measures.
While the increase in confirmed cases may be causing some alarm about what is coming, it is important to perhaps pay greater attention to the number of hospitalisations and also the number of people in Intensive Care Units. These will be real indicators of how serious this is.
So far, the number admitted to ICU has been in the single figures, according to the data from early last week. We will also look at the number of deaths, as an indicator of the most severe impact on people here and how many had an underlying condition, or indeed several conditions.
To help cover events, the main RTÉ News team on Covid-19 has been expanded further. Along with myself and George Lee, Orla O'Donnell is joining from today and Katie Hannon will also be serving various news radio programmes in the period ahead. We cross-cover each other on various days, as events move so fast on this story, and staff need time to re-charge their batteries.
Of course, the whole RTÉ News effort in this is supported by our other correspondents, reporters, regional reporters, camera crews, production and technical staff and senior managers. It is a huge, challenging endeavour, which staff are fully behind, given the responsibilities of the national public service broadcaster.
There is, of course, information overload. As was mentioned by the Taoiseach in his address on St Patrick's Day, people should take breaks from social media on this story and indeed any coverage, for their own good mental health.
I have received many valuable suggestions over the last week. Probably the one that really jumped out was from a former senior health official here. The proposal was that as an emergency measure, pharmacists should be empowered to issue repeat prescriptions for people. The case is made that it would save many patients, especially the elderly, having to contact their GP to get a repeat prescription, especially if nothing has really changed medically for them. The Irish Pharmacy Union support the idea, which has already been approved for medical card holders.
Under the Irish health system, GPs share patient care with pharmacists. This change to allow pharmacists issue repeat scripts during a time of emergency could also increase social interaction especially for older people, getting repeat prescriptions filled, as some of these would be delivered to their homes, with everyone of course abiding by the social distancing rules. I am aware also that efforts are under way for wider roll-out of an electronic prescription service, involving GPs and pharmacists.
During this emergency new ways of working are inevitable and have already happened. Redeployment is under way, retired staff are coming back to help in this hour of need, as are medical and nursing students. It is one of the more encouraging aspects of the Covid-19 crisis and part of the legendary Irish spirit.
Covid-19 appeared to come out of the blue. But anyone who studies infectious diseases can tell you that such an event could always occur. Pandemic plans have been in place here and in other countries for many years and are updated with each outbreak of some kind. But when dealing with new viruses it is never clear what exactly will emerge or the time-frame it will happen in. Covid-19 has been with us for less than 12 weeks, amazing really, as it feels so much longer.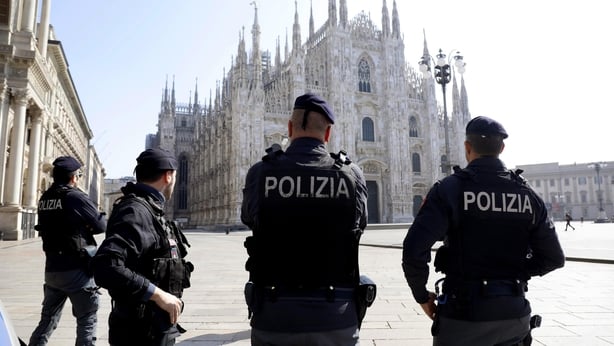 We must also look elsewhere for indicators of what may be about to happen like Italy, the UK and the US. Although, we have taken extreme measures, more may be needed.
In the US, California has issued "stay at home" orders to residents to try and hold back the tide. Elsewhere in Florida, crowds of students still gathered for the Spring Break. Goldman Sachs published a report predicting the highest increase in US jobless claims on record and an unprecedented decline in revenues across many industries, especially consumer spending on sports, entertainment, hotels, restaurants, public transport and general discretionary spending.
In the US, there have also been media reports of some politicians dumping their stock after private briefings which, if true, would amount to insider trading.
While China reported no new domestic cases yesterday, new cases from people returning to the country were identified. Places such as Singapore and South Korea are also on alert for this, a so-called "second wave" of danger.
The job lay-offs here are heartbreaking. It is hard to fathom the impact this will have for a long time to come on people's lives.
With Covid-19, the fabric of Irish society may change, to a degree as yet unknown. Sadly, some of us will no longer be here. But through solidarity and commonsense also, we all can contribute to a national effort, to limit and spread out the impact.
Hospitals are bracing themselves for the worst, with vital health staff putting themselves and potentially their lives, on the defence line. The time to act on the public health advice is now. This virus has all of our names in its sights.