Irish doctors have been getting advice from doctors in Wuhan about how to deal with the Covid-19 outbreak.
They spoke of the need for everyone to follow hygiene rules, to isolate suspected cases either in hospital for high-risk patients or at home for lower risk cases, and to quickly trace all contacts of confirmed cases.
An app was also developed by the company Ali Baba to use people's data to put them in green, yellow or red categories.
Green is the lowest risk which allows people to enter any area. Yellow is a higher risk. Red is highly suspect.
People with orange or red codes are not allowed to enter certain areas such as colleges.
---
Watch Lessons from Wuhan on the RTÉ Player here
---
One member of the public said privacy is not an issue as everyone is a member of the community in a web of contacts and they don't feel threatened by having their phones traced - it is to protect the community but also the person whose data is traced.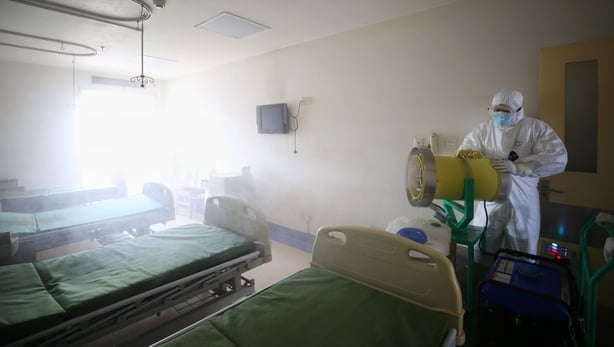 The doctors said in China now the challenge is to stop imported cases and other services are resuming in their hospital as the outbreak subsides.
The subway is open again, bars are returning to normal and traffic is returning.
The government is telling people they can take off their masks.
The Chinese doctors are based at the 2nd Affiliated Hospital of the Zhejiang School of Medicine in Hangzhou, Zhejiang Province about 800km from Wuhan but were sent to Wuhan to treat patients during the outbreak there.
Hospital president Professor Wang Jian'an, the Vice President Professor Huang Jian and the Deputy Chair of Infectious Diseases Xiu Feng were accompanied by two members of the public - Xiu Keyaing, a college teacher, and Dave Schaimm Gao, a postgraduate student.
They spoke in an online video conference with Professor Mary Horgan of the Royal College of Physicians Ireland and a consultant in infectious diseases, Professor Oisin O'Connell, Consultant Respiratory Physician at the Bon Secours Hospital in Cork, and Dr Paul O'Brien, a medical doctor and regulatory expert.
Professor Wang explained that when the outbreak was declared in China, mass gathering were cancelled, the New Year public holiday was extended to stop people travelling, and check points were set up on highways so it would not be easy for people to escape from the epicenters.
There was also a constant TV and education programme to tell people how to wash their hands, how to sneeze properly and how to maintain distance from other people.
He said at first not everyone was so collaborative and not everyone followed the regulations.
But he added as the number of patients jumped, people became so scared they just wanted to stay at home.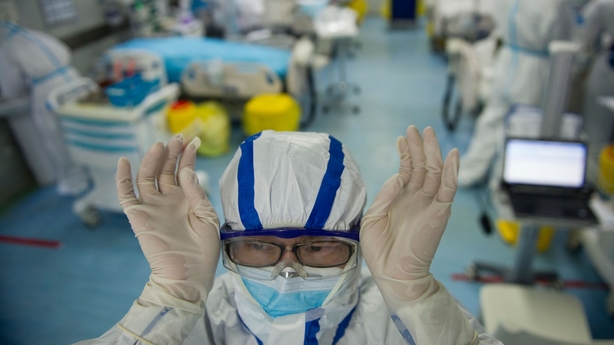 Professor Huang said when it is suspected someone has Covid-19, they go directly to the fever hospital.
If their test is positive, there is special transport to the local centre.
If the test is negative and they do not have symptoms, they are discharged.
If a person gets a negative test but has symptoms, there is a further test in 24 hours.
If a test is positive, it is reported to the local Centre for Disease Control within two hours.
The local CDC will carry out an epidemiological investigation, tracing where the patient has been, who they met and what public transport they took.
The contacts are divided according to risk category and either quarantined at home or brought to hospital depending on how high the risk.
Asked how Chinese hospitals prepared to cope as the number of patients exceeded available resources, Professor Huang said resources were concentrated in the worst affected areas, general hospital wards were transformed into isolation wards or intensive care units, and makeshift hospitals were constructed.
Asked how health workers were protected and stopped spreading the disease back into the community, he said the design of the fever clinic and human resources there were very important.
He said there was special protective equipment based on risk in different zones and they suspended high-risk services such dental service and endoscopy exams.
They also disinfected whole hospitals and all the equipment therein.
Professor Wang said it was important to check everyone's temperature as they went in and out of hospitals and also their epidemic history; their other symptoms, whether they had been at an epicentre. If someone had a temperature above 37.5C, they would be sent to a fever hospital.
On the issue of public transport, staff were asked to stay at home for two weeks if they had used public transport to travel from outside the area.